Marie's edit: In the wide world of fashion, there is this world of cosplay and an amazing woman who has pushed the envelope many times over. I invited plus size cosplayer, Brichibi Cosplays to share a bit of her world! Please take a read to learn more!
You may have noticed, while driving about one day, a cluster of costumed individuals wandering the sidewalks on their way to a hotel or convention center in your city. Or maybe, while surfing the web, you saw a picture of someone whom you swore had walked off of a movie set and, upon further investigation, were surprised to discover that it was not a Hollywood actor or actress, but a self-taught geek armed with JoAnn Fabrics coupons, a sewing machine, and a lint roller for when their cat gets a bit too comfortable with the fabric.
Welcome to the world of cosplay, a constantly growing phenomenon where fans pay homage to their favorite characters with blood, sweat, sewing needles, and saved up paychecks.
I discovered cosplay back in 2002. I was on my way to my very first convention, eager to spend the weekend with fellow geeks and a certain girl I'd been secretly crushing on since 2001 – more on that girl later. As my father drove around the busy streets of Rosemont, Illinois (which doesn't sound like a traffic-filled city until you realize how close it is to O'Hare Airport) we began to wonder where the hotel was.
Fortunately, when I looked out my window, I spotted the $$60 billion dollar man himself, Vash the Stampede. His long, red trench coat was unmistakable, and we were able to follow the smartly dressed, futuristic, Western bandit to a little convention known as Anime Central. At the time, I had no idea what cosplay was. Most people – myself included – showed our love with a T-shirt, hat, or a cute keychain. But a full blown costume?
Back then, cosplayers like the man dressed as Vash the Stampede were rare. They popped up in the crowd like fashionable gophers, stopping only for a picture or two before they wandered off to enjoy the rest of the convention.
But times have changed.
There's nothing little about conventions like Anime Central, and there's certainly nothing rare about cosplay. These geeky get-togethers can take up entire convention centers and neighboring hotels. News crews are on site as the event becomes a trending topic on social media while entire cities turn into a costumed nerd fest.
It took me two years after that fateful car ride to Anime Central to start cosplaying. I'd take on the persona of my favorite characters at one or – if I was feeling extra adventurous – two conventions a year.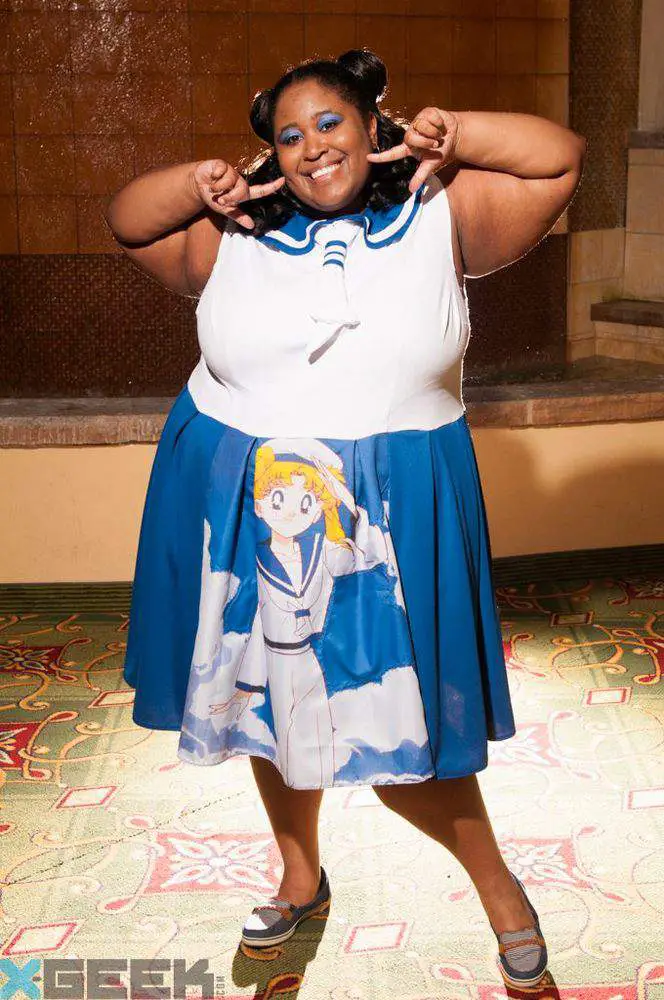 Now? I'm definitely in the double digits in my convention going adventures, and the number of characters I portray can fill up a closet.
And that girl I mentioned earlier? We're practically married and she's become my personal seamstress. SnowCosplays and I have both grown in our costuming skills over the years and are completely self-taught in the ways of wigs, sewing, makeup, and posing.
In fact, when I think about it, there's at least 8 different ways that I've cosplayed.
The Styles in My Cosplay Closet!
Replicating an Existing Outfit
This is what cosplay is most known for: finding a character you love and replicating their outfit. This has evolved over the years and, at times, you'll see people stepping outside the box to cosplay celebrities, characters from commercials, restaurant icons – everything is fair game. In many cases, cosplayers will pose like the character or even act like the character when you speak to them.
Cosplayers either make the outfit themselves or purchase it, whether it's from a company that sells costumes or they commission someone to make it for them. I technically commission my costumes, or rather, make cute, pouty faces at Snow until she smiles and agrees to make me something. Either that, or she shows me a character she knows I'll like who's wearing an outfit she wants to try and make.
Re-designing an Outfit
Like most women in the geek community, I love Wonder Woman. I've been fond of her ever since Lynda Carter did that perfect spin on T.V., complete with that theme song announcing her dazzling arrival. Her outfit is iconic, with the red top, bold W, and star-studded blue bottoms. However, I knew that I wouldn't be comfortable wearing it. With cosplay – and clothing in general – I think it's important to wear things that you feel comfortable in, because if you feel good in what you're wearing, it'll resonate with the costume.
So I sketched my own version of Wonder Woman's outfit.
I've grown a love for ball gowns thanks to cosplaying a certain Disney princess, so I thought to myself, "What if I did Wonder Woman in that style?" So I sat down with my sketchbook and designed a ball gown for myself. Snow took the design and brought it to life, and thus, my Wonder Woman ball gown was born. This was the start of a new kind of cosplay for myself and for Snow. Designing my own style of costumes gives me the ability to express myself and be confident in something that suits me and the character at the same time.
Thrifty Cosplay
While Snow is very comfortable with making our costumes, she doesn't always have the time to create them from scratch. This is especially true during Halloween when costume orders are always popping out of the woodwork and out house is full of cutting and sewing. So we do this thing around Halloween where we go to thrift stores to get our costume pieces. All right, honestly, we do that anyway if we can, but it's usually for small things and not every part of the costume.
Cosplay tip: thrift stores are your friend.
My two favorites have to be our Frankenstein costumes and our Insurance mascots. For my "Bride of Frankenstein," Snow made the dress from an old curtain and a table cloth sewn together, while she bought a black suit to portray Frankenstein's iconic monster. With just a bit of makeup and some patience with my hair, we transformed ourselves into classic horror characters.
The next year we dressed as Flo from "Progressive Insurance" and the General from "The General Insurance." With the help of a 50's style wig, an apron, blue paint for the letters, and craft foam for the name tag, I was ready to talk about some major savings on various insurance premiums. As for Snow, she bought a button down green shirt and glued military markings made out of craft foam to it.
Oh, and the mustache? That was made from a white wig to make it extra poofy.
Closet Cosplay
If you're like me, you already have a decent amount of clothing in your wardrobe. You also have a number of hats, shoes, hair accessories, wigs, and other neat things that you may have pushed to the side for one reason or another. But if you tilt your head and give your clothes a second look, you may be surprised at what you can do with them.
I have several dresses in my closet from Torrid and Lane Bryant, and two dresses from those stores have been used in the name of cosplay. I have a dress from Torrid that's black with a red and black polka dot top. I added black leggings, lacy white socks, did my hair up in buns, put on a red bow and a touch of black makeup on my nose to become Minnie Mouse.
The second dress I've used is a blue dress with a black belt that I got from Lane Bryant years ago. I'd completely forgotten about it until I found a wide brimmed red hat in my closet. For fun, I posted a picture of myself in that hat with the caption: Carmen Sandiego. Many people agreed, but someone pointed out that it could also work for Agent Carter.
Suddenly, I remembered the blue dress I had and put together the perfect look for the premiere of "Avengers: Age of Ultron."
Iconic Symbols
Cosplay has always been about emulating a character, but some cosplayers have taken a different route. Some have focused on recognizable symbols and objects and have turned them into costumes. Whether it's wearing a dress that's based on the Tardis from "Dr. Who" or a pokeball from "Pokémon," these costumes offer a range of creativity as cosplayers work to make wearable versions of these iconic symbols.
My partner and I did this with "Sonic the Hedgehog" and "Portal." Instead of constructing a dress based on a character, we came up with a design for two iconic pieces from each franchise. With Sonic, we designed a dress based on the first level of the first game, "Green Hill Zone." The dress itself is blue with a red bottom ruffle and belt, but the biggest draw of the dress, to me at least, is the recreation of the level on a side panel. The trees, the ground, the blue background, even the rings that Sonic collects in the game are all a part of the dress.
As for "Portal," we came up with a white dress with vertical black lines to look similar to a turret, which is something you come across in the game series. Snow also added blue and orange ruffles to replicate the portals themselves. The side of her dress is made to look like outer space, and even has a core drifting through it to represent an event that happens in "Portal 2."
Wall Scroll Dresses
Thanks to cosplay, Snow and I have mastered the fine art of combining JoAnn Fabrics coupons to get just the right fabric. But sometimes, the fabric from your local store isn't enough to create the look you're going for. To our surprise, the answer was hanging right on our walls. Between the two of us, we have a lot of wall scrolls from different series. It's certainly too many to have hanging up at one time in our house, so Snow decided to take some of our wall scrolls and make dresses out of them.
So far, Snow has made two dresses: a "Sailor Moon" dress and a "Kingdom Hearts" dress. With my "Sailor Moon dress," it's done in a style similar to what she's wearing in the wall scroll, with the actual image in the middle of the skirt. Meanwhile, the "Kingdom Hearts" dress is made to look like something that could fit into the series: the mouse-ear fabric for shoulder straps, the yellow straps on the side, the colors, it all resembles something from the game.
Making an Outfit for a Character we never see
While movies, T.V. shows, and comics are the most prevalent sources for cosplay, there are also other media outlets that make their way to the sewing machine. Novels and podcasts are a good example. However, unlike the visuals on your television screen or in comics, you're working off of descriptions that can be, at times, very limited. Some characters are described in a mere sentence, or, in the case of "Welcome to Night Vale," are just a voice you hear who may or may not tell you what someone looks like.
Of course, this doesn't stop us from cosplaying these characters.
"Welcome to Night Vale" is a podcast about an odd desert town with a host of characters you meet during weekly community radio updates. No pictures of the characters have ever been officially released, yet if you walk up to fans and ask there's an almost universal answer of what the characters look like thanks to a handful of details from the show or the personality of its host.
My partner and I decided to tackle Cecil and Carlos, two of the main characters from the podcast. All we know about Carlos is that he's a scientist with lovely, curly hair. This is according to Cecil, the radio host, who tends to fawn over Carlos' existence. Since Cecil hosts the show, we assume that he wears a headset. As for clothing, the general consensus is that he wears the colors from the podcast's website: a variety of purples. He's a bit of a sharp dresser, maybe a sweater vest, maybe suspenders or a button down shirt. While the details are scarce, fans of the podcast – or anyone who's heard of it – still recognize these characters when seen at a convention… or Arby's!
Cosplay Based on Fanart
The best thing about any fandom for a series – besides being able to connect to others who love something as much as you do – is the creativity that bubbles out of the community. While scrolling through Tumblr and looking at fanart can be dangerous if you need to try and get any work down, it's amazing how much talent exists within these groups of people. Even series creators have shared fanworks and praised them, so it's really no surprise when people want to cosplay fan interpretations of characters. Case in point: my Neo Queen Serenity cosplay.
There's an artist by the name of asieybarbie who, on occasion, does black versions to different characters, my absolute favorite of hers being this gorgeous woman from "Sailor Moon." In the case of this particular cosplay, the dress is the same one that Neo Queen Serenity wears in the series, the only difference is that her skin and hair color have been switched to black and purple respectively.
After shooting the artist a message to ask if she minded if I portrayed this character (which I recommend doing, since there are some artists who have asked that people don't do cosplay of their designs), Snow made the dress while I focused on the hair. We purchased blonde, premade buns from Sally's Beauty Supply and took a couple of sharpies to them to hand dye the hair until they matched the wig I picked out.
What's in your Closet?
Cosplay isn't just about wearing a costume. It's a chance to be creative and to really express yourself. Whether you're a professional seamstress, self-taught, a thrifty shopper, or someone saving money to purchase a costume. Whether you cosplay every detail of a character or tweak an outfit to fit your style.
Whether it's anime, comics, video games, cartoons, sci-fi, YouTube personalities, celebrities, politicians, the Old Spice guy, a Sharknado… you name it, and you can do it. All you have to do is try.
Thanks for checking out my cosplay closet. Be sure to play in your own closet and rock whatever character you want to show some love to.
Where to Find Me (and my partner)