Initially when I heard the title, I was confused. Like, what is Chelsea settling for? As a plus size woman, so much was running through my mind about what she could be settling for, was this going to be another plus size "woe is me" show, would we fall in love with a woman whose style and confidence is OOC (Out of control)?
Turns out, Settles is Chelsea's last name! Ha! Who would have thunk that? This 24 year old Gemini was taking us along her personal journey into self acceptance, growth, and taking control of her happiness, through all the blood, sweat, and tears! I had the pleasure of interviewing the effervescent and beautiful Chelsea Settles who was just as beautiful over the phone and through the paper!
Please take a read and get to know more about Miss Chelsea Settles!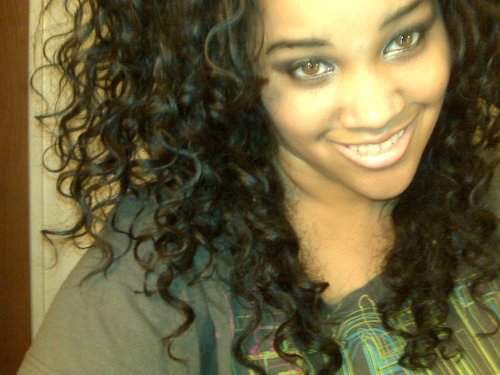 Before we jump into the show, I wanted to know how has life been since the show aired?
Life is great. Still the same Chelsea just a little more wiser and stronger. I'm just blessed people can relate to my story and see that they can accomplish whatever they want if they just go for it.
Are people more supportive of your endeavors?
I've always had a good support system at home. So, show or no show my family always supported me in whatever I chose to do in my life.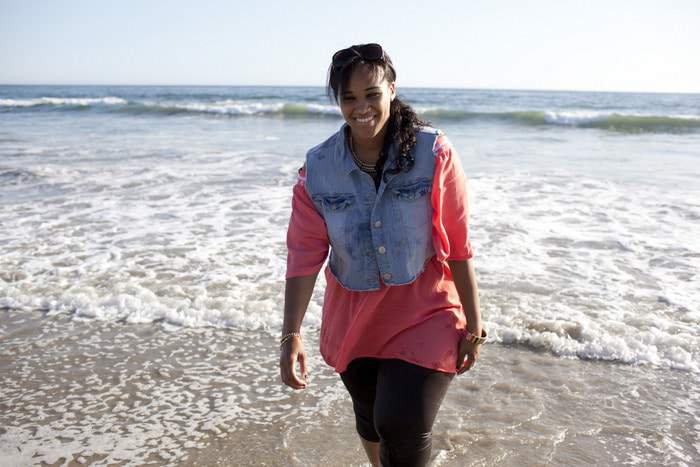 What do you think was one of the most valuable life lessons learned along the way of this show for you?
One of the most valuable life lessons I've learned while in LA was definitely to love yourself. I was always making excuses to justify not doing things. Los Angeles helped me grow and know that if I'm comfortable with the body I'm in everything else will follow.
Okay, do you know how amazingly gorgeous you are? That was one thing that struck me! So many times, I wanted to reach through the TV and give you the biggest hug and show you how beautiful you are! How has this show affected your personal confidence level?
Just the process of doing the show has affected my personal confidence in a positive way. Seeing how many people who love me support my endeavors no matter what showed me that I too should believe in what they see.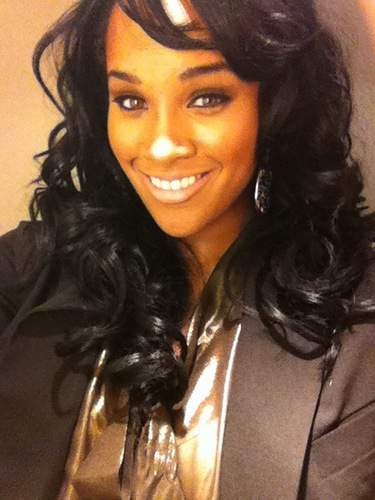 On the show you shared your aspirations into getting into the fashion industry – more specifically fashion marketing- since the taping of the show, is this something you still want to do or are working in?
Yes, most definitely my aspirations are still the same. You will be able to see more about my aspirations in the fashion industry during the show.
When it comes to fashion, are you wanting to work in mainstream fashion or in plus size fashion- OR does it not matter?
It doesn't really matter, but of course I would like to work in plus size fashion. I want girls and women to feel comfortable with the skin they are in and look fabulous while doing it. Being healthy is important – but not being a carbon copy of what you think society wants you to be.
After watching the first show, my friend and I were like Chelsea! We'd take you out and show you the love in LA! Were you familiar with the plus size community of designers, bloggers, and models in LA while here?
I wasn't too familiar with a lot of the plus size designers and blogs in LA. But, I did do a little research after moving and noticed the market in LA is a lot larger (HAHA) than I expected. Looking forward to connect and mingle within the community! Looking great and practicing self acceptance is one size fits all, which is something we all have in common. Proud that I can say that and actually mean it.
Plus designers- have your eyes opened to plus size fashion?
I am a bargain shopper… I find inspiration in clothing from everywhere. I love Monif C, my favorite designer is Vivian Westwood! Marni! I love Forever 21, I love Torrid! I am a Target kind of girl…. I don't know of a lot of plus size designers. But, I would love to learn about them!
Do you think if you had more fashionable options? DO you feel you'd have more confidence?
For me? No. It was my weight and I was uncomfortable. I used my weight as a mask and excuse. My journey with weight was about healthy. Not the size and number, but being healthy. It's a personal choice. If someone is happy with their size and healthy- OWN THAT and work with what you have!
I so wish we had the chance to hang while you were in Cali! However, while here, did you have the chance to make amazing friends and/or connections?
It would of been so fun to hang out with you but I did meet a lot of amazing people while I was in L.A. everyone was so driven, motivating, and they made my time in L.A. that much easier!
I know the show kind of focused at times on the low points of how you felt about certain things, being vulnerable takes courage! Are you more confident in your own skin now?
Yes, I am way more confident then I have ever been, I feel like there is no goal unattainable to me, I internalized a lot of my feelings prior to filming the show, allowing myself to be vulnerable helped me to get to this point.
How are things with your mother and family? I know since the taping, you have come back home. How does it feel being back home compared to California?
My mother is doing well, she is still making progress and strides to better health. My family is very close, we are just taking it day by day. It's hard being at home after being away for so long, I didn't have anyone to answer to when I was in LA, unless you count Jenna as a guardian!!! The biggest adjustment I have to make is the weather, It snowed here this weekend!
We have to know… Are you still with your boyfriend? Have things changed?
You will have to watch the rest of the season to see how that unfolds, But I do have to say that Rory has been a HUGE part of my life for 6 years, he is my best friend and number one supporter!
Your cousin Jerrell- where is he and how is he?
He went through the same thing as well! He is at home! In LA, he was doing his own thing! He was living his own life!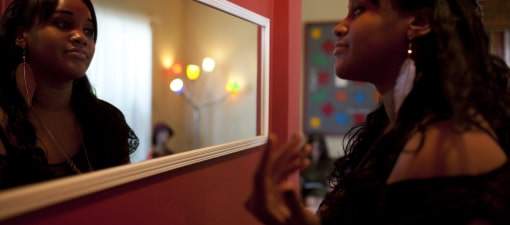 If Jerrell didn't come with you, would you have still gone to Cali?
That is a tough question! He was going with or without me! Maybe I would have! I am so surprised I went through with any of this! You never know what you are capable with…
How did you stay so focused?
I hit the end of my rope pretty much… I didn't want to put in the hard work, I would stop and revert to old habits… I got knocked down a lot. What I realized was that if you really want something, it takes hard work, dedication.
Nothing worth having comes easy…
I asked readers of the Curvy Fashionista if they had any questions and I have a few from the readers:
From @_2Juicy_: What was your breaking point that made you finally want to lose the weight?
Being unhappy with my life and unwilling to take risks to make a change, because I was unhappy with the way I looked.
@AlwaysforMe asks: What is Chelsea most proud of?
Chelsea is most proud of being a genuine kind hearted person with a warm spirit
@illsaygiselle wants to know: Why she was only deemed to have "made it and become a better person" once she had exercised and lost a little weight?
This show is not a about me losing weight (it's a part of it), It's more about me growing within myself. If I wouldn't have been able to do that, and fix my internal issues – there wouldn't have been any weight loss.
Tiana Leigh from Facebook: How does it feel looking at yourself on television, would u change anything?
It's very weird to see myself on tv, it kind of feels like a home movie because it's me, my family, and friends. I wouldn't change anything because I wanted this journey to be as authentic as possible.
Quida from Facebook: Prior to this reality show journey when was the moment or what event made you realize that you desired and deserved more out of life?
You will actually have to watch upcoming episodes to see how that unfolds. There is definitely an event that made me realize I was worth more and capable of much more than I previously thought.
Okay, quick lightning round… first answer that comes to your mind!
LA or NY?
LA – laid back, beautiful weather, the beach – what more do you need?
High Heel or Flat Over the Knee boot?
flat over the knee boot
Silver or Gold?
Gold – (but if my future husband is reading this – WHITE GOLD for my engagement ring, please lol)
Chocolate or Vanilla?
Chocolate (in moderation haha)
Day at the Spa, or on the beach with a book?
Day at the spa – I'll have the hot stone massage
Favorite artist?
Beyonce gives me life
Glass half full or half empty?
Is this a trick question? :/ haha
Has this show made your dreams and aspirations that much bigger?
Definitely – I'm just a small town girl from Pennsylvania – I now know that anything is possible. My last name may be settles, but i'm definitely not living up to my name anymore.
"Sky is the limit – but i'll settle for a cloud" – Stay tuned, this is just the beginning.
If we wanted to follow you along your journey, please share how we can reach out to you and say hey!
www.twitter.com/ChelseaSettles
www.ustream.tv/channel chelseasettle
Please reach out me too, I love meeting and interacting with viewers or supporters of the show. The outpouring of love and sincerity has been amazing and greatly appreciated.
Lastly, what does Curvy.Confident.Chic. mean to you?
Loving, owning, and embracing your body to the highest degree. Oh, and looking FAB while doing it 😉
I love love love her! Her energy and excitement was beyond amazing! Make sure you check out Chelsea Settles on MTV Tuesdays at 10pm! (The time slot moved up an hour!)
DID you enjoy the interview!?! Did you learn anything new about Miss Chelsea?