When we came across actress, singer, and advocate Melanie Field's latest music video, we were legitimately moved to tears at how relatable the song felt to us. We felt it was SUPER important to feature the song and singer over at The Curvy Fashionista.
We love feeling seen and represented, which sadly doesn't happen all that often for fat folks, but people like Melanie Field and Brianna McDonnell are determined to change that.
Check out our interview with Brianna McDonnell and watch her Fat Girl Fashion Film, here!
Check Out Melanie's Music Video For Now I Know:
Melanie Field tALKS With TCF About "Now I Know"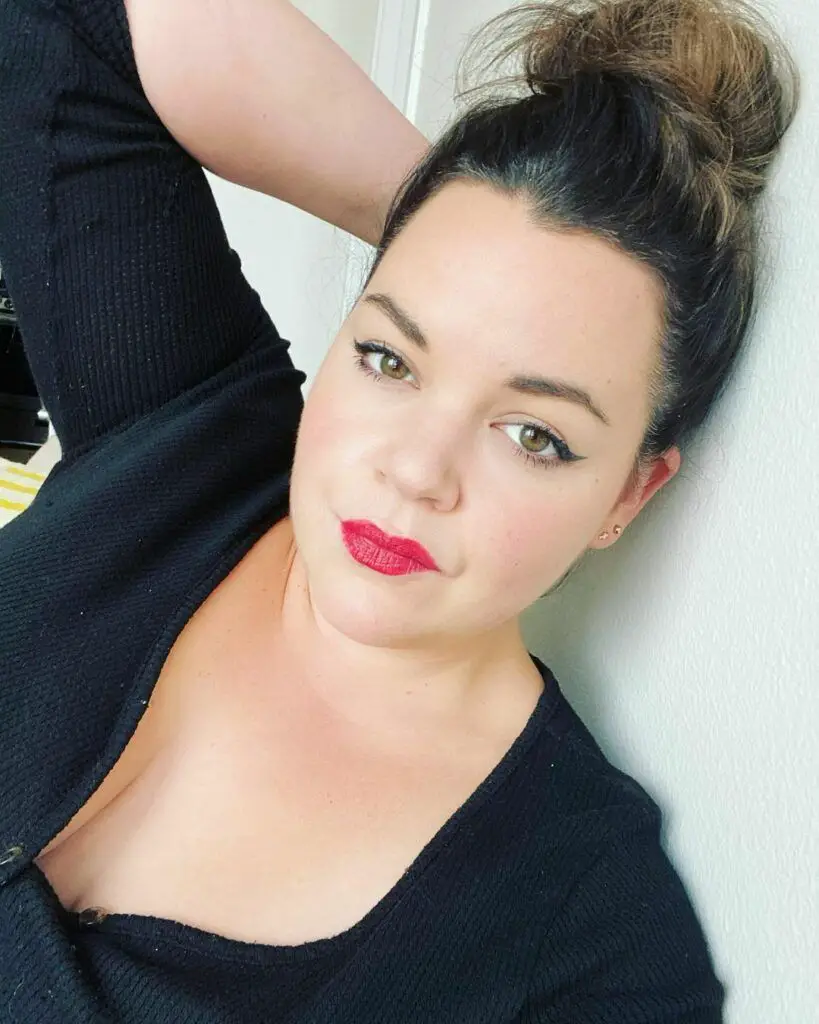 Mayra Mejia: I'd love for you to tell me more about the song. How did it feel for you to get so vulnerable and personal?
Melanie Field: "I wrote the song in 2018, so it's been with me for a while now. My friends Sam Ressler and Natalie Love have a company called We the Women Collective, and they were hosting an evening of new works by female creatives with the theme of "rebirth." They asked me if I had anything to share, and the truth is, I didn't save a few journal entries and half-baked pilot outlines.
But, what Sam and Nat didn't know at the time was that I was smack dab in the middle of my own rebirth. I was still nursing the wounds of the Heathers reboot not going as planned. I was desperate for an opportunity to express some of the valuable lessons I learned while working on that show – lessons primarily about my experience being fat and how that has shaped who I am, and how important I feel it is to have fat representation in the media. I'd been looking for a creative outlet, so their proposal came at the perfect time.
I thought I was only going to perform this song live at small, intimate events. But I got the idea to make a music video to reach a larger audience with its message.
It was an intense endeavor to attempt during a pandemic, but the most incredible team supported me, and I'm so proud of what we were able to create."
"Getting so personal and vulnerable, well, that's really scary. But I wrote Now I Know because I wanted to tell the truth. I was ready to. I needed to.
As long as I kept these stories hidden under a mountain of shame and fear, I wasn't truly free to be my authentic self. So I knew I had to do it, even though I was afraid of being judged, rejected, or to put it simply, that no one would care.
I knew it would all be worth it if I could help just one person."
Mayra Mejia: How are you feeling now that it is out in the world?
Melanie Field: "I feel relieved. It's crazy, I feel so many things, but I struggle to come up with a word that fully encompasses it more than that. I'm relieved because carrying all of that around with me for so long was a burden.
Hiding for so long was a burden. So I feel like a weight has been lifted. I feel relieved because, as I mentioned, I was working on this project for a really long time, and there is a great sense of freedom and accomplishment in closing the loop and finally putting it out there. I feel relieved because people do care, and it is helping people. More so than I ever dreamed it could, to be honest.
The whole experience has had a massive impact on my healing process. I think I hoped that it would help other people in that they would hear my story and say "wow, me too," and seeing themselves reflected in that way would be healing.
I believe that cultural representation has the power to heal and even save lives. But I didn't realize that I also needed that healing.
I also needed the feedback, the comments, and messages that said: "wow, me too." It made me feel validated and less alone. I'm so grateful to everyone who has given me that gift."
Mayra Mejia: What words of advice do you have for folks that are currently struggling with an ED or body image issues?
Melanie Field: "My number one piece of advice is to ask for help. Confide in the people you trust, and don't be afraid to share the parts of yourself that feel the darkest and most broken. Hiding only adds fire to the fuel of shame. And as scary as it is, you must bring your truth into the light to heal.
There are so many incredible books and resources out there that will not only help you dismantle fatphobia in your own mind and heart but will also help you identify and dismantle it in the people around you.
Don't be afraid to advocate for yourself, even if it means you have to call out your loved ones for harmful language and behaviors. And remember, you only have one body, and that body has carried you this far. It deserves your unconditional love, your respect, and your gentleness.'
Mayra Mejia: Pivoting to a much lighter subject, let's talk a little about fashion! The styling in the video is stunning. Can you tell us how you choose the outfits featured in the video?
Melanie Field: All praise goes to my dear friend and co-owner of the Plus Bus, Marcy Guevara-Prete!!! I self-funded the project and initially decided that I would do the wardrobe styling on my own to save some money. But I texted Marcy early on in a panic about how daunted I was feeling.
Even though I've come so far, clothes shopping is still a loaded and somewhat triggering experience for me. Marcy jumped right in with her unmatched expertise and generous, loving spirit.
She helped me source all the clothes and put together the looks, and I couldn't be happier with how they turned out! I felt amazing. The looks captured exactly what the director and I were going for in each of the scenes. I'm so glad you liked it!
Mayra Mejia: Before we go, are there any projects of yours that you'd love for us to support?!
Melanie Field: I'm headed off to Pittsburgh this month to shoot my next project, A League Of Their Own, for Amazon. The premiere date is TBD but keep an eye out! And if you're interested in seeing any of my previous television work, check out Heathers, Florida Girls, or Shrill. Also, The Alienist on TNT if you like a spooky murder drama set in the Gilded Age!
This interview has been edited for length and clarity.