STOP the presses!
I know that for a while we had been wondering, or at least I have, what would happen or WHEN the US would do something way too cool, well, Lane Bryant has done it! Announced in WWD, today:
Lane Bryant and Isabel and Ruben Toledo announce its First Designer Collaboration
The designer behind the Michelle Obama's 2009 inauguration outfit, you know, the lime green coat-and-dress ensemble, yes, THAT designer and her partner, Isabel and Ruben Toledo have teamed with Lane Bryant to launch a capsule collection! EEK!
Okay. As I am really hyped typing this, follow along…
This holiday season, there will be two items, a novelty T-shirt and tote bag highlighting Ruben Toledo's signature sketches. Isabel the designer and Ruben the Sketcher- a perfect designer duo! HOWEVER, for the spring?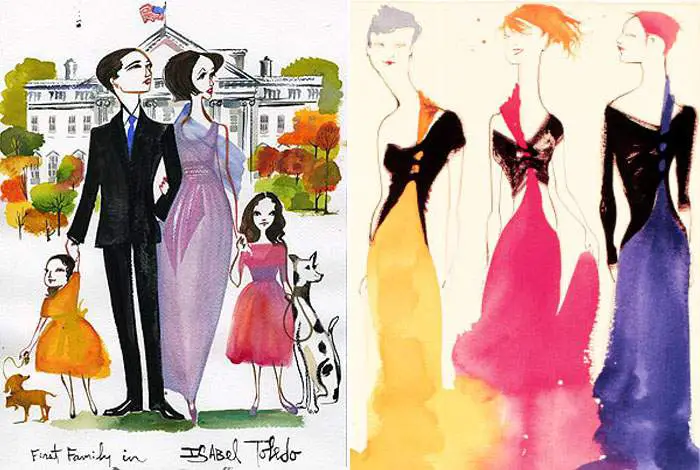 Sketches by Ruben Toledo
The spring Isabel and Ruben Toledo collection will features a full collection of ready-to-wear, outerwear and accessories!
If you are unfamiliar with Isabel and Ruben Toledo, here is why:  "Unlike many designers, she opted not to maximize on the publicity generated by Michelle Obama wearing her clothes. After the First Lady wore Toledo's lemongrass-colored ensemble to the presidential inauguration in 2009, Toledo carried on pretty much as she has for 30 years, preferring to focus on her craft than finesse the art of self-promotion."
Photo from Dossier
The collection, once launched will be in FIVE HUNDRED DOORS. FIVE HUNDRED. AND on the website! BUT, it does NOT stop there! For the launch of their collaboration, Lane Bryant and the husband-and-wife design team are planning a fashion show for next year.
EEK!
"We're looking together at all product categories and nothing is being ruled out as a possibility for inclusion down the road. This is a big deal for us and we're treating it in that manner in every way we can," said chief executive officer Linda Heasley.
THIS, is sooooo good for sooo many reasons, especially, when you talk of the business of plus size fashion– ESPECIALLY US Plus size fashion! WOOT!
OMG, I cannot wait to see what comes of this collaboration! IT HAS TO BE GOOD! Will you shop the line?