Today, we welcome Guest Blogger, Jessica from Chic in Every City! Today she is talking all about Blazers- and knowing me and my love for jackets, coats, and all of those fabulous finds to polish your look- I am excited to share with you her fabulous read!
The Blazer
Finding a trendy plus size blazer is no easy feat: designs are often too boxy and, to add insult to injury, the sleeves are almost always 3/4 length. (Because plus size women always want to look like one of Raphael's cherubs of his Sistene Madonna??) What's most ironic is that the blazer is a flattering style on everyone, regardless of body shape!
Fortunately, several fun styles have started to appear in plus sizes, including the "Boyfriend Blazer". They are cut long to hit below the hip and are almost exclusively worn with the sleeves rolled up (when lined) or pushed back. Other styles including cropped, double breast and jersey are available online and in stores!
This spring, pair your blazer with jeans, jeggings, shorts, skirts, you name it! (Without the winter parka on top, of course).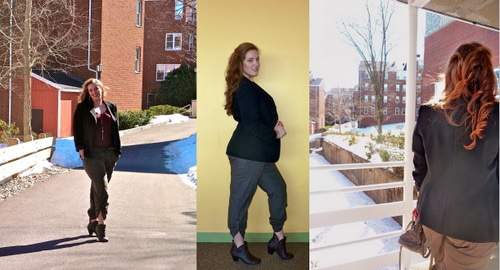 Clothing in Photographs: BLAZER – Tahari, PANTS – City Chic Self Tie Cargo, TOP – American Apparel, BOOTS – Romanitc Soles (Zappos.com), ACCESSORIES – Express.
If you're struggling to find cute plus size blazers, here are a few suggestions to get you started:
Newport News Ponté-Knit Boyfriend Blazer, Calvin Klein Plus One Button Blazer, Newport News Stretch Girlfriend Blazer, Halogen by Nordstrom Single Button Blazer (straight size, cut widely), K-DASH by Kardashian Embellished Boyfriend Jacket, K-DASH by Kardashian Twill Blazer with Shawl Collar, and Jessica London Bi-Stretch Blazer.
Tips:
TAILORING: Especially if you're buying online, buy yours a bit large (if possible) and tailor it to fit your body. It usually costs around $8-$15 and it's worth it because you'll get easily twice as much wear out it!
BODY SHAPE TRUMPS TRENDS: If a particular trend makes you feel uncomfortable, don't bother! For example, if long ones overwhelm you, stick to shorter or even cropped blazers. Wear what you like!
BLACK then NAVY then YOUR PICK: Start with a black one because you'll get a ton of wear out of it, then make your way to navy which is a great spring/summer neutral. After that, experiment with colors!! Try this great peach one from Asos Curve! (and then email me to let me know how it goes :-).
Stay fabulous, ladies!
I had a blast reading Jessica's post! What do you think? Are you a fan! Do you don a blazer? Where do you get yours? How do you fashion them?

Make sure you visit Jessica's blog, Chic in Every City! Thanks Jessica!!!
Marie Denee
I am the Editor in Chic of The Curvy Fashionista. Often goofy. Forever emo. Always a Virgo. You can find me somewhere grooving to 90s R&B.