Last week's fashion blogger spotlight on Dani of Blonde in the District was so fun, right? Today, we are learning more about an equally fun plus size blogger – Mona of The Smiling Sweetheart. Blogging for just seven months, Mona already has a ton of great content, offering tips on dressing for a variety of occasions and situations.
Struggle with styling denim? Mona is seriously the denim styling guru and has tons of great denim outfit inspiration. The Smiling Sweetheart is a plus size blogger YOU NEED TO KNOW!!!
Meet Plus Size Fashion Blogger- Mona of The Smiling Sweetheart!
Blog: thesmilingsweetheart.com
Age: 23
Height: 5'4″
Location: Sacramento, CA
How long have you been blogging? 7 months
What or who inspired you to become a fashion blogger? What led you to it?
My parents and my friends. I have been incredibly blessed to have a social circle that supports me in all of my endeavors, but even more, pushes me to do things that I would not otherwise think of doing, like starting a blog.
My younger self also inspired me. I know that 14 year old Mona would have loved to have seen girls like herself out in the world strutting the things that made them "different" or "odd" in a way that was confident and positive. I remember her anytime I need a reminder of why I started blogging.

Do you blog full-time, for fun, as a hobby? Share your evolution!
I like to refer to my blog as my personal passion side hustle. Right now, it's one of the many things that I am working on. However, my ultimate goal is to see The Smiling Sweetheart grow, break labels, and show women their internal and external power.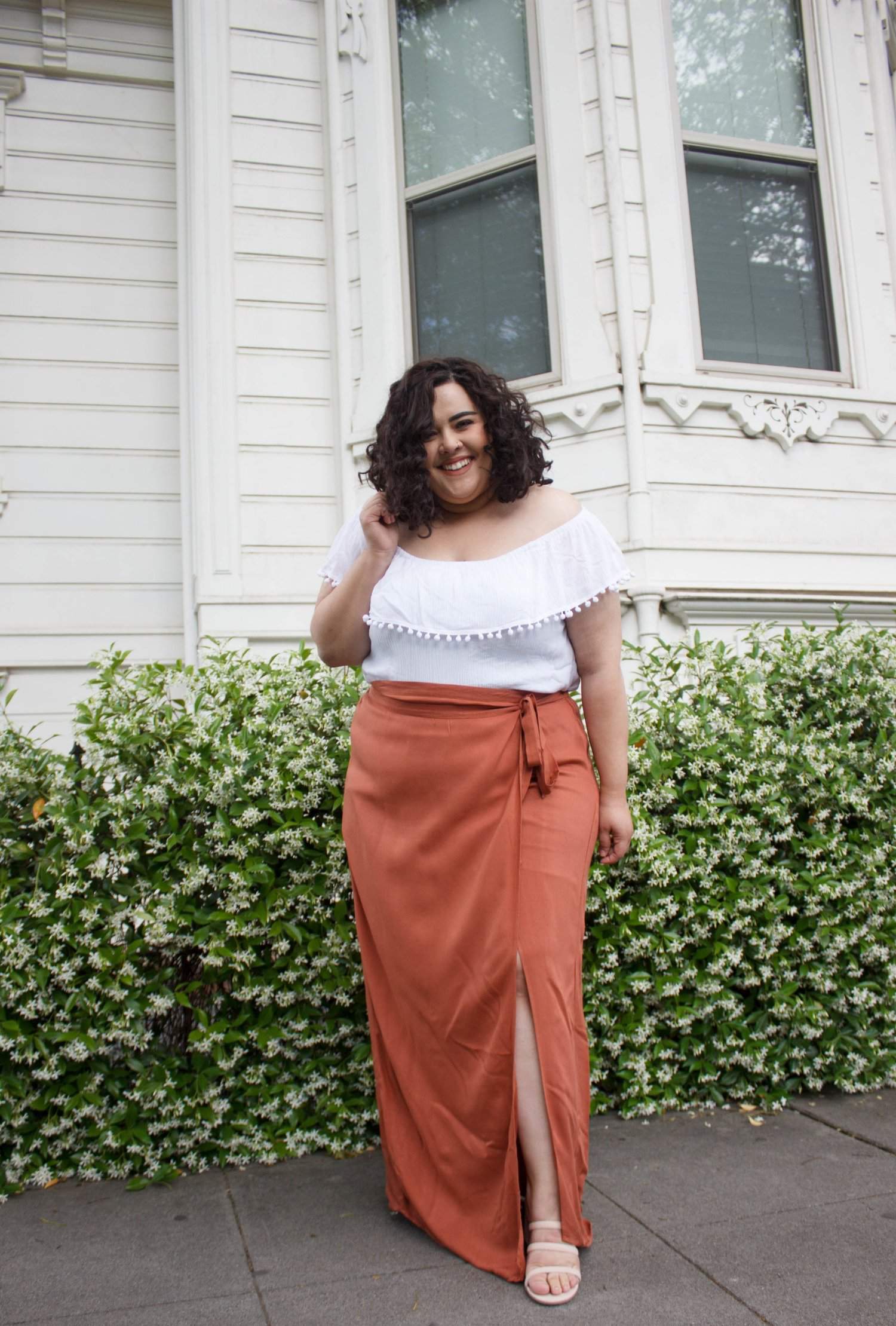 What is your favorite asset? Your legs, arms, waist? How do you play that up?
My favorite assets are my legs and my smile. I love to play up my legs by finding jeans that fit them almost perfectly. That, of course, can be a real challenge. But, I have found that with my average height, regular length jeans don't cut it. So, I've learned that ankle grazer jeans are my best friend because I can cuff them to just the right fit so that they accentuate my legs.

What are the challenges, if any, you face regarding being plus size?
I think one of the biggest challenges, which I think everyone can agree with me on, is that being plus sized is almost seen as an a separate part of the fashion industry. I sometimes feel as though we are an extension of the industry when all we really want is to be part of it like everyone else. That lack of inclusiveness is what I find to be most challenging.

What's your favorite thing about being plus size?
I think one of my favorite things about being plus size is proving people wrong. All the things that I, and other women, are told that we can't be just because we are larger than a size 10 are things that I love proving wrong. Such as, "You can't be fit and curvy" or "It's not flattering to wear stripes or prints if you're curvy." I hear these things, and I immediately think "Ok, that's fine. That's your opinion. But, let me show you why you're wrong."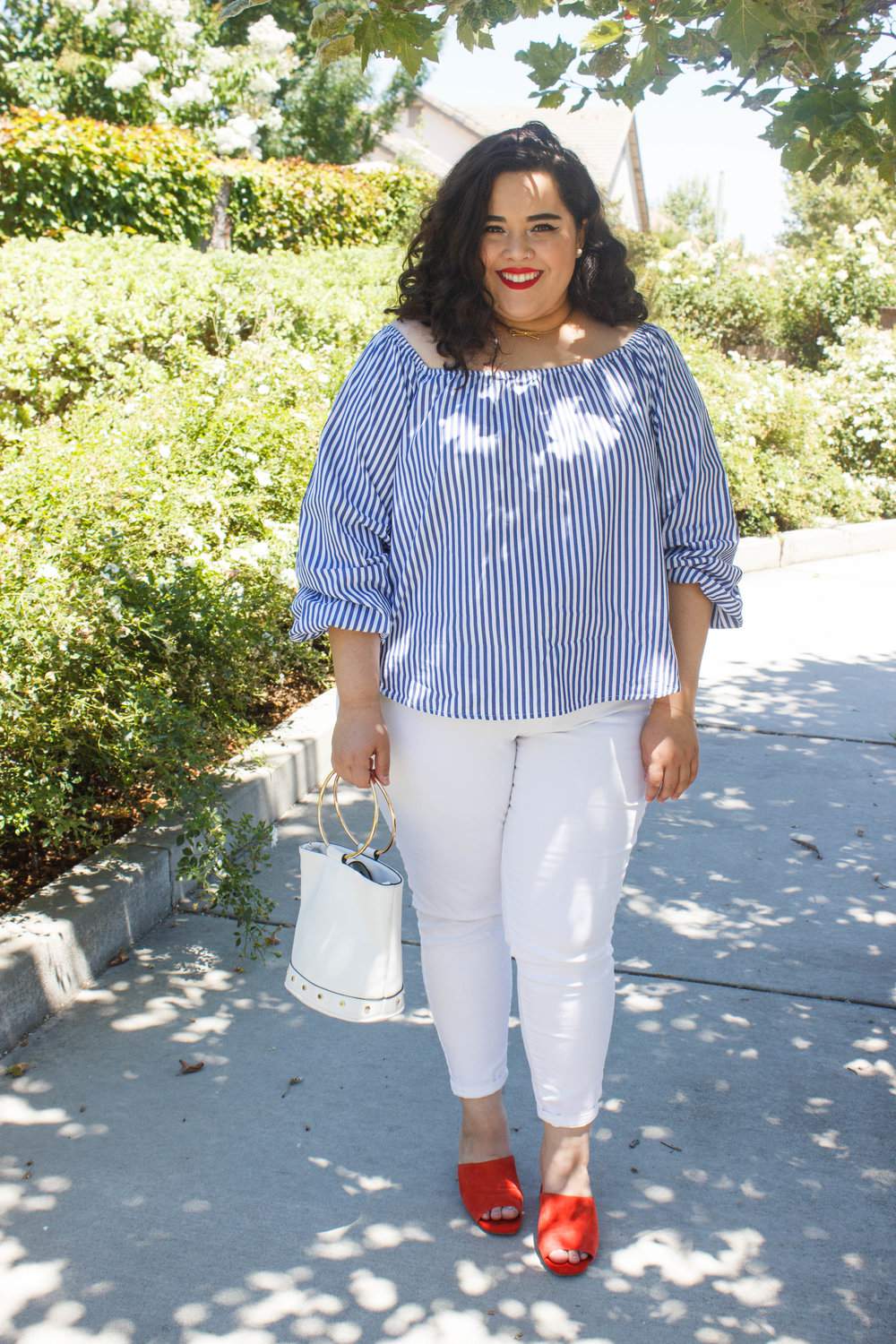 What's your favorite thing about being a blogger?
You know, it's so funny…when I first started about 7 months ago my favorite thing was putting together looks and content for the months to come. And, while it's still one of my favorite things, my most favorite thing has been building a community on social media.
I have been blessed to meet women and men of all walks of life and all different body types, and they have been so supportive and uplifting. That has been my favorite part.
Who/what are your favorite designers/brands?
I have been a long time lover of ASOS. It was one of the first brands that stood out to me in high school that offered stylish clothing for the curvier customer. I can always rely on ASOS to have something I am looking for and will love. I am also a major lover of couture gowns and one brand that creates phenomenal pieces is Zuhair Murad. Definitely one of my favorite couture designers.

Describe your personal style.
I describe my personal style as all over the place and sporadic. I dressed based on two things: the weather and my mood. Some days I want to channel my inner Beyonce and dress up with a full face of glam. Other days, I love a good letter jacket and sneaker combo. My favorite color to wear is black, and I am happiest when I am wearing it, but I also love to wear pops of color.
Which bloggers inspire you? Plus or straight size! Any bloggers currently on your radar?
That's a hard one because I genuinely love so many bloggers out there in a variety of communities. One blogger that really inspires me is actually AsciaAKF. AsciaAKF isn't a plus blogger, but she is a kickass blogger nonetheless. I have been following her for 5 years now and have admired how much she has grown, and I truly admire how real and unapologetic she is with her followers. What you see is what you get with her, and I love that and aspire to it.
Other bloggers on my radar are Roxy Reyes. This girl is my source of body positive inspiration. She proves that loving your body is more important than anything and I really admire that. Another blogger that is always on my radar is, Katia Hanine of Lapiz of Luxury. This girl's style is so on point, and when I was in college I used so many of her looks as my daily outfit inspiration.

What do you think about where plus size fashion is today versus a few years back?
I think that the plus size fashion industry is a lot better off than where it was just a few years ago. More people are becoming comfortable with who they are because of the people who blazed the trail years ago, that is bloggers, business owners, body positive activists and the like.
While I do get concerned that sometimes body types become a trend and used for marketing purposes, I feel like the plus size fashion industry and all those in it will keep producing incredible content, ideas, products, and businesses that will help this industry continue growing in a positive and inclusive manner.

What do you think or hear from readers, is one of the biggest myths about plus size fashion?
The biggest myth is that there are pieces and styles of clothing that you can't wear because of your body type. Those are just limitations that society and others have put on you but essentially mean nothing. No matter what, you can rock what you want to wear.
Are you working on anything or have anything to share? Anything else you want The Curvy Fashionista's readers to know?
I am currently working with another blogger on a plus size clothing line. Our hopes are that our line continues to fill the gaps in the plus size industry. We firmly believe that there are so many incredible plus size brands today. They have opened up roads for more design and aesthetic opportunities and we are excited to take them on.

Lastly, what does Curvy.Confident.Chic mean to you?
Curvy. Confident.Chic, to me, means that you can be any size, any shape, and still be able to feel incredible about yourself. No matter how small or large you are, it means that these things don't take away from your ability to love yourself and be stylish in every sense of your life, from your manner to your way of dress.
Do you dig her style? Which look is your fave? Let's talk about it below!!
Want to be featured?
Make sure you fill out your deets here,
so that we can feature you!
Looking for more plus size blogger style inspiration?
Make sure you check out all of the other plus size blogger spotlights!