Erica Watson's Fat Bitch Tour lands in Hollywood!
A dear friend of mine, Erica Watson (who will also host FFFWeek's Panel) is bringing her one woman show to Los Angeles! "Fat Bitch!" premieres in LA April 29th – May 1st at the Greenway Court Theater in Hollywood!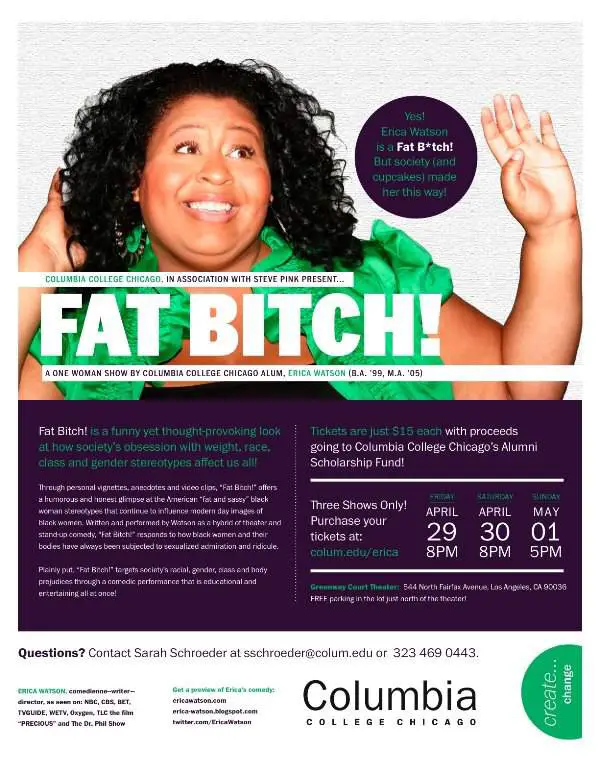 What is "Fat B*tch?"

"Fat B*tch!" is a funny, yet thought provoking look at America's obsession with weight…and how stereotypes keep ALL OF US in a box! From the way the world views Erica's shape, her interactions with men, and all in between from the boardroom to the bedroom, "Fat B*tch!" explores how black women and their bodies have always been subjected to admiration and ridicule, and discusses stereotypical images from "Mammy" to the "Hottentot Venus."
Written and performed by Watson as a hybrid of theatre and stand-up, Fat B*tch runs about 90 minutes without intermission.
Are you Ready to Go?
Erica Watson's Show will have a THREE DAY RUN in Hollywood!
Here are the details:
· What: "Fat B*tch" One Woman Comedy Show
· Where: Greenway Court Theater, Hollywood CA
· Dates:
o Friday, April 29th 8pm
o Saturday, April 30th 8pm
o Sunday, May 1st 5pm
· Cost: Only $15
Get your tickets to Erica Watson's "Fat B*tch" HERE!