Ooooohhh fall plus size fashion already sounds amazing and with these celebrity and designer collaborations and collections, I imagine it to be even more fashionable with news breaking that our Aussie comedienne, Rebel Wilson will be launching a holiday capsule collection with Torrid!
The REBEL for TORRID holiday collection will be a limited edition collection that will launch November 2015, and will be sold in TORRID stores and on TORRID.com! How exciting is this?! And it is not a small one either. Rebel's 25 piece collection will range from $25- $125!
On why she teamed up with Torrid, Rebel Wilson shares:
"I've had a 'torrid' affair with buying clothes all my life. I've never really felt like there's a brand out there in the plus size world that is creating cool stuff, that fits well and is good quality yet affordable. It's really only been in the last few years that I've seen companies try. So it was awesome to team with Torrid, who I think are doing such a great job in making plus size fashion relevant and dope. I've been loving designing the clothes for my capsule collection. I've been putting my unique style and personal loves into the clothing and literally can't wait for the collection to launch!"
Why Rebel Wilson?
I find it very interesting and telling as Rebel has recently done a few interviews about her embracing and learning to have fun with fashion! Being that she is in the light and on a red carpet and blog or two, I can see how this is a natural progression for her!!
Plus, I always dig her red carpet style (as we have shared on Facebook) so this makes sense, but Liz Munoz, SVP of Design who worked with Rebel on this collection, gives us a bit more as to why:
"We are excited about this partnership with Rebel. She represents everything that Torrid is: young, fun, fearless. She has a strong point of view and inspires girls around the world to wear what they love, no apologies."

"Rebel's got a natural instinct for design. She's been totally hands-­on throughout the process. She cares about every detail, down to the diamante rivet on the jeans. We love the results… she crushed it."

Print tee reflects her Australian background; microphone-­shaped hardware and charms speak to her life performing on stage. Creating pieces her fans would love was of utmost importance.
The REBEL FOR TORRID collection will include tops, bottoms, jackets, dresses and accessories! And get this… a Spring 2016 Collection is already in the works!
How about that for Rebel!?!
Get em girl! I already know that I will be checking for her a bit more to see if she will tease a few looks on the carpet- wont you?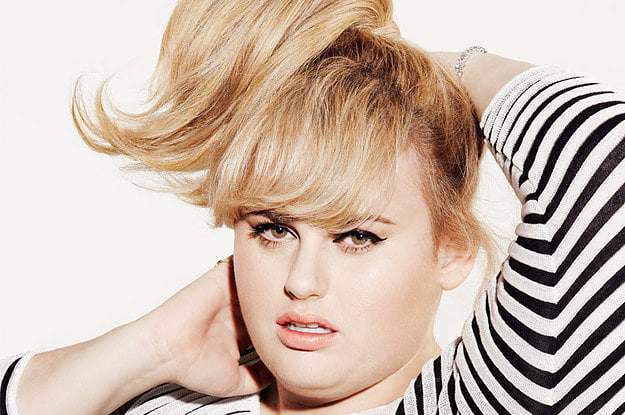 First Melissa McCarthy, now Rebel Wilson? Our plus size red carpet Curvy Fashionistas are delivering and I am soooo curious to see what they will deliver this fall and holiday season!
What do you think? I want to hear from you!