Last week I had the pleasure of traveling to Toronto to sit on an amazing panel of body image champions in the space of diversity in fashion and I left so inspired. What Ryerson University is doing with Dr. Ben Barry at the helm is quite revolutionary and I am not exaggerating at all.
I will elaborate in a few!
But this event introduced first year fashion students and those in the industry to the importance of diversity in fashion and why/how to disrupt the current norm.
If you are not familiar, Ryerson University is a fashion school located in Toronto, Canada. Just a two hour flight north of Atlanta (I know right?), once asked by diversity champion, Dr. Ben Barry, I KNEW I was going to participate!
No questions asked.
If you are not familiar with Ben Barry, I suggest you read about his mega research/study he put out about how women react positively to seeing themselves in ads and online that was published in Elle Canada!
IMPRESSIVE!
Diversity Now Panel at Ryerson University
So this panel, set in front of about 250 people (no pressure) I joined notables that I fangirled over! No, for reals… like Sharon Haywood of Adios Barbie, Bruce from Chubstr (we are now besties), and Valerie from Idiosyncratic Fashionistas!
WOOT.
I loved the varying voices represented, often ignored in the media to address the need for diversity in fashion!
I mean… WOW.
Dr. Ben Barry is doing some serious things in the fashion industry regarding diversity and is affecting change at THE BEGINNING of the fashion design channel! In school with freshman students and the university instructors by challenging them to think outside the fashion norm from the VERY BEGINNING!
I cannot tell you how inspired I am with this man and his mission/actions. Ryseron University is the ONLY university I have heard of doing this- not just adding mannequins to the fold, but all aspects of fashion.
The Panel was lovely, listening to varied insights and other thoughts about the industry, definitely left me inspired about what more I could do to affect change!
What did I rock?
Well, to get ready, I wanted to be cute, professional, with my playful approach… So, I rocked this dress from Igigi!
As we toured and trekked around the campus, I brought my Addition Elle boots and my Marina Rinaldi leather jacket to keep me warm and was I lucky I had those, because it was chilly in Toronto and I was NOT ready.
Grab my Taryn dress from Igigi.com here!
I had a chance to hang a bit more with my new buddy, Bruce from Chubstr and we snapped a few photos, having fun, talking business, and drawing inspiration from each other!
I am happy to have met the man behind men's plus size fashion. WORK BRUCE!
AND then, I ran into Karen from Curvy Canadian and Diana from Dare Mag- a Ryerson Alum!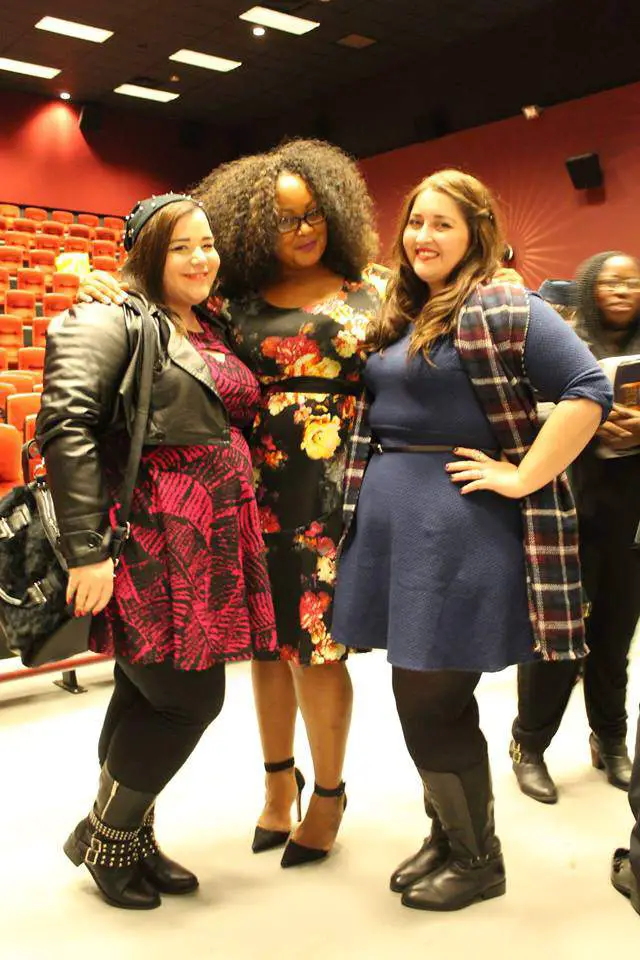 Anywho, I had a blast and was so honored to be a part of this event! Thank you Ryerson University and Dr. Ben Barry for this amazing opportunity!