Today, we're excited to talk about Nature's Twist, a brand that carries up to a size 16 rings in the US. For Pride Month, we're celebrating brands that are LGBTQ+ AND plus/fat owned.
Which brings us to Nature's Twist.
It is our hope that by spotlighting brands like Nature's Twist, the TCF readers and community will show up in DROVES to support these brands. LGBTQ+ hate crimes are on the rise in the United States, and there is increasing violence against LGBT+ people at all levels of society in the United States (source).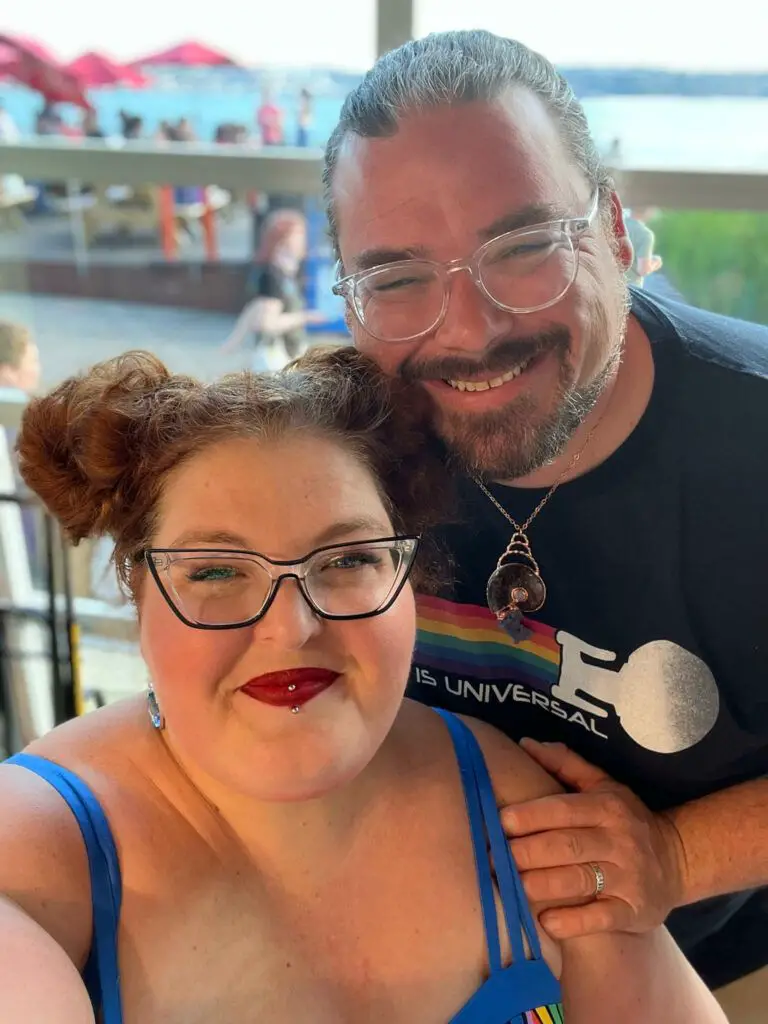 Size 16 Rings in the US
I'm excited to share this interview with Megan Carlisle, who, together with her husband, co-founded Nature's Twist. You can shop Nature's Twist at their store in Pike Place, Seattle (yes *THAT* Pike Place), online on their website, and during their very fun Instagram Live Sales, held about every two weeks.
In today's piece, I talk with Megan about what inclusivity means to her, the "Rainbow Sluts" community that is an intrinsic part of Nature's Twist, as well as nerding out about jewelry.
Are you ready to NERD OUT about this LGBTQ+ owned jewelry brand? Let's go!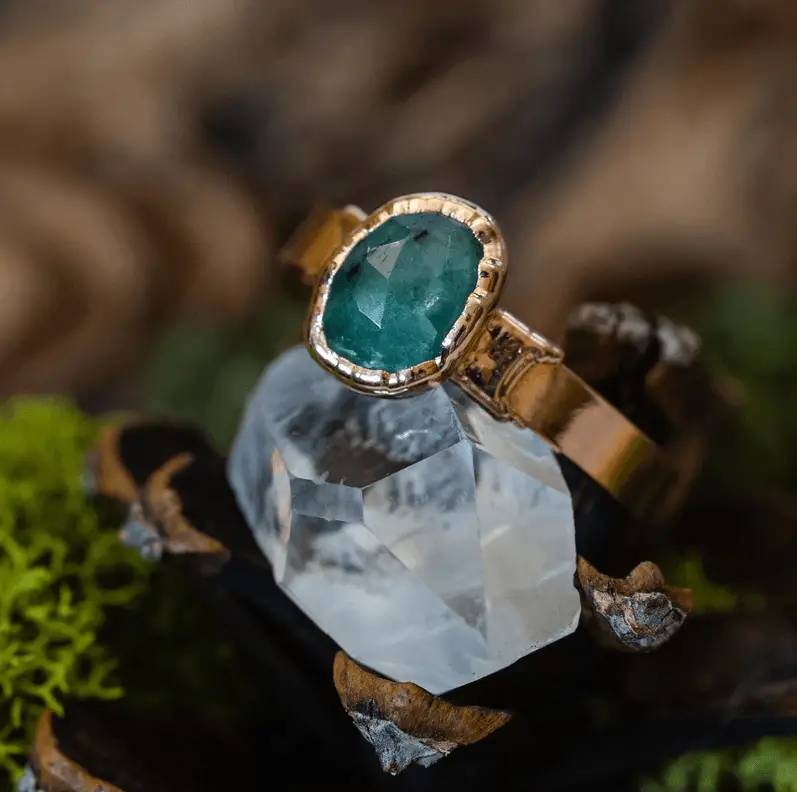 How Megan & Alan Met
When talking with Megan about Nature's Twist, we had to go back.
WAAAAAAY back — further than even when they started.
I'm a sucker for a good meet cute story (no shame!), and Megan was delighted to tell me their story.
"We actually met on Craigslist," she shared.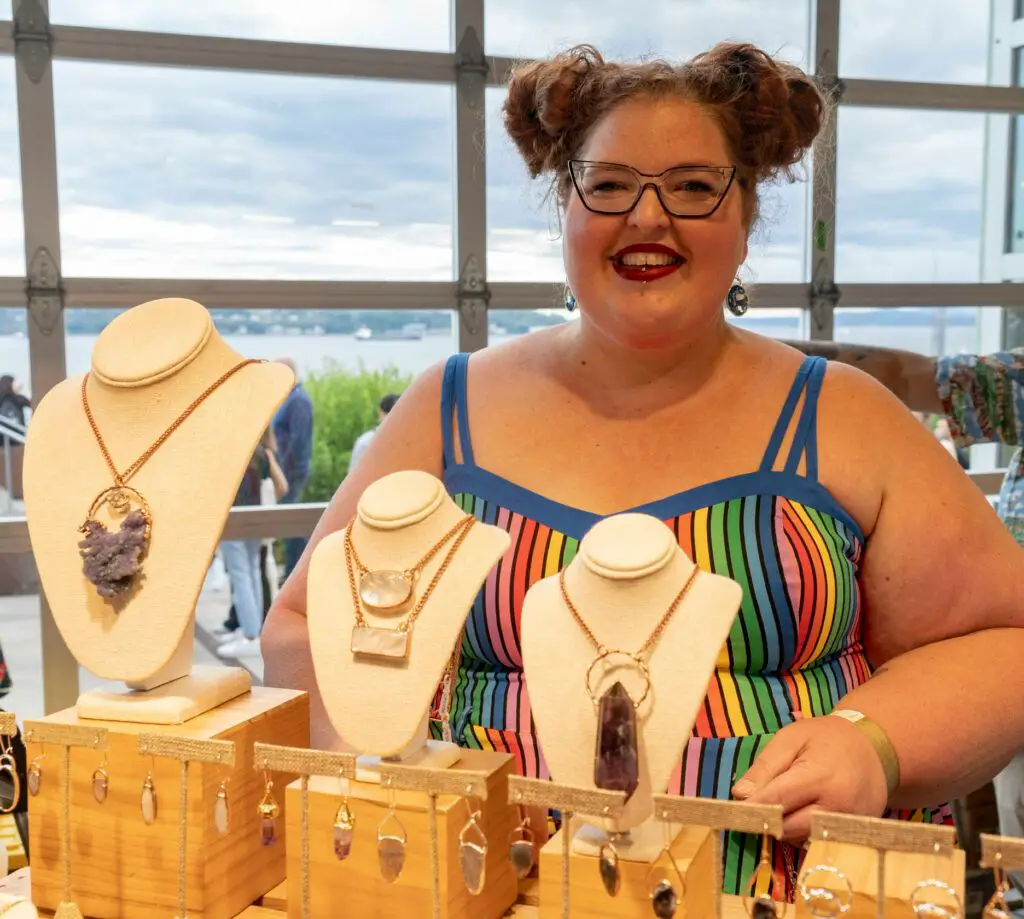 And then added with a bit of a mischievous tone, "Alan had posted in the 'Platonic Connections' section."
I was loving this story already!!
Megan and Alan met, spent the day together, and swiftly became a couple. "I was not prepared for how cute he was in real life," she admitted.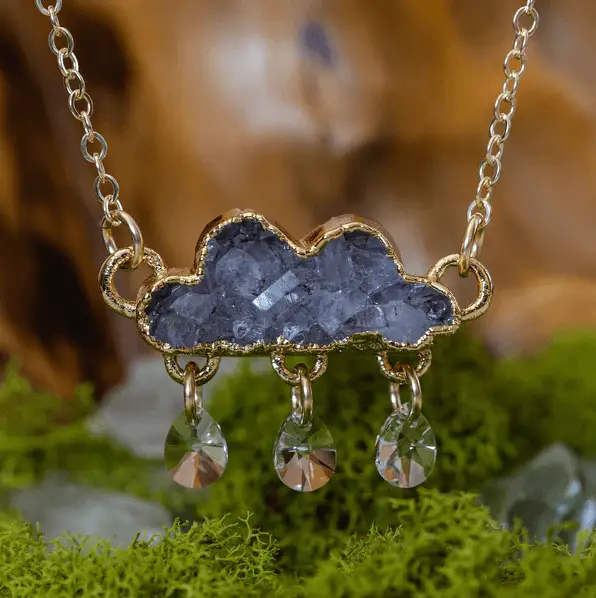 How Nature's Twist Got Its Start
So now that we know how this LGBTQ+ couple met, I was excited to learn about how they started a jewelry brand.
"Alan and I wanted to work for ourselves," explains Megan. "I've worked in plus size fashion since I was 16, and I've always noticed the lack of high-quality jewelry available to fat babes. I wanted to make a size inclusive jewelry brand that was beautiful. Not cheap or fast fashion. I know that I want to wear jewelry that makes me feel special, and I wanted that for other fat babes."
I know that I want to wear jewelry that makes me feel special, and I wanted that for other fat babes.

Megan Carlisle, Co-Founder of Nature's Twist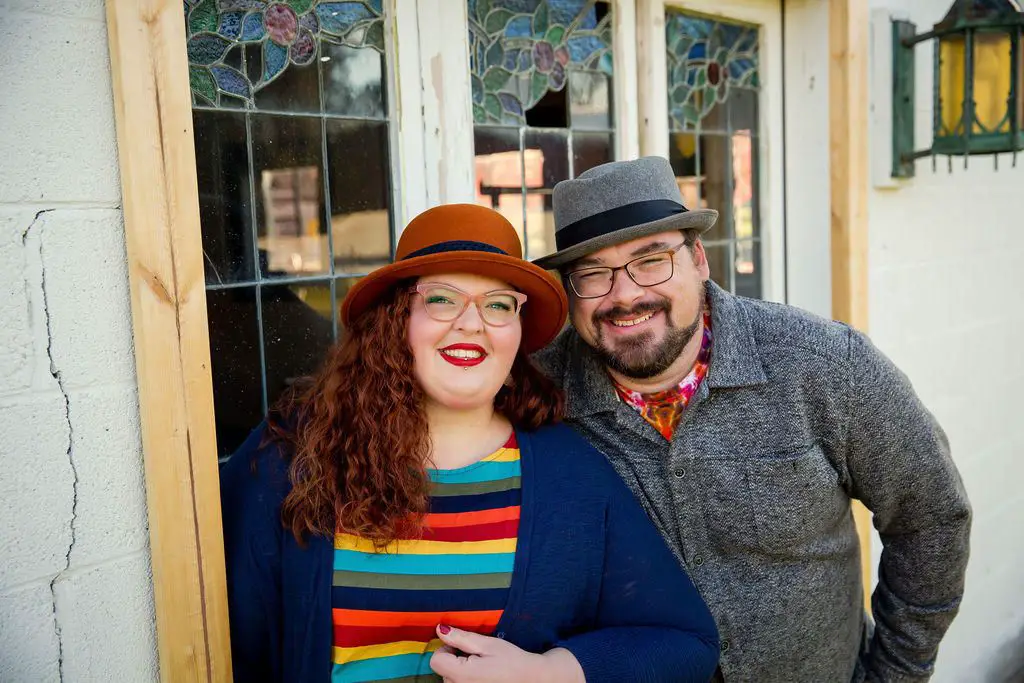 The Design Process of Nature's Twist Pieces
Looking at the beautiful products on the Nature's Twist website and Instagram, the influences of the Pacific Northwest is clear. Megan and Alan beautifully shape jewelry to celebrate the natural shape of the gemstone, playing with the contrast of hewn stone and metallic finishes.
Speaking with Megan about the stones, she shared beautiful imagery about how pieces are made: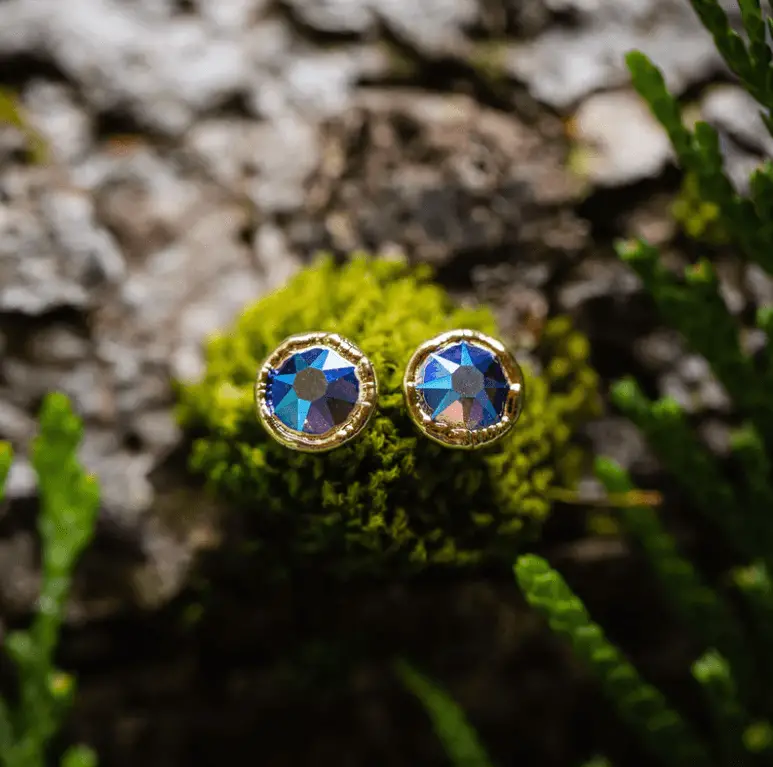 "We hand select every single stone that we make our pieces out of. Every piece is handmade. We have our hand on every piece from start to finish." Megan went onto share: "The gemstones… they call to me from across the room."
The gemstones… they call to me from across the room.

Megan Carlisle, Co-Founder of Nature's Twist
After selecting the gemstones, it's time to continue the design process. Megan and Alan use a combination of electroplating and wire working skills.
"We use a wire working skills for our bases," explains Megan. "Then we use a process called electroforming, which involves 'building' copper up onto a piece, using a low voltage electrical current in an acid bath.
It requires a pretty extensive knowledge of chemistry and a lot of practice, time and attention."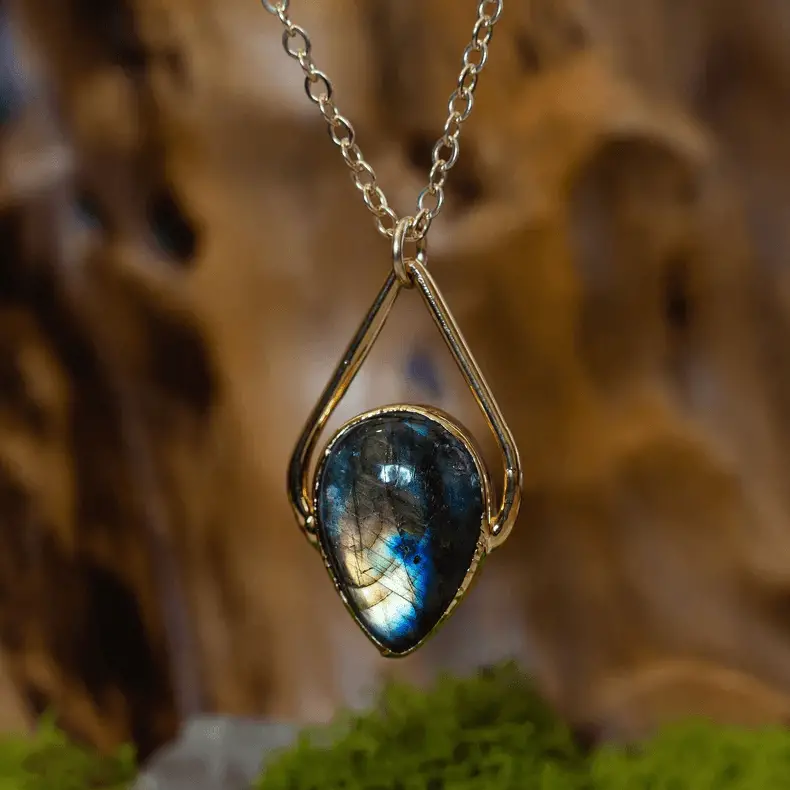 Adds Megan, "I like to humble brag that Alan is really good at electroforming. A lot of people get a very textured and dark copper and crumble off. We pride ourselves on our pieces that are the smooth and shiny. It looks like liquid metal on the piece. Any electroformer would agree that is an ideal finish."
In addition, Nature's Twist goes the extra mile.
"For pieces that involve plating, we plate at 10X industry standard, the thickest they'll plate, which makes the jewelry piece last much longer. Plating is important because jewelry rubs against skin."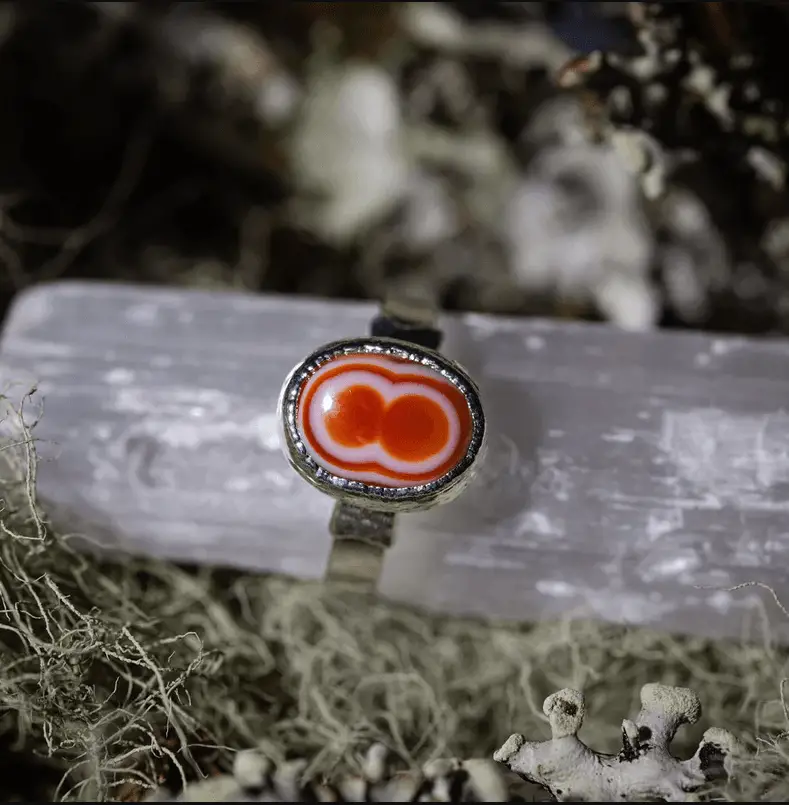 LGBTQ+ Inclusion
Besides approaching inclusion from a size perspective (going up to a size 16 in rings), Megan and Alan also celebrate their LGBTQ+ identity in other fun ways.
For starter? All Nature's Twist jewelry is for everyone. "All of our pieces are gender neutral," shares Megan. "We don't take a potential client or customer's gender into account when creating pieces."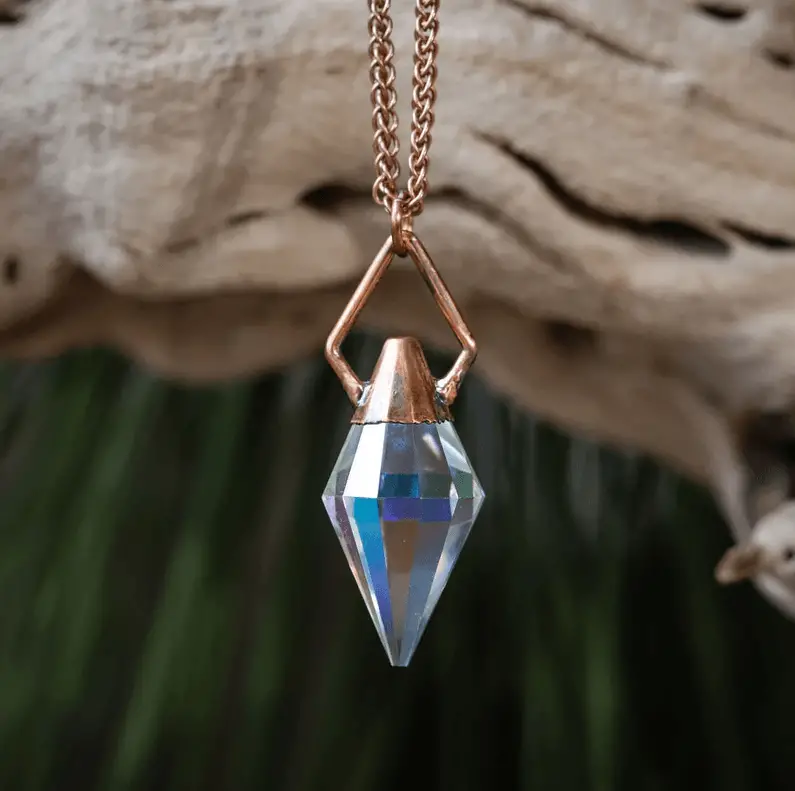 Also notable about that, is that Nature's Twist jewelry pieces still have a particular viewpoint or aesthetic. As a member of the LGBTQ+ community myself, I will often roll my eyes at a brand's efforts to make "Gender neutral" jewelry or clothing, making it shapeless or almost blob-like.
While I don't want to yuck anyone's yum, those pieces feel boring to me.
Luckily, Nature's Twist doesn't fall into that trap!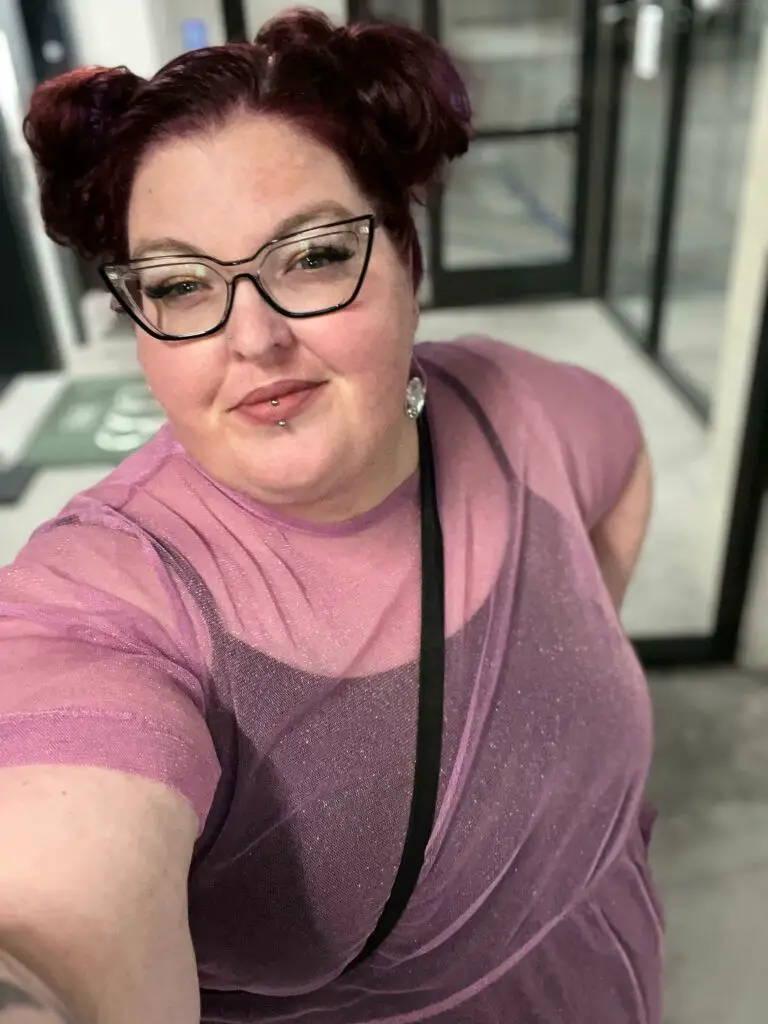 Rainbow Sluts – Nature's Twist Community
During our fun talk, Megan referred to the "Rainbow Sluts" a few times.
And, of COURSE, I was intrigued.
"Rainbow sluts are our core community, often the people who come party with us during our Instagram Live sales," shared Megan. "The name came about organically, because members really love our pieces that include rainbows or multiple colors."
The Nature's Twist team has even gone so far as to include stickers and a sun catcher on their website, all in celebration of "Rainbow Sluts"!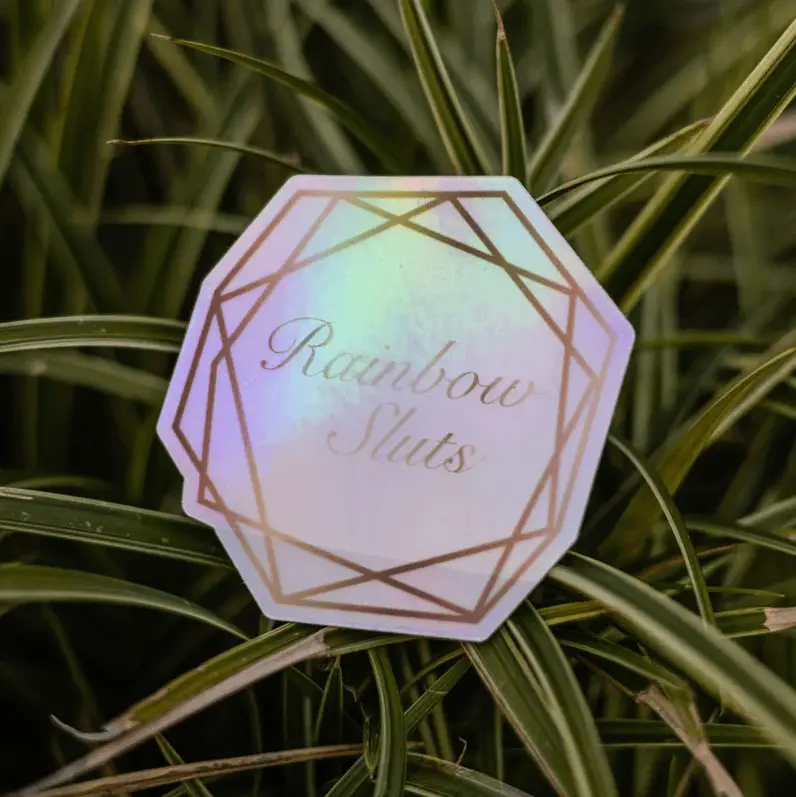 Sex positive AND fun!? Love it!!
Talking with Megan, it was clear that the Instagram Live Sales really are a blast, and a way that Megan has built a close community.
"I really connect with Rainbow Sluts and customers on 1:1 basis. I consider some of them my best friends. They were customers first, and our relationships just grew over time. I have a different relationship with a lot of my customers — it feels weird to say 'customers' — than most business customer relationships. I know their families, partners, kids, I know them personally."
That friendship extends among the rainbow sluts. "Because we do Instagram Live sales every 2 weeks, attendees become friends and best friends. Some of them have never met IRL, and they talk all of the time."
Megan continues, "For this reason, I always recommend people come to our live sales. I can be in the worst sadness hole, and it's a party with my best friends."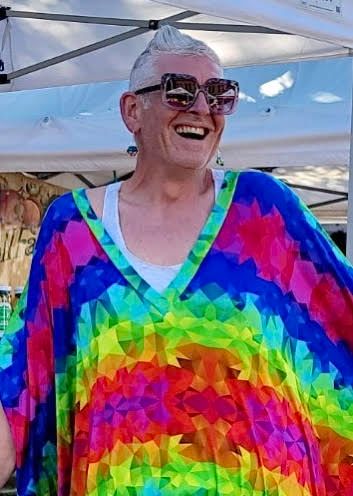 Other Helpful Info!!
To support the mission of 'Nature Twist and their business, I wanted to share a couple of other nuggets of information:
Nature's Twist ethically sources a majority of their stones. "I am hesitant to say, '100% of stones are ethically sourced,' as these stones are extracted from the earth. I will say that we get about 70% of our stones from a family-owned mine in Brazil, who we have a great relationship with. Their workers are paid a living wage, and we're proud to know each other's families." More on ethically sourcing can be found here.
Nature's Twist takes custom orders! "We do our custom work from January to April," shared Megan. "That's our slower season."
Not sure where to start? The most popular Nature's Twist pieces are the Mountain Necklace and the Rain Cloud Necklace. "Many people have several Mountain Necklaces or Rain Cloud Necklaces. Each stone is unique, and our community really loves those."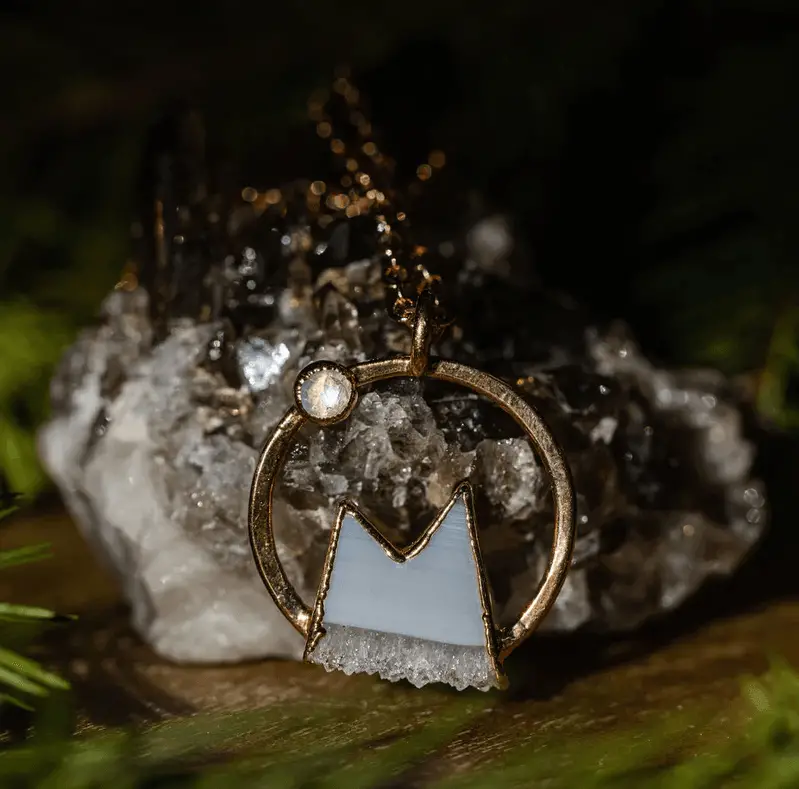 What's Coming Up for Nature's Twist
I asked Megan for a sneak peek on what's next, and she was ecstatic to share:
"We're bringing back our Swarovski pieces, which are incredibly popular. We're also excited to be doing an Advent Calendar for later this year."
Want to support this LGBT-owned jewelry brand? Check out their pieces online on their website, here, and be sure to join them on Instagram for their Live Sales and beautiful imagery!