You know… I have a love affair with CarmaKoma. Their style, their fits, and the team are just divine and for spring 2014, their collection is the perfect mix of sweet and spice.
They have been quite busy over there too, at Carmakoma. Their collection is now sold at ASOS Curve and right now, they are presenting at Copenhagen Fashion Fair featuring the DIVINE Fluvia Lacerda with a cool presentation:
A Garden Statement Party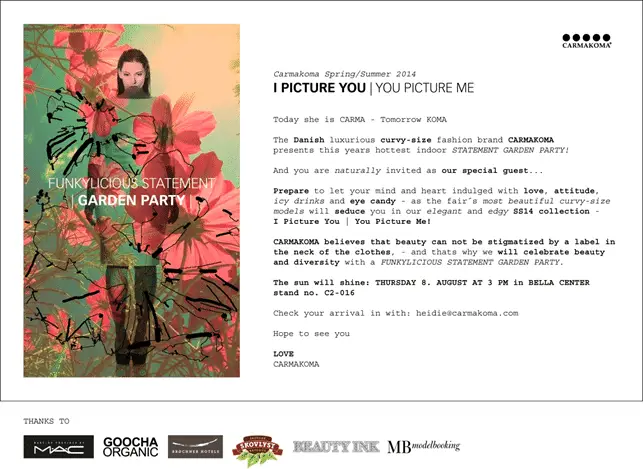 "The aim is to underline the fact that beauty and diversity cannot be defined by a size label in the neck. Models of all sizes will be posing side by side as live mannequins in the "pop-up" garden at the fashion fair.
But please let me share some of my favorites from the collection with you, that you can look forward to in the spring… I am already loving this collection. Let me share:
CarmaKoma Spring 14 Look Book
[slideshow id=53]
About the CarmaKoma Brand:
"We focus on creating clothes that fit the beautiful female body – and not the other way around where you often see designers create beautiful clothes that women have to reshape their bodies to fit into," says Heidie Lykke and Angelica Weiss behind CarmaKoma.
You can follow along on their site with CarmaKoma, join the convo on Facebook and Twitter! You can shop the current collection now and stay tuned for when their spring collection will drop!
What do you think? Cool yes? Which piece is your favorite? Leave a comment and let's talk about it!