Disclosure: This is a sponsored giveaway with Brass Clothing. How we rocked the pieces and our opinions are our own.
Are you always looking for something to wear? Never finding the perfect pieces to complete your look? Keep reading to learn why!
Over the years, we have talked about the importance of having the perfect plus size wardrobe essentials. You know, the timeless basics that help you create a functioning wardrobe/closet that works for you. Well, Boston based brand, Brass Clothing is here to help in more ways than one!
I have found that over the years, when you invest in your day to day classics, essentials, or wardrobe building blocks, this helps you streamline your style, find your looks, and even shop with a bit more confidence. Not to mention, help you with your budget!
So, when I heard about Brass Clothing bringing their Foundations to the plus size market, up through a size 26, I had to learn more and test it out. Not only give them a test drive, but to also hook One lucky reader up with her own "Foundations!"
Having Fun in These Brass Clothing Foundations
Look One- The Black Ponte Pant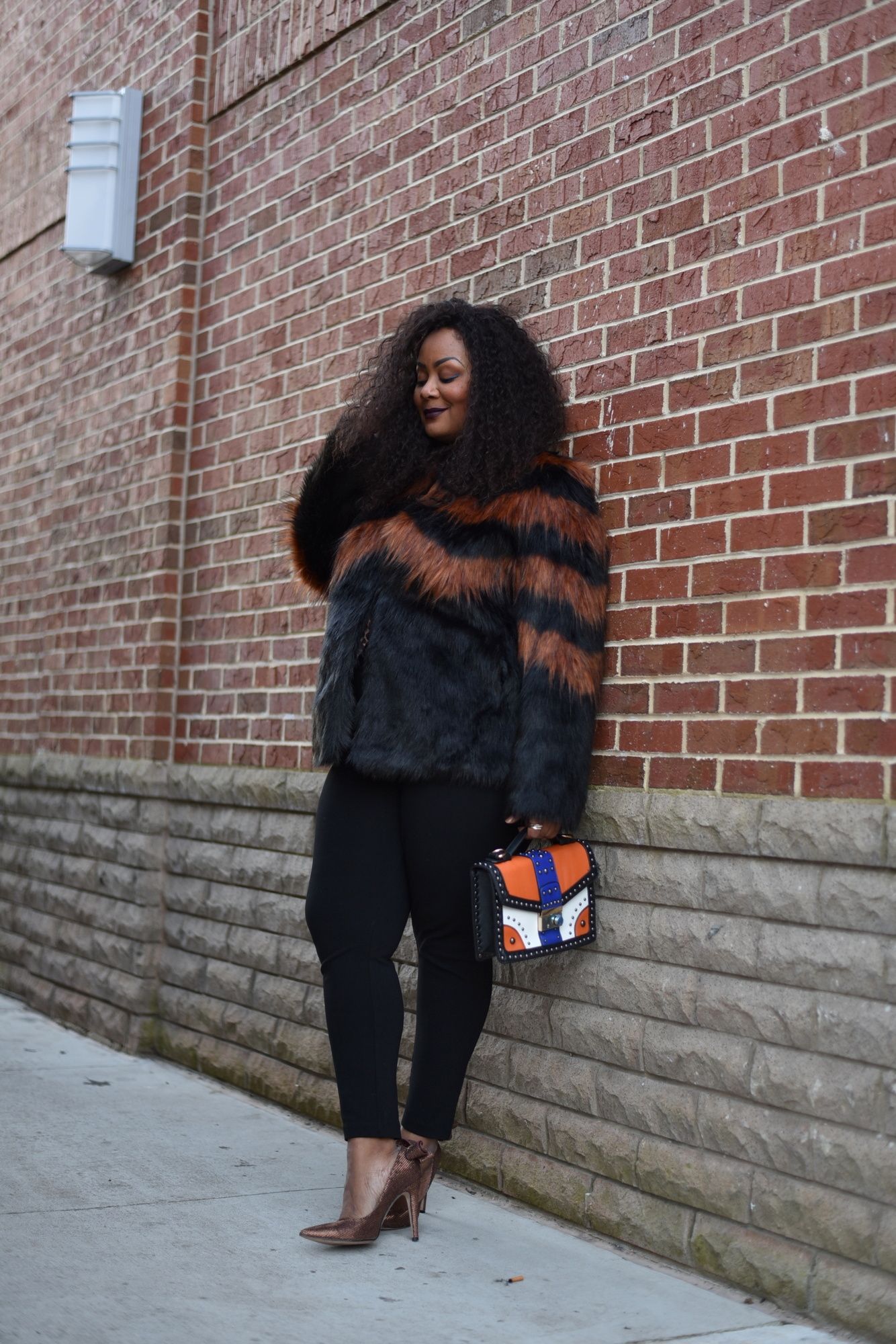 Every girl needs a fly pair of black pants that can take her from the office to date night. For me? I paired my Ponte pants with a leopard button up and my Faux Fur!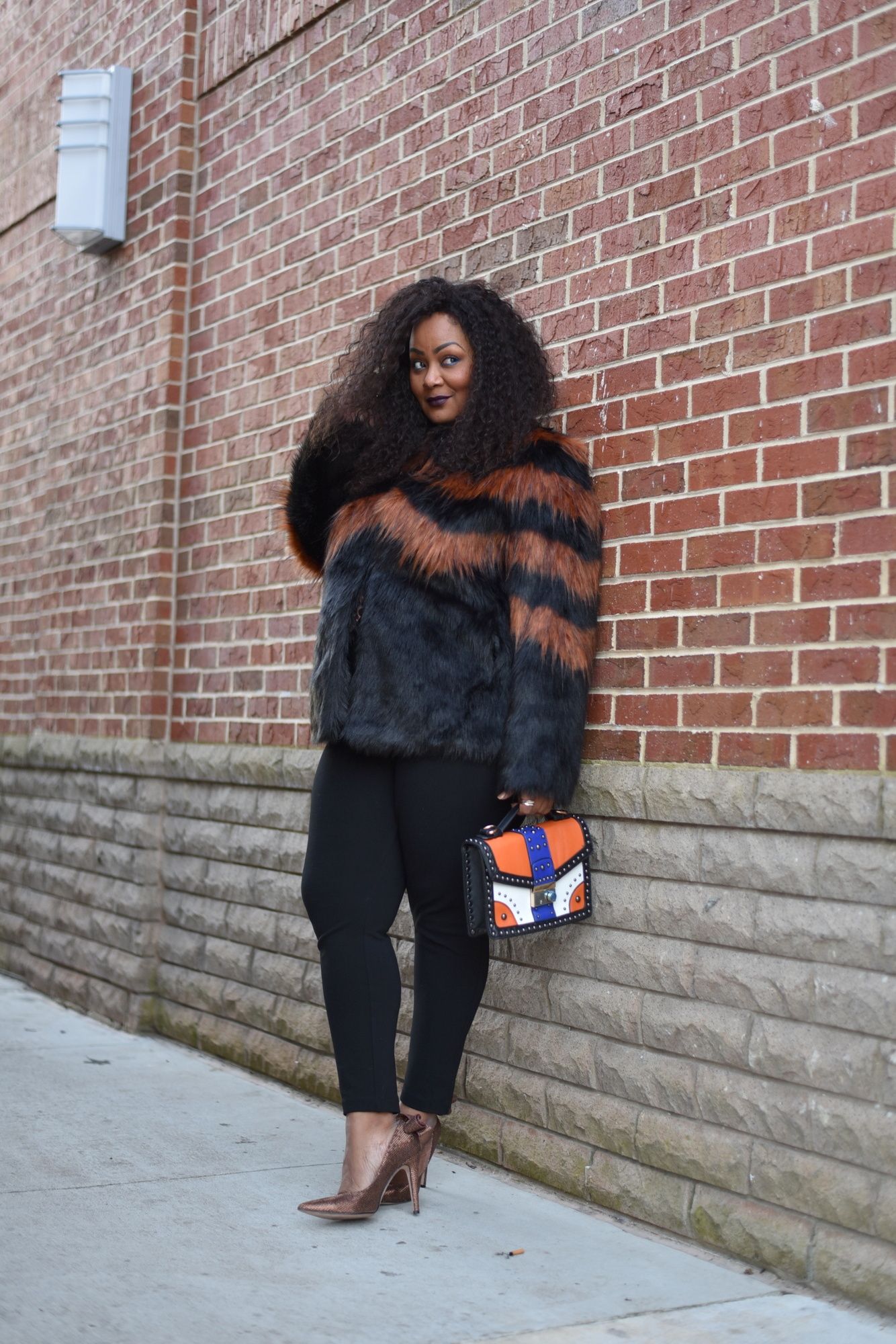 I wanted to have a little fun with this look to show how an essential can have many looks!
Look Two- The All-Day Tank and All-Day Pant
Because sometimes, this Boss Lady wants to step it up a little bit. I love a great monochromatic look and this navy head to toe look, paired back to this navy blue Faux Fur that has been sitting in my closet?!
Winning!
Look Three- The Non-Stop Top
I rocked out with this off-white blouse with my new favorite jeans and playful pumps! What I dig about the silhouette of this top, is that it can easily go from a suit or work bottoms to jeans, without missing a beat.
Your shoes? It does not matter!
See, Brass Clothing is focused on "making women's lives easier by transforming their wardrobes." They believe that a "streamlined, functional wardrobe has the ability to create space for women to make bigger changes in their lives and the lives of others."
We could not agree more! While we have often spoken of the 7-10 wardrobe essentials, Brass clothing has found a way to tailor this down to 5 essential pieces that you need in your life. If minimalism, clean lines, great construction, and a great foundation is your style, then you need to give Brass Clothing a look!
Which leads me to…
The Brass Clothing Foundations Launch Giveaway!
So, what is the prize? One lucky reader will score their OWN Foundations! Five pieces to confidently add to their wardrobe!
For the launch of their plus size foundations, one lucky winner will score:
The Ponte Pant
The Essential Dress
The All Day Tank
The All Day Pant
The Nonstop Top
These 5 pieces are valued at $425!!!
How do you enter?
Ohhh, it is very easy!
All you have to do to enter is follow the steps in the form below! The only TWO requirements are that you leave a comment with your favorite foundation piece and sign up for their mailing list!
Build Your Closet Essentials with Brass Clothing!

Brass Clothing is all about helping women fill their closets with pieces that make their life easier and give them time, energy and brain space back for things that *really* matter to them!
You can learn more about the brand at BrassClothing.com!
You have to move fast! You have until Jan 31st, at 11:59 PM PST to enter! The winner will be announced on Feb 1st when they launch their collection!
Good Luck!
A special thanks to Kirk of XL Shoots for the photos!
Disclosure: This is a sponsored giveaway with Brass Clothing. How I rocked the pieces and our opinions are our own.