If 2016 was the year of realizing things, then I would like to believe that this was the year that the fashion industry realized that plus size fashion isn't go anywhere. From Times Square billboards and magazine covers to the runways of New York Fashion, 2016 saw plus size fashion become more mainstream. But it wasn't just the mainstream visibility that made 2016 a great year for plus size fashion, it was the widening of that lens that made a real impact.
While we still have a ways to go in terms of making fashion truly inclusive for all, we did see some strides this year. Rather than celebrating the individual successes of any one plus blogger or model, I wanted to focus on some of the moments that really moved plus size fashion forward this year.
12 Moments That Moved Plus Size Fashion Forward in 2016
Beth Ditto Launched Her Own Line
The iconic Beth Ditto first teased us with a collaborative t-shirt with Jean Paul Gaultier in December 2015 before launching her full line in February. Beth Ditto's clothing line launch marked a significant shift in celebrity clothing collections because she took a more independent approach by making everything ethically in the US. When Ditto launched her collection's winter line, it landed her a feature from Vogue.
River Island Expanded to Plus Size
In a year when certain brands shrunk their plus size offerings or removed them from stores completely, March of 2016 brought the long anticipated launch of River Island Plus. The initial 75-piece collection launched with a look book featuring model Candice Huffine and was available up to a size US 20. Less than a year after its launch, River Island Plus items are now available up to a size 24.
Ebony's "Body Brigade" Cover Was Fire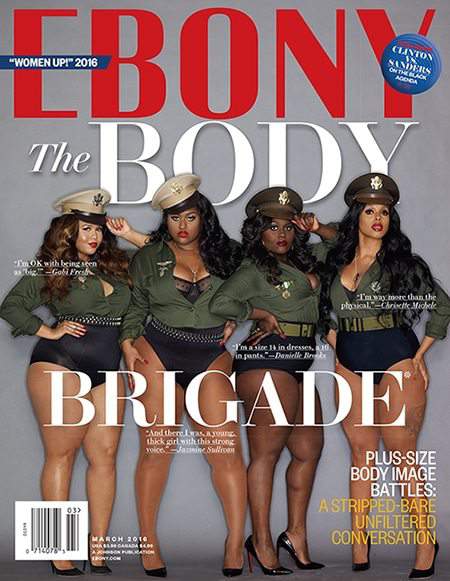 When Ebony revealed the cover of its March issue, the plus size community let out a collective "YESSSSSS." The cover featured singers Chrisette Michele and Jazmine Sullivan, actress Danielle Brooks and blogger Gabi Gregg clad in sexy military-esque garb. The images were smokin' and the interview inside the issue tackled body image and self acceptance among black women.
Gorda Flor Celebrated Plus Size Fashion in Brazil
In April, the TCF team received an email about a fashion campaign in Brazil that stopped them in their tracks. Looking at the images, I can completely see why. Gorda Flor celebrated the vibrant individuality of Brazil's growing plus size fashion scene.
JCPenney's #HereIAm Campaign Nailed Body Positivity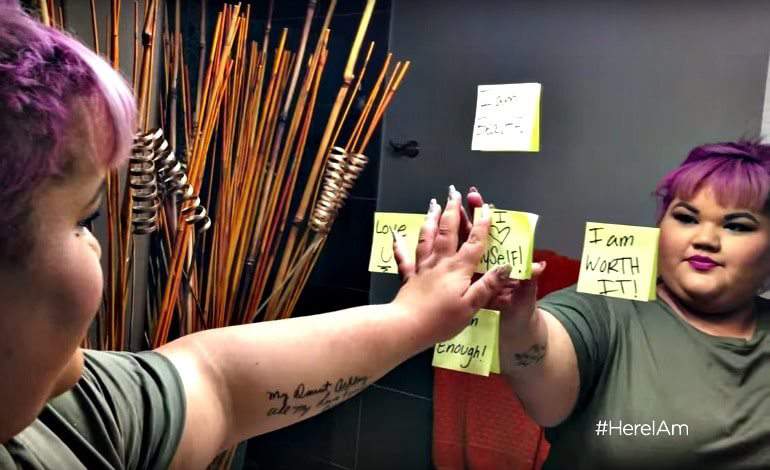 Fashion brands utilizing body positivity in their campaigns has been known to sometimes miss the mark, but JCPenney's #HereIAm campaign was everything I've personally been waiting for and more. The poignant video still brings me to tears nearly six months later. The video shares accounts from blogger Gabi Gregg, plus size yogi Valerie Sagun, author and activist Jes Baker, singer Mary Lambert and fashion designer Ashley Nell Tipton who later in the year launched her first collection with JCPenney's Boutique+ line. With 4 million YouTube views and counting, it's clear their words hit close to home for many plus size babes.
Essie Golden's Golden Confidence Pool Party Expands to Three Cities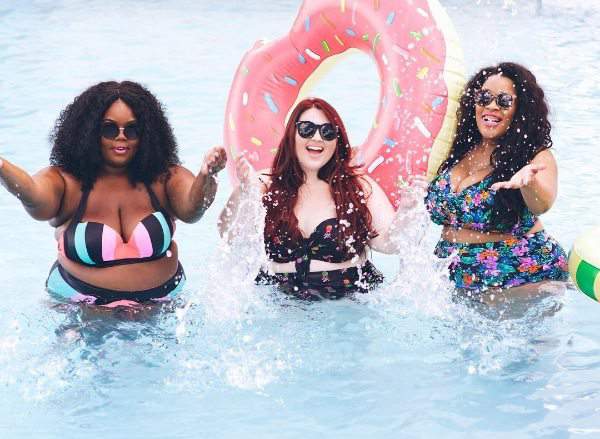 What started as an Instagram hashtag has turned into one of the biggest summer events in the plus size community. Essie Golden first brought her #GoldenConfidence tag offline to a rooftop pool party in New York City in 2015 but she followed up this year with an even more epic three-city lineup that received coverage from People Magazine, Cosmopolitan, NBC News and more.
Torrid's #InMyJeans Campaign Featured Sizes 10 to 30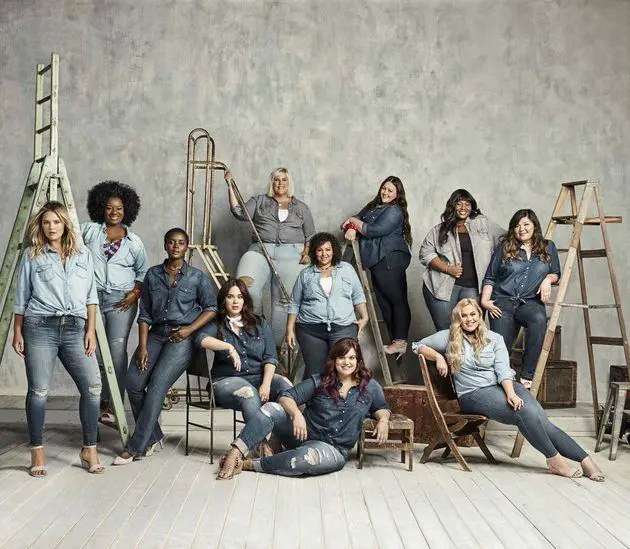 Blogger driven campaigns have become more and more commonplace in plus size fashion but it's still pretty rare to see an ad that features a wide range of sizes and body types. With a mix of 11 different bloggers, models, actresses, employees, and customers Torrid's #InMyJeans campaign provided visual representation for their full size range, 10-30.
All The Noteworthy Moments from NYFW in September
Size diversity on any runway is still pretty rare but New York Fashion Week has been particularly slow to change. September 2016 brought a significant shift in plus size visibility at NYFW. Christian Siriano featured five plus size models in his Spring 2017 show. Ashley Nell Tipton launched her Boutique+ clothing line for JCPenney with a live runway show featuring all plus size models. Jezra appeared appeared in the MAISONtheFAUX showcase and so many more.
Gabby Sidibe Featured In Lane Bryant's #ThisBody Is Made To Shine
I've been waiting on Gabby Sidibe to be featured in a major plus size fashion campaign and her appearance in Lane Bryant's #ThisBody Is Made to Shine campaign felt long overdue! Sidibe's inclusion along with Danielle Brooks marked a move away from a sole focus on plus models.
Refinery29's #SeeThe67 Tackled Media Bias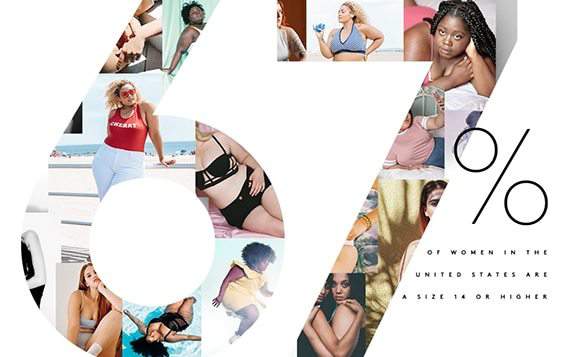 In late September 2016, Refinery29 announced its commitment to create more representation for plus size women who account for 67% of the female population yet only appear in 2% of ads. Along with Getty Images, R29 committed to allowing access to these images to content creators and encouraged women among the 67% to share their images with the tag, #SeeThe67.
ASOS Launched Plus Size for Men
With what seemed like zero buzz creation on their part, ASOS quietly launched their plus size section for men. But as soon as the internet noticed the plus size male models on their website, the news spread like wildfire. With sizing up to XXXXL and lengths available in regular and long, the inclusion of plus size mens for a brand as beloved as ASOS is huge. It didn't hurt that the models were pretty easy on the eyes either.
Transgender Plus Model Shay Neary Lands Major Fashion Campaign
Just a few days ago, I saw the news that Shay Neary became the first transgender plus model to land a major fashion campaign. According to Mic, Coverstory had been searching for a plus size trans-model to use in their campaigns but was having a hard time finding someone larger than a size 6 or 8. They were ecstatic to find Neary through her former agency, Trans Models.
Neary's campaign for Coverstory right on the tail of ASOS launch of their plus size men's section feels like a significant shift for what I hope becomes an even more inclusive 2017. It seems to me that plus size fashion is poised and ready for another big year of breaking down barriers.
What do you hope to see from plus size fashion in 2017?