Can you believe we are already at the end of 2013? Well, in true recap fashion, we thought to recap this year with the Best of 2013 in Plus Size Fashion on the blog! You know, the best posts, most commented, most shared, and coolest things that happened on the blog!
If you are new, this is a great post to see what has been going on over here and what folks were talking about! 2013 has been quite eventful in plus size fashion AND on the blog! They do say that Time goes by when we are having fun, so let's get started!
Best of 2013 in Plus Size Fashion on The Curvy Fashionista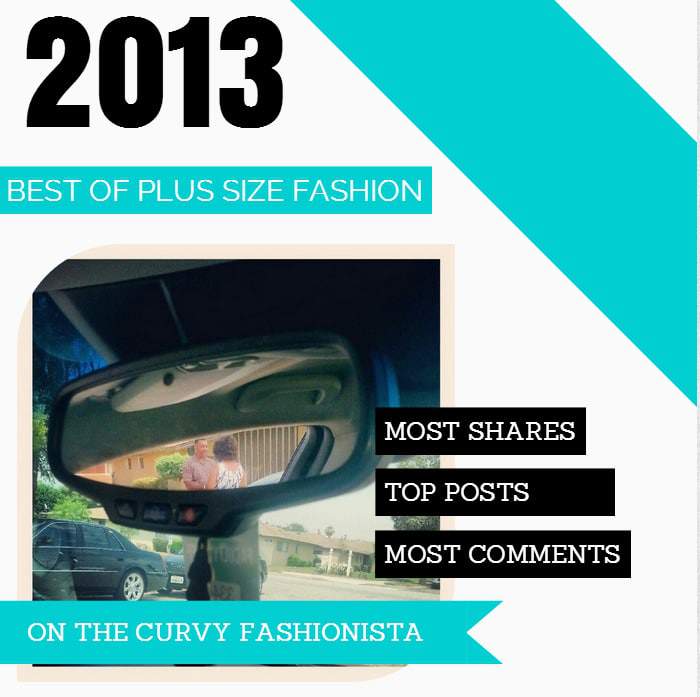 This one… emotional. This summer I happened to be blessed enough to meet the man who is my father. How I saw myself, my feelings of self-worth, my identity were all questioned. It was quite emotional and I shared.
I was fortunate to be among 11 other plus size bloggers who were chosen to participate in the Marina Rinaldi campaign, #WomenAreBack and from there I was tapped to be shot for the Italian Marie Claire Magazine!
A mini rant about design elements sparked QUITE the conversation on the blog! I thought I was alone, but from the comments, I see I am not!
When Eloquii decided to shut their doors, I was pissed. Frustrated is more like it. There was so much potential here for them to rival a few top brands and I addressed it, and YOU did too! Now? Eloquii is launching in the spring of 2014! WHEE!
Tim Gunn was interviewed and quoted about HIS frustration in plus size fashion and I wrote him this letter asking HIM to do something about it, especially with the platform and positioning he has.
Nothing pisses me off more than when someone tries to discredit a blogger. The "Oh, you're just a blogger" is a gross sentiment and a dangerous one too. We are all more than bloggers and oftentimes come to the blogger table with years of experience, education, and knowledge that we share THROUGH our blog.
I had the pleasure of tapping into my inner geek with Intel! I hosted a Twitter chat that ended up TRENDING on Twitter! WHOA! Such an amazing feat! We had sooo much fun here!
I got irritated about multiple comments in which I noticed other plus size women projecting their insecurities and dislikes as fact. In this post I give another way to approach or look at the varying options.
I was surprised by this response in this post! I knew there were frustrations, but I hadn't realized how passionate you were about this too! The comments here are golden.
A new piece we have added to the blog, plus size art, has been welcomed with crazy high facebook and pinterest shares! You like it, we LOVE it!
These are just a few of our top or best posts from the blog!
Do you have a favorite that hadn't made it to the list? When did you find me? Was it a blog post that you DIED over? Let's chat!