Last week, we met up with the ray of sunshine that is TCFStyle Squad member Amber of Style Plus Curves! This week, we're introducing another of our squad members, Angela of 24 Plus Style! Angela started her blog in honor of her mother who encouraged her to push plus size fashion boundaries. Seeing fashion as a pathway to realizing our own self worth, Angela shares her personal style, beauty tips, lifestyle features, and more. She is a plus size blogger YOU NEED TO KNOW!
Meet Plus Size Blogger, Angela of 24 Plus Style!!!
Blog: 24 Plus Style
Age: 38
Height: 5'5″
Location: North Carolina
How long have you been blogging?
4 years

What or who inspired you to become a fashion blogger? What led you to it?

Growing up, my mother's simple yet elegant fashion as a plus sized woman from Albany, GA inspired me. We didn't have a lot of money and we certainly did not have a lot of options, but she took the little that she had and made it much. Whether our clothing was brand new, second hand, or by hand it was always extra fabulous. In 2012, my mother unexpectedly passed away. I tried the traditional grieving process, therapy, tears etc., but I found myself depressed and feeling so alone.
I called out of work or left work often which led to a lot of down time, so I began reading blogs which I had never done. There were only a couple of bloggers who could keep my attention and of course they were blogging about something I already loved: fashion for plus sized women. Marie Denee and Chasity Valentine inspired me to use blogging as an outlet and a way to remember the many conversations my mother and I had about style and grace.
Do you blog full-time, for fun, as a hobby? Share your evolution!

Being an educator, I am fortunate that I am able to fuse what I do as blogger into my classroom. I teach fashion, business, and technology courses which really allow a great opportunity to mold young men and young women who may want to go into fashion or become entrepreneurs.
My blog started as an outlet, I continued as a hobby, and as my brand grows, I am now seeing it as a business and a way to give back to my local community.
What is your favorite asset? Your legs, arms, waist? How do you play that up?

I love every part of me. I try not to play favorites, but sometimes certain aspects of your body begin to stand out. Right now, I love my legs so you will see me in lots of rompers, shorter hemlines, and swimwear.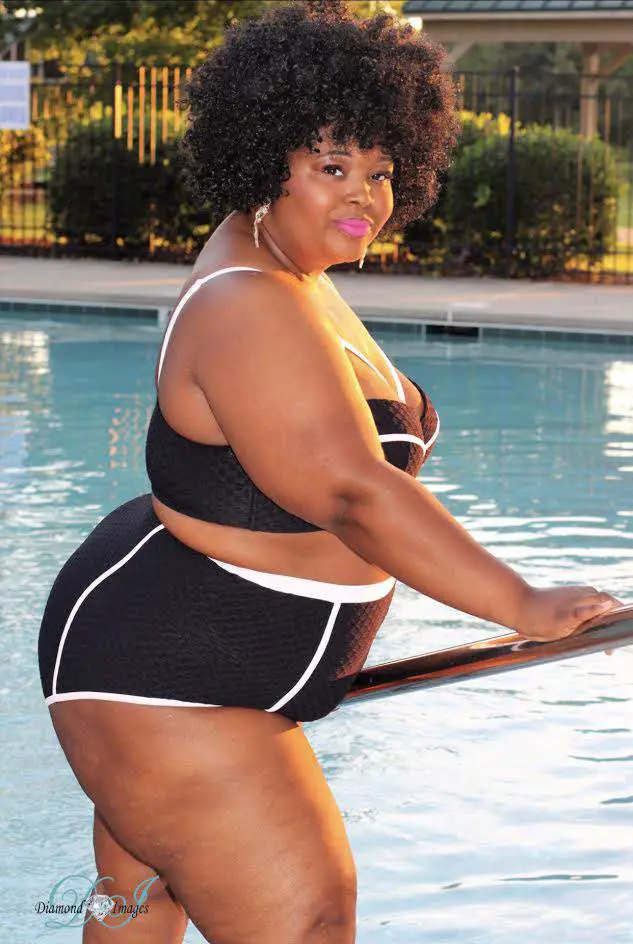 What are the challenges, if any, you face regarding being plus size?

Challenges?? Clearly there are too many to list. Being plus size at the grocery store, at the beach, at the mall, at the food court, at the basketball game, at the gym. Hahaha What isn't a challenge? Being FAT is not a game. Being plus size takes a lot of work. I would say my biggest challenge right now as a plus size woman is keeping those I love motivated to work out and stay healthy.
I don't always want to push myself to do the right thing, but I definitely want to keep health and wellness at the forefront of my loved ones' minds.
What's your favorite thing about being plus size?

We own it! I love the fact that even though society says we are all sweaty and depressed and at home eating our sorrows, we continue to make grown women moves in every industry! We are an underestimated population especially when it comes to style, but the curvy slay is fierce and we are crushing all the stereotypes.
This is what real BOSS women do and being plus is no exception. We will break every glass ceiling.
What's your favorite thing about being a blogger?

Being a blogger is an awesome opportunity to meet amazing people and network with the best of the best. People in this world can be cruel, but when you share some commonalities it is awesome to see guards come down.
Blogging has opened some doors and has allowed me to connect with people like Marie who are just so inspiring and so helpful. As with anything, there are going to be challenges, but being a part of this tribe connects you with people who will say things like "hey sis I am here if you need anything or any help, I got you." That level of support and realness always warms my heart.
Who/what are your favorite designers/brands?

I fancy JCPenney a lot. I think a lot of people sleep on this brand, but they have been true to producing for the plus community since I was a small girl. I am proud of the growth that I have seen over the years, and I especially love the fact that the company is open minded in regards to the plus industry.
Of course they can do more, and I am sure we will see that very soon, but it is one of my favorite brands and I hope to work with them here in North Carolina one day. Some other brands that I think are cool are eShakti, Courtney Noelle, Eloquii, Ashley Stewart, Adrianna Papell, Lane Bryant, Target, It's Fashion, and Premme (wow, wow, wow) this is plus done right!
Describe your personal style.

My personal style changes frequently, but I have been told I am a bit of a Southern Belle. I love long flowing dresses and gowns and I think being dolled up is always right, but I have been stepping outside of my norm lately.
Which bloggers inspire you? Plus or straight size! Any bloggers currently on your radar?

First let me admit, I really love plus bloggers and they are the ones who tend to stay on my radar. There are too many to rattle off here, but of course, I already mentioned my top two which are The Curvy Fashionista and Garner Style.
However, I believe in supporting home, and I am always rocking with my North Carolina babes. I just don't think we get enough love and support here in NC. So I'll share my top 6 NC fashion bloggers in no particular order: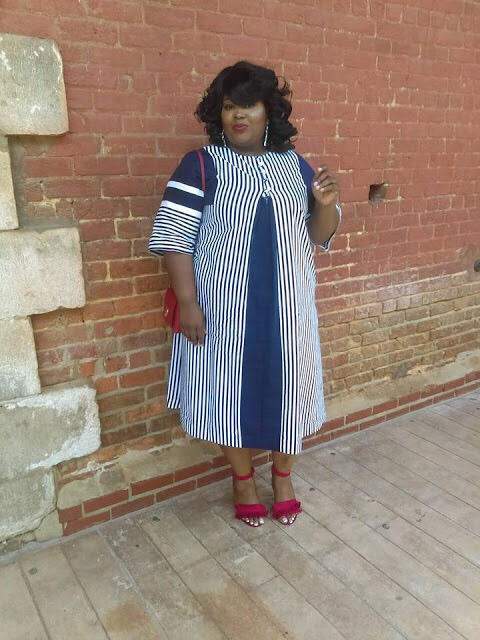 What do you think about where plus size fashion is today versus a few years back?
Plus fashion has grown over the years, but it is not where it needs to be. When I can still walk into a high end store and a low end store and not be able to find the same fashion choices in both plus and straight sizes, I am disgusted. Not that I would want to wear the same thing, but at least give me the option or better options. I need the plus industry to make changes quickly.
What do you think or hear from readers, is one of the biggest myths about plus size fashion?

The biggest myth in plus size fashion is that we want to look like straight sized women. That is absolutely false. We want more fashionable clothing and we want to look snatched in everything we wear.


Are you working on anything or have anything to share?

I have a few things coming down the pipeline so be sure you are following me on Facebook, Twitter, and Instagram for the deets.
Anything else you want The Curvy Fashionista's readers to know?

I love being a part of the TCF community. As a blogger, it is really a home away from home, and I can't wait to see what the future has in store. The support over the years has been amazing as well as heartwarming, and I am so grateful. Thank you to Marie and all of the readers for sharing this space with so many who otherwise would not get the opportunity. I love the fact that the TCF Community is family.
Lastly, what does Curvy.Confident.Chic mean to you?

Curvy.Confident.Chic to me is a mantra that says boss up babe! Be amazing at whatever state you are in and know that regardless of how people who try to stifle your inner Beyonce', you are still FLAWLESS!

Do you dig the style of 24 Plus Style? Which look is your fave? Let's talk about it below!!
Want to be featured?
Make sure you fill out your deets here,
so that we can feature you!
Looking for more plus size blogger style inspiration?
Make sure you check out all of the other plus size blogger spotlights!