The 70s trend is everywhere this season, with suede being the highlight statement piece! From Forever21+ suede-fringe combinations to MissGuided's sexy take on the faux suede-lace-up dress, there are a plethora of options when it comes to slaying this trend.
But, if you're worried about filling your wardrobe with ridiculous suede pieces that you will wear for (literally) a hot second, I have provided you will five essential pieces that MUST make an appearance in your wardrobe this season. I also made sure to find pieces that you can both save or splurge on before you begin shopping. I know, I know, you are loving me right now!
If you are ready to add some luxe to your wardrobe, let's hop right on in!
6 Ways to Slay the Suede Leather Trend
Suede Over The Knee Boots
If the suede clothing trend just isn't your thing or you're easing your way into the trend, incorporating a suede wide calf boot into your shoe wardrobe would be the perfect for you. With the right amount of sass and sophisticated appeal, these boots will up the anty for EVERY look you style this fall!
Splurge: Lucina OTK Boots, $560; tedandmuffy.com
Save: Buckle Over The Knee Faux Suede Wide Calf Boots, $44.90; Torrid.com
Suede Fringe Jacket
When you slip into this edgy number, please be prepared to channel you inner flower child! If you are looking for a sassy staple to add to your wardrobe, this suede fringe jacket is the one girl. No matter if you are pairing this with an easy casual weekend look or a dressed up date night ensemble, this jacket will give you the right amount of drama and style.

Splurge: Suede Biker Jacket with Fringing $233; asos.com
Save: Open Front Suede Fringe Jacket, $69.50; AshleyStewart.com
The (FAUX) Suede Dress
If you are in need of a playful, feminine piece to set your look apart, try a sexy suede/faux suede dress. Try pairing this piece with a pair of high-knee boots or block heeled booties to give your outfit a cool edge. Being sexy does not have to be forced, at all!

Splurge: Studio Suede Dress, $139.90; eloquii.com
Save: Plus Size Faux Suede Dress, $68, missguidedus.com
Suede Skirt
Skirts are easy ways to add in something new to your wardrobe! No matter if you decide to go with a classic version of this trend or you go all out with a dope fringe skirt, trust me, your wardrobe with thank you later! Gone are the days of dull outfits.

Splurge: A-Line Suede Skirt, $116.45; asos.com
Save: Plus Fringed Faux Suede Skirt, $24.90; forever21.com
Suede Hat
Who doesn't love a dope hat?! Accessories are a great way to try suede without having to over think it! Also, this is a great way to cover-up a bad hair day. Pair your suede hat with a gold hoops or small chandelier earrings to channel your inner Pam Grier this fall.

Splurge Emilio Pucci Suede Hat, $590; matchesfashion.com
Save: Faux Suede Fedora, $14.90; forever21.com
6. The Suede Trench

Splurge: Highlevel BYC Lined Suede Trenchcoat, 877.90; navabi.us
Steal: Belted Faux Suede Trench, $109.50; AshleyStewart.com
Dig it? Pin and share this: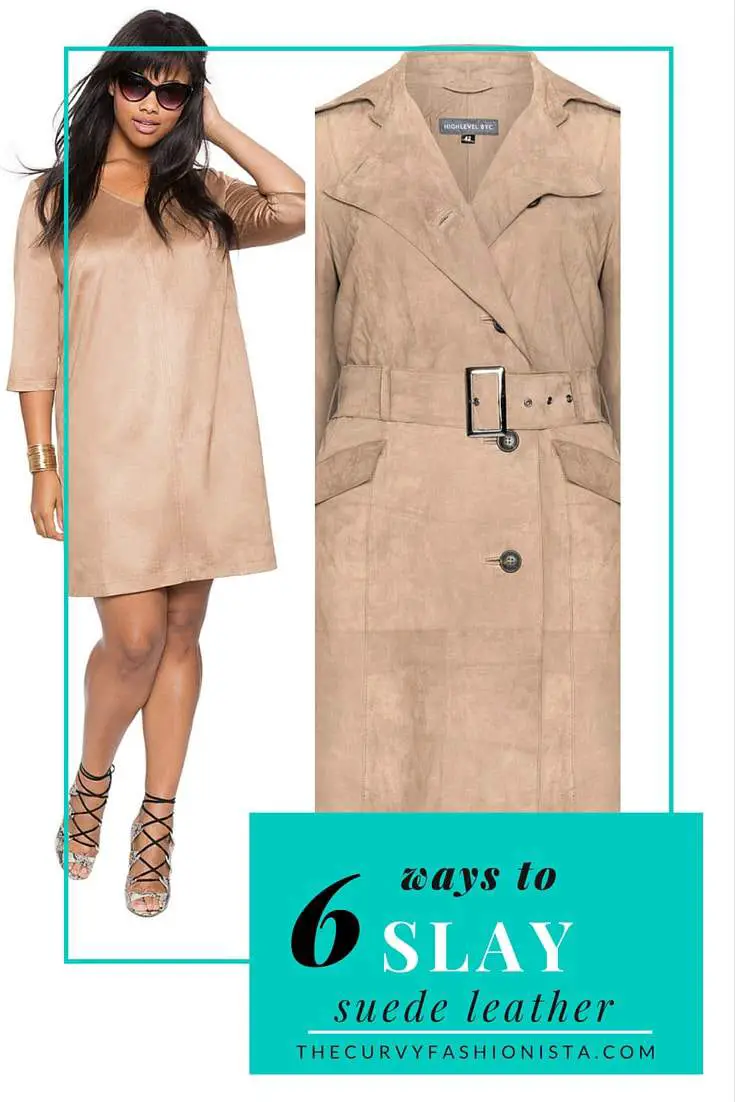 How will you be rocking this trend?