Spring has officially sprung!   If you're anything like me, the warm weather and sunshine makes you happy, but then you're faced with questions about what to wear to work.  Air-conditioned offices often have us reaching for sweaters and jackets, but increasingly warm weather outside makes us crave bare legs and breathable fabrics. But as a Petite Plus Size woman, what do you wear? How do you pull it all together?
As long as your hemlines aren't too short and you're not showing cleavage, spring and summer present a fun and wide array of options for work – even for petite plus size, for whom options are decidedly more limited. Brighter colors and fun prints can make being in a stuffy office while the sun is shining feel a little less tragic.  So, if you're planning on some new spring work gear, this round-up of looks should help give you some ideas.
6 Petite Plus Size Work Options for Spring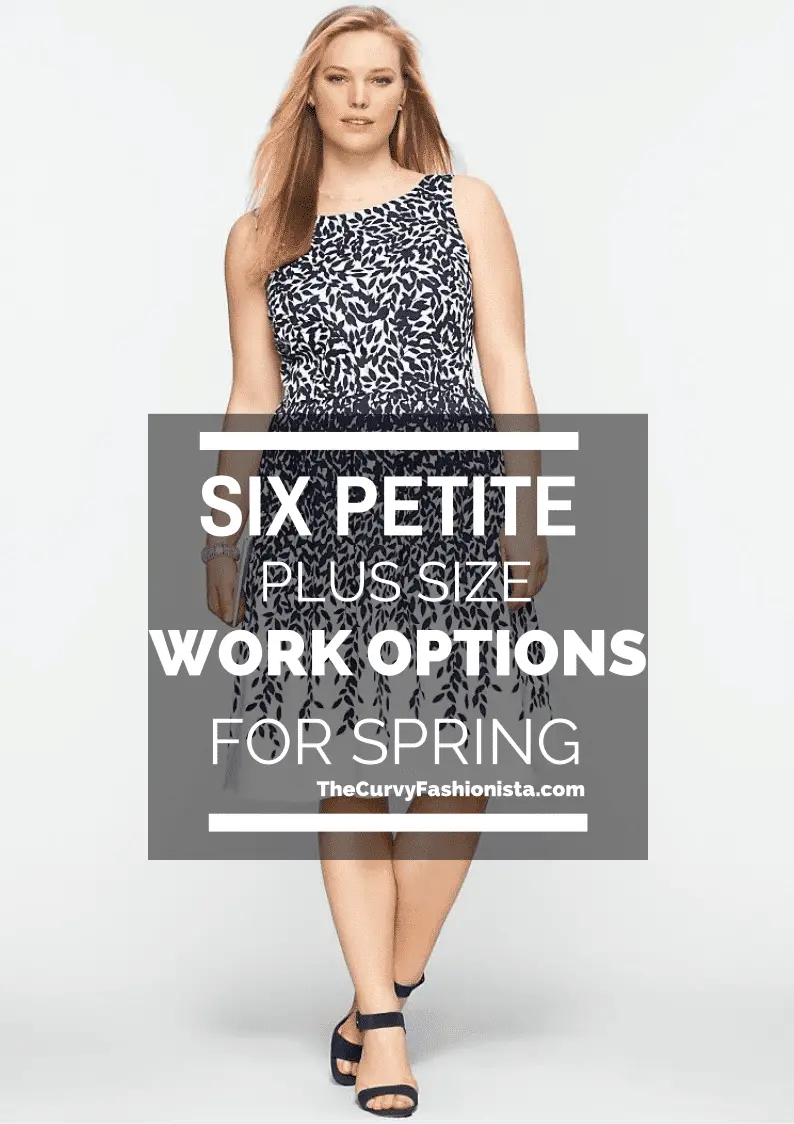 Colorful Cubicle:
Bold black and white stripes combine with lace and bright primary colors to create a fun office look that is flirty while still being very professional.  Throw a black tank or cami under the lace top to preserve modesty and to keep the black more intentional-looking.  Beading at the neckline of the top makes a necklace unnecessary.
Artsy Assistant:
Wearing red just makes you exude confidence, and this dress from eShakti is made all the more fabulous by its customization possibilities.  If you prefer sleeves on this dress, a higher or longer hem length, or a slightly more conservative neckline, you have the option to get them!  The stripes on the bottom of the dress mix with the polka dot cardigan for an exuberant mixed print look.  The tote and shoes add sass without sacrificing sophistication.
Mauve-lous Manager:
While bold colors and prints help keep work a little more interesting, sometimes subtlety and simplicity are the order of the day.  The mauve trousers and beaded necklace are pretty but are kept soft and classic with a basic white button-down top and soft grey and silver metallic extras.
Wild at Work:
It's also possible to keep your look fairly classic while still adding in a few dramatic touches.  Here, simple black pants and a jade green wrap blouse with black piping are given a little more life with zebra print sandals and necklace.  Interesting textures keep a black work bag interesting.
The Workhorse:
Who says you can't wear quirky animal themes in the office?  This adorable dress has embroidered horseshoes and horses.  Paired with a monogram bangle and horseshoe studs, the effect is subtle but unexpected.  2014 is the year of the horse – why not celebrate in style?
Botanical Boss:
Nothing says spring like lush greens and pretty florals.  Here, white slim leg trousers combine with a yellow striped tee and yellow tweed blazer for a sunny work outfit.  Add in floral sandals and green botanical-inspired accessories, and you have a look that brings the outdoors inside.  Layers are wonderful for freezing spring and summertime offices – lose the jacket at the end of the day, and you'll be cool and breezy!
PS. Don't forget to check out our 2014 Plus Size Spring Trend Guide! 
Are you planning any new looks for work this spring?  As a Petite Plus Size woman, what is your biggest challenge? What is most important to you in choosing a spring work wardrobe?