Fashion Tips and Advice: We all seek it out.  Nothing wrong with that. If you have been reading The Curvy Fashionista, then you will know that we are always asking for your advice and feedback about our posts and your thoughts on what we have shared.  Reassurance come in all types of interesting combinations and in the comments and on Facebook, it is always an interesting observation…  I am always here for this.
Do you like it, baby?
A while back, we had this post "3 pieces of fashion advice to forget" and it was an interesting response. Some loved it; while some of you could have done without it. But as I have been reading the comments on newer posts, I realized that while a few of you have embraced and stepped out of the box, exploring your style, there are a few of you who have shared that they were told or raised thinking a certain way and that it was hard for them to break these rules… These that I share today come from other plus size women, not the skinny girlfriend, the loving and caring boo, or the "but I love you" mother… other plus size women. So I thought I would address a few of those comments and pieces of advice!
Last time we visited this, we tackled these pieces of advice:
Wearing black is slimming
Plus size women shouldn't show off their curves
Covering up is better
However, this time around, here is some advice you need to consider forgetting:
5 MORE Pieces of Plus Size Fashion Advice You Should Forget
Plus size women should SHOW OFF HER CURVES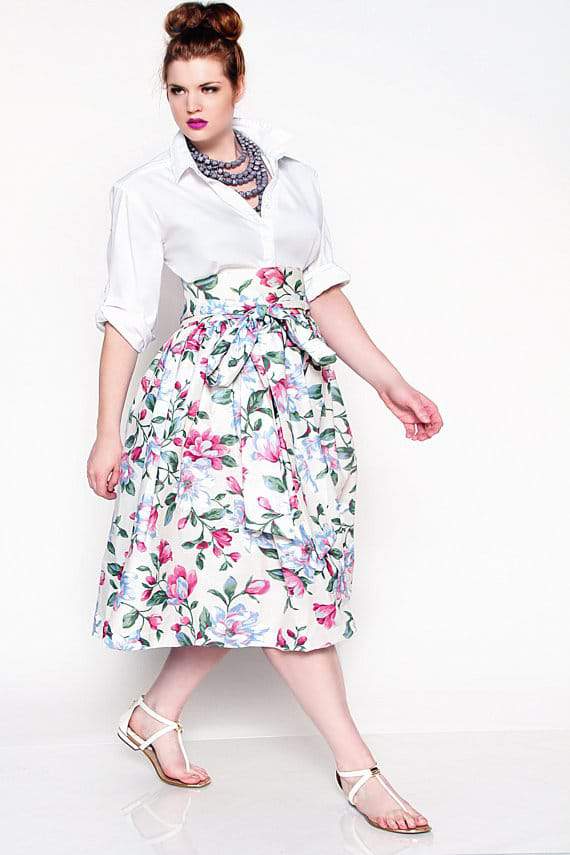 Interestingly enough, two years ago we were talking about how you should play up your assets and your curves, but- BUT not every occasion calls for a body con or skin baring looks, and this is okay. I have noticed that if an item I share is more polished and conservative, quite a few of you share that it is "frumpy" "boring" or "too old looking." This is not always true. There are always different strokes for different folks and walks of life. Let us celebrate in the options!
Plus size women should cover up their arms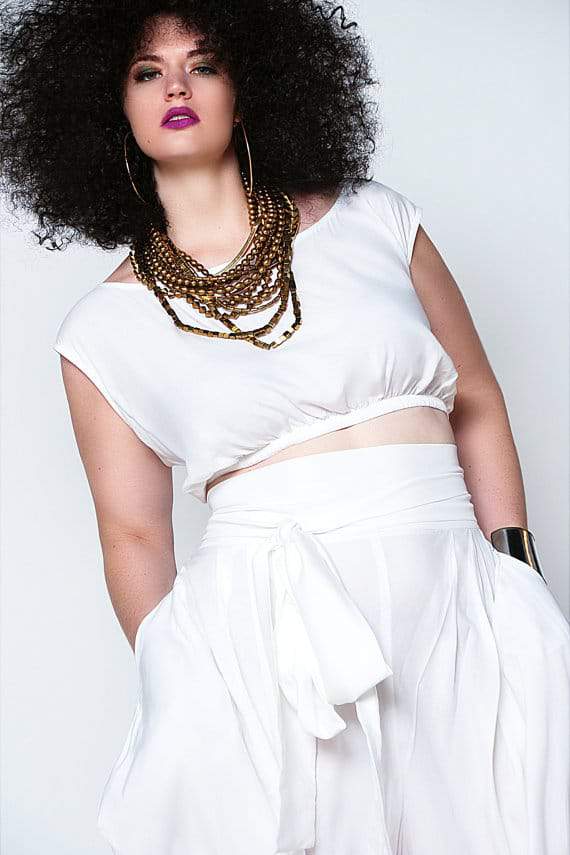 TUH. You know, on the opposite end of the spectrum, I have heard this often. I distinctly remember when plus size dresses with sleeve were just about the ONLY option we had and even had this conversation with IGIGI about this. Not every woman is shy about, embarrassed of, or scared to show her arms in a sleeveless number. I happen to share more of these, because well, for a while we didn't have this. I do find it is easier to add a cardigan, kimono, blazer, coat, or shrug than to remove a sleeve to items. It is okay to think outside the box here with playful and polished layers. Think the Third Piece!
Plus Size Women Should Never Wear Horizontal Stripes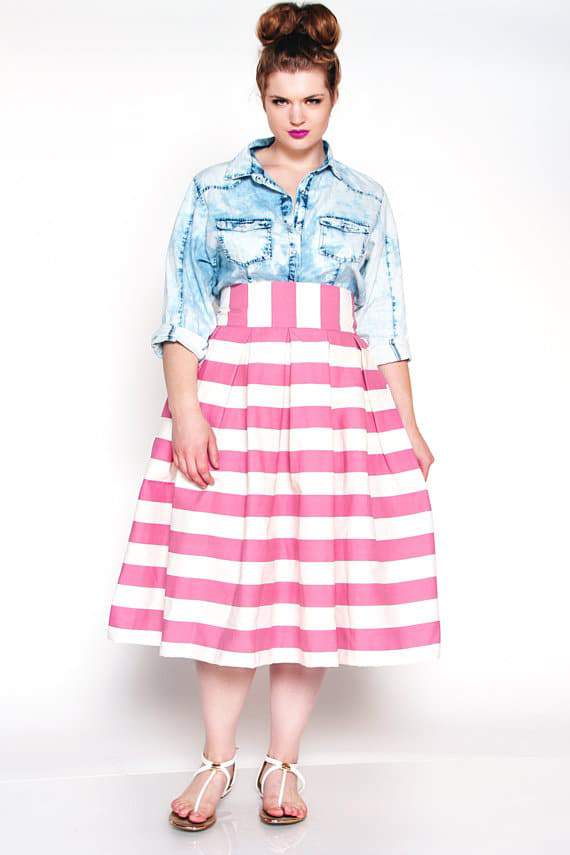 *sighs*
This, I believe, will always be contested. But for those who are brave enough to rock it? WORK IT. If horizontal stripes aren't your think and you have already tried to make it work, then hey… it is all to the good. However, do not knock those who dare! As long as fit rocks, then you are golden!
Plus size women should hide their cellulite
I start this with an epic side eye. This was a real comment left on one post and I was sooooooo taken aback. I mean, for reals? I wanted to ask what she suggested the woman wear, but *sigh* no. I mean, whether you are plus size or not, it happens, it exists, but it does NOT define you. And I live in the desert ish area, where today is a high of 104.  -__-
Trust I am rocking my legs out, arms out, hell belly out if I choose! I will NOT die in this heat NOR don a hefty AC bill because I have been told no cellulite! NOPE!
Plus size women should never wear crop tops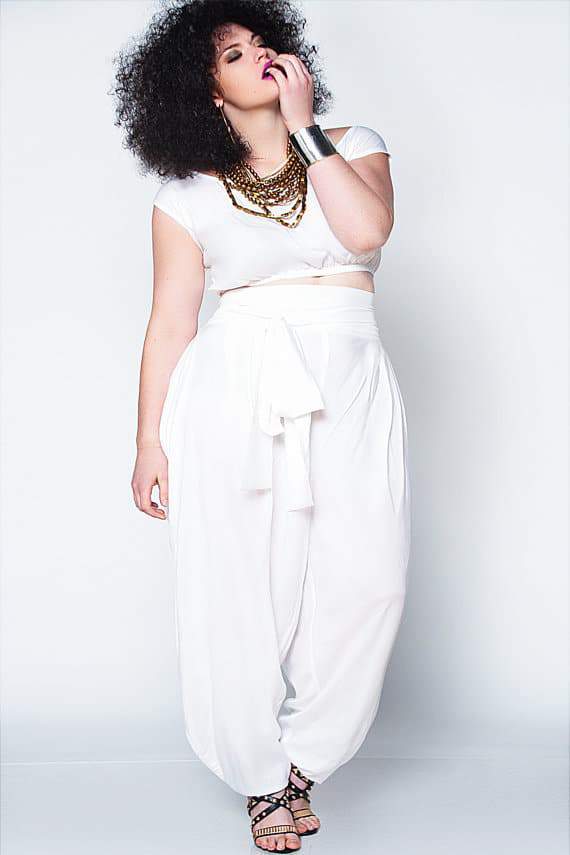 I do love me a great crop top. I prefer the relaxed ones over the fitted, but I am an equal opportunity rocker if the mood calls for it! But as the crop top trend has evolved and landed in plus, there have been quite a few vocal decriers of this trend. Look, you as a plus size woman can don this and look quite polished with the right pieces and fit. I prefer mine paired with a high waist skirt or pant. All in proportions here… it is a confidence, taste, and individual thing and just because one does rock it doesn't me ALLLLLL plus size women shouldn't. To each their own!
And while we are at this, how about we get rid of the "Plus Size Women Should Never" thought process? It doesn't do any of us any good you know? If anything, when the retailers are reading the comments and posts, they listen to what you do not want and give it to you. Chose a better way to frame the thought process and understand that We Are Not One Size Fits All.
LOVE THE LOOKS? They are all from Jibri! 
Thoughts about these pieces of advice to toss? What advice has been given to you that you have ignored, tossed, or faced head on? Let's talk about it!