What do Rachel Pally White Label, Arnold Zimberg, Earnest Sewn, Z from Zenobia, Jag Jeans, T-Bags, Rani Zakhem, Kay Unger, Phoebe Couture, Taylor Dresses and Lafayette148 and shoe brand Charles David have to do with YOU and PLUS SIZE FASHION?
Have you ever imagined a Sample Sale site dedicated SOLELY to Plus Sizes? Not a special section, but a site FULL ON in plus size contemporary and high end designers in PLUS SIZES!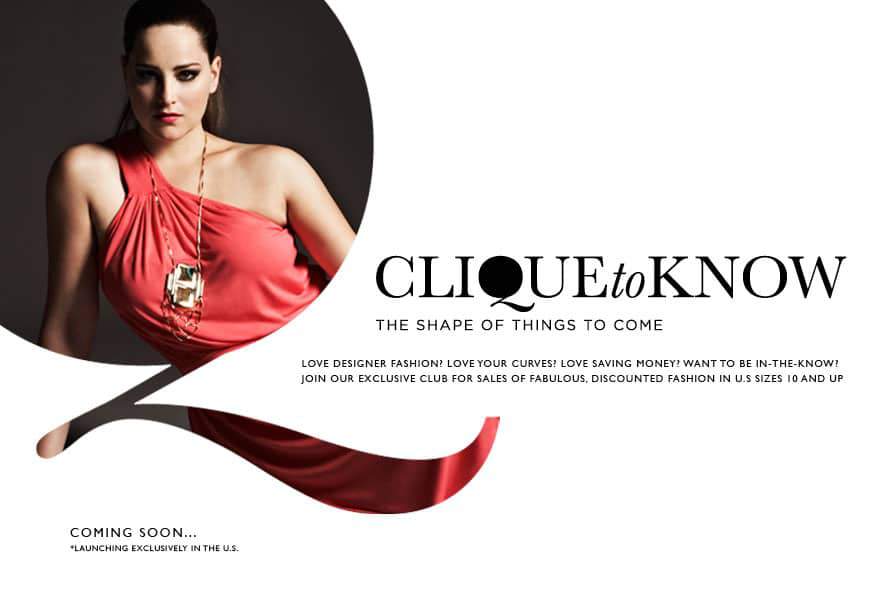 Imagine no more! I am really geeked about this!!!
Introducing Clique to Know:
Clique To Know is a new members-only flash sales site dedicated to women's designer fashion, from size 10 and up, at discounted prices. This new sample sale site will sell end-of-season and excess stock from your favorite plus size designers deep discounts- between 50 – 80% off the original retail price as well as offering some exclusive one-off samples!
LA Based CEO, Melissa Ramos shares:
We heard the same stories repeatedly – about women loving fashion, but finding it difficult to shop for designer clothing if they were a size 10 or above. Shopping shouldn't be a chore! The average size in the US is 14 and many great brands actually do make clothing in larger sizes, so we decided to create an online destination where women know they'll find the designer labels they love, in the sizes they want. We will also be launching sales for designer accessories, lingerie and beauty which will complement our clothing sales with the aim of becoming the one-stop shop for curvy women looking for fantastic brands at fabulous, discounted prices…
Signing up to join is FREE! AND if you sign up now, you receive a $10 e-gift card to spend at Clique To Know AND be the first to shop the Clique To Know sale – a chance to buy at an exclusive preview before anyone else!
How is that for me being the enabler! At least I am saving you some $$- YES?
Hehehehe…
What are you waiting for?
Sign up for Clique to Know NOW!
Make sure you like Clique to Know on Facebook and Follow Clique to Know on Twitter!