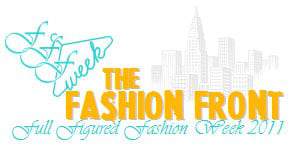 The Fashion Front (formally the Curvy Collective), serves as the full figured fashion force at the frontlines of Full Figured Fashion Week- bringing the latest news, perspective, and exclusive access to FFFWeek™. Comprising of an eclectic mix of the plus size fashion community's leading bloggers whose unique voice and position within the community is both recognized and respected, The Fashion Front for Full Figured Fashion Week™ was created by plus size fashion bloggers, Marie Denee (me!) of The Curvy Fashionista and Johara Tucker of Luvin' My Curves.
With over 60+ applications, The Fashion Front for Full Figured Fashion Week™ comprises 13 bloggers. From plus size fashion experts, stylists, outfit bloggers, femme fashionistas, bargain shoppers to the luxe fashion fanatics, The Fashion Front for Full Figured Fashion Week™ showcases and celebrates the diversity in plus size fashion with those whose voice and perspective is dominant throughout the community.
Meet The Fashion Front for Full Figured Fashion Week™:
Created in August 2006, Afrobella was formed to fill a void that existed in print and in the blogosphere – a continual celebration of natural hair and women all shades of beautiful.
Follow @Afrobella on Twitter
Wardrobe stylist, plus-size model, the Director of The Plus Academy VIRGINIA and the Fashion Editor with Skorch Plus-Size Magazine, Bella Styles knows what's hot in the fashion market.
Follow @bellastyles on Twitter
Curves & Chaos™ is a blog for the CURVY woman. She is glamorous, fabulous, foxy, confident, and more. Monique blogs about fashion, beauty, lifestyle and more.
Follow @curvesandchaos on Twitter
Fan Curves and Chaos on Facebook
Launched in January 2008, Fab Finds Under $50 is the place to be for Real Women, Real Fashion, Real Prices to fashion great deals and fashion for $50 or less.
Follow @FabKimberly on Twitter
Fan Fab Finds Under $50 on Facebook
Tiffany's vibrancy, her intense love of bows and floral prints, bright smile, her willingness to make it fatshion work sets this plus size personal style blogger apart from the rest.
Follow @Tiffany104 on Twitter
Fan Fat Shopaholic on Facebook
· Full Figure Plus
Full Figure Plus was born in 2004 out of a man's need to assist his wife in her search for affordable trendy lingerie- resulting in a fashionable destination for plus size fashion from a male perspective.
Follow @fullfigureplus on Twitter
Fan Full Figure Plus on Facebook
· Les Pitreries de Vanoue (France)
In October 2007, Gaëlle began to show her outfits of the day on the web in order to feel better in her own body. Finally feeling at ease with it, she now helps the plus size woman embrace her curves.
Follow @Vanoue3 on Twitter
Fan Lespitreries de Vanoue on Facebook
Fashioned by Stiletto Siren, she is a lover of cocktails, cupcakes, curvy girls and a full closet! She is a well-rounded fiercely real femme who is all about fatshion with a fresh perspective on being a curvaceous woman.
Follow @StilettoSiren on Twitter
Fan Lips, Hips, and Fatshion Tips on Facebook
· Pretty In Plus (Canada)
Beth hails from Canada as is a self professed plus size fashion fiend. While she loves her body (but hasn't always) she hopes to inspire others to love theirs through sharing outfits and the people who inspire her to wear them. .
Follow @bethamint on Twitter
Fan Pretty in Plus on Facebook
Alissa fashions Stylish Curves through the mix of outfit posts, polls, and articles- all helping curvy girls embrace their bodies in a confident and stylish way.
Follow @stylishcurves on Twitter
Fan Stylish Curves on Facebook
Tina launched T Minus T Plus after finding herself in a rut. Challenging herself on all three fronts, that's when T Minus, T Plus was born; focusing on fashion, food, and fitness.
Follow @TminusTplus on Twitter
For all press inquiries please regarding The Fashion Front for Full Figured Fashion Week™, please contact [email protected]