Hair accessories are a part of our everyday lives, whether Bobby pins, headscarves, headbands, scrunchies, or clips. The right accessory can be the cherry on top of your entire look. It's similar to how most brides feel about wearing a veil on their special day. The dress (or, in this case, the outfit) is incomplete without a hair accessory!
Think of hair accessories as jewelry for the hair. Some of us feel naked if we leave the house without jewelry. So, why would you leave the house with your hair naked?! Remember, they can be very sophisticated and chic. They are a fun addition that is a perfect way to express yourself!
I can hear you saying, "Kay, are you serious – for every look!?" Yes, sis, everyone looks if that's your energy! Envision your hair pulled back into a classic ponytail with fun trendy clips that have cute words like "Queen," "Style," "Boss," or "Beauty."
Are you on your daily zoom meeting and want to get your annoying bang out of your face? Wear a sleek headband! As a wedding guest, you're wearing the perfect LBD with an elegant hair accessory with the perfect red lipstick. Working out? There are even hair accessories for that, too!

Let's go shopping for the perfect hair accessories. We have something for every mood, style, and vibe. If you aren't into hair accessories – let's see if we can change your mind!

16 Hair Accessories To Complete Any Outfit
One thing about fashion is everything always comes back around, especially if it was popular years ago. Butterfly and claw hair clips are back in style. Bold, bigger, and better than we remembered.
Whether you love a bold statement, something glittery, soft, silky, or understated, your hair accessory should be fun, functional, and add a special sparkle to whatever you are wearing.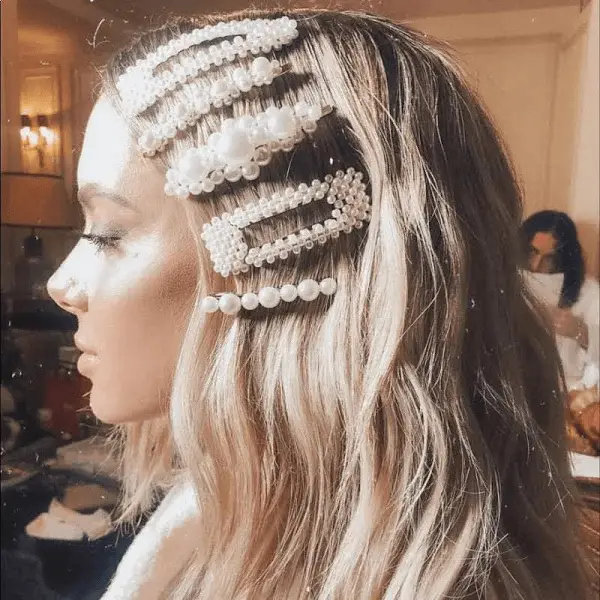 Let's chat: What kind of hair accessories do you usually gravitate toward? Did you see anything you never thought about wearing and consider stepping out of your comfort zone? We can't wait to read your comments.