Whenever I'm shopping for plus size lingerie, I tend to think about what will pair well under a blazer or how sexy I will feel with a garter belt with my favorite dress. The assumption is we are always trying to look sexy for someone else.

I love looking in the mirror and feeling sexy just for me.
No matter what you have planned for Valentine's Day, you deserve to look and feel good! Valentine's Day is all about LOVE, so why not show yourself some love? Get all dressed up for YOU!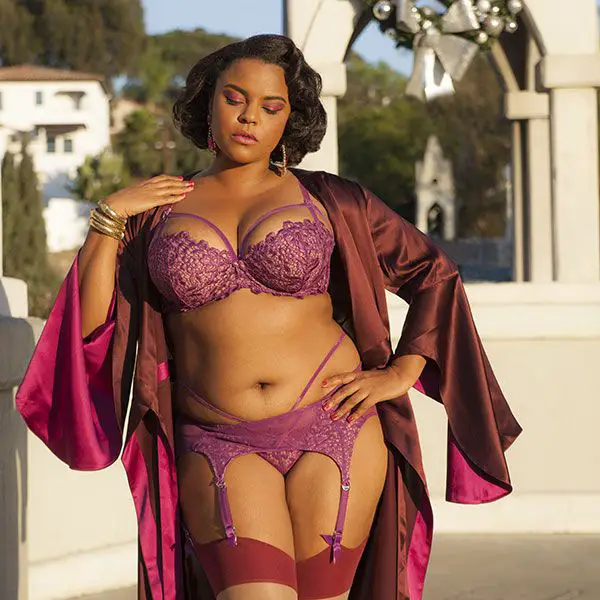 There is something extremely sexy when you're wearing a simple tee and jeans with matching bra and panty set under. I would like to show you where you can purchase plus lingerie some brands you may know ( like Savage X Fenty) and some you may not (like Love Vera).
Here are 10 Places to Shop for Plus Size Lingerie for Valentine's Day and BEYOND!
Photo Credit: www.lovevera.com
Love Vera is a fairly new lingerie brand. You may recognize them from their epic photoshoots of women of all shades and shapes wearing the sexiest garments. They are available in size S-4X.
Photo Credit: www.yandy.com
Yandy states that they are the #1 site for sexy apparel. The boutique is lavish with both straight and plus size lingerie. You will find bodysuits, bustiers, body stockings, leather, bridal and exotic items. Whatever you can think of, they provide! Yandy lingerie is available in size 1X-6X.
Photo Credit: www.hipsandcurves.com
Hips & Curves provide swimsuits, extra racy lingerie, corsets, and sleepwear. I've purchased items from them in the past. The quality is great and the fit is pretty good as well.
They are currently running a sale for 50% off everything. The bras are available in size 38C-44G and the lingerie is are available in size M-6X!
Have you ever considered purchasing your lingerie from Amazon? While you're shopping for a weighted blanket or an air fryer take a peek over at the plus size lingerie section you may be surprised by what you find – thank me later.
The key to finding the perfect piece is searching for "plus size lingerie" and the images with the full figure models usually go up to size 5x.
Photo Credit: www.adoreme.com
Adore Me is a monthly subscription brand that provides sleepwear, bra, panties, swim, activewear, and lingerie. When you join VIP, your first set is $24.95. The available sizes are 38D-42G in bras, and panties are 0-4x, and teddies are 0X-4X.
Photo Credit: us.playfulpromises.com
One of Playful Promises best attributes is they go up to a size L cup size in a vast majority of their bras; not many lingerie brands can say that.
If you are looking for quality and undergarments that will last a long time, there is no need to look any further. Available in sizes 2-24.
Photo Credit: www.savagex.com
I have been purchasing all my lingerie and undergarment needs from Fenty for the past two years. I love the quality, styles, and variety of options. Everyone loves a great sale, and they will never let you down.
They have recently added a selection for men and plus size men. There is a membership in which you can always partake in sales and even a monthly box. The available sizes are S-3X. Shop Fenty Savage Now!
Photo Credit: Nordstrom.com
This department store has never lacked when it comes to plus size fashion. It's the perfect place for multiple options in workwear, casual, high fashion, evening wear, and lingerie.
Nordstrom lingerie section provides sleepwear, teddies, underwear, bras, and shapewear.
Photo Credit: www.barenecessities.com
This set caught my eye for so many reasons. The bralette is super sexy. You can pair this with a pencil skirt and duster.
The panties are super sexy with the bow in the back. Be a beautiful gift that needs to be unwrapped.
Available in sizes 1X-4X
Photo Credit: www.cosabella.com
What could be sexy than a mesh thong bodysuit? This is one of those lingerie items you can walk around the house with by itself, or throw on a robe and simply enjoy your day feeling sexy. Available in sizes XL-3X.
Aren't these some super sexy pieces of lingerie? These brands are delivering the for us plus size ladies! Which one was your favorite?
If you are looking for more one of a kind or more indie plus size brands to support, make sure you also check out our roundup of Indie Plus Size Friendly Lingerie brands to know and shop!
When shopping for lingerie what are you looking for?
Comfort, something extremely sexy, easy to take off, or something you can pair with your clothes?
Let us know in the comments below!