Holiday Season is around the corner… less than 8 days until we are in full-fledge Holiday season! I am not ready! LOL, but with the holidays come parties, soirees, family gatherings, and events that call for fashion to be amped up a bit- or for some of you a reason to get all dolled up! I know I am excited!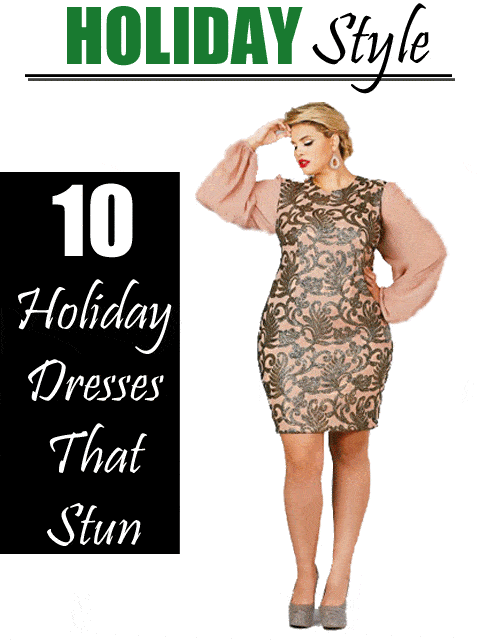 So, to get you started in your shopping, I have 10 dresses that have got me excited for the holidays! Think glitter, shine, metallic hues, and oh, did I say shine! Cocktail dresses to show off and play up your vivacious frame!
10 Plus Size Holiday Dresses to Turn Heads this Season
Tips for Sequins and Shine
Pair your dress with opaque tights to ground your dress and for warmth!
To keep focus on your dress, you can pair your tights with matching shoes if your dress is quite bold!
Fit is key, especially with sequins! Your dress should skim and not pull! You wouldn't want to lose any sequins through the night!
If you have an area of your body you are not loving, you can either rock a sleeved version or a darker hue! Don't love your legs? Opaque tights can help or opt for a longer skirt!
The season is all about fun and festive spirits! If your dress does not make you feel that way, opt for one that zips you right into the holiday spirit! There are tons of options!
What are you on the hunt for, for the holidays? I have a few more posts coming soon about holiday fashion!