Disclosure: This is a sponsored video with Silver Jeans. Our picks, thoughts, and opinions shared are own.
Are you looking for a few new plus size jeans for the warm weather? Having a hard time finding plus size jeans? Do you remember our last video from Silver Jeans? We had a good time playing with them last spring and today we are back with new plus size jeans from Silver Jeans!
Silver Jeans has been a busy brand, with updated cuts, shapes, and silhouettes, it was only right to show and share with you the newest options to play with… right? What type of jeans are you looking for? Skinny, cropped, or how about a pair of shorts? Make sure you take a peek at my new favorites to dance around and play in from the Silver Jeans plus size denim collection.
So, get this… Today we are going to focus on two of the collections that Silver Jeans has: The Originals and the Contemporary Collection. Depending on your personal style and shape, there is sure to be a look that your curves will dig.
Playing in New Silver Jeans Plus Size Denim!
Look 1: Suki Skinny Crop
Fit Details: Mid Rise with a Curvy fit
Listen. I am not shy about wearing white. These jeans? Held me in, sucked in the tummy, and left me feeling like I could conquer the summer. No lie. I also appreciate the rise in these, being able to play in these, comfortably. Add to the fact that I can wear these so many ways? Ohhh yes!
Worn with the Sunny Cropped Dolman Tie-Waist Shirt
More about the Suki Jeans
This is their go-to curvy fit, specifically designed to "play up your all your best assets with unique shape-enhancing details for the perfect hourglass silhouette."
Designed to smooth and hug curvy figures from waist to hip
Classic mid rise hits at the perfect spot for every day, featuring an increased pitch for maximum curve
Extreme contoured waistband hits right where you're curviest and prevents gapping, featuring a 1 ¾" width to help shape and hold you in
Look 2: Elyse Short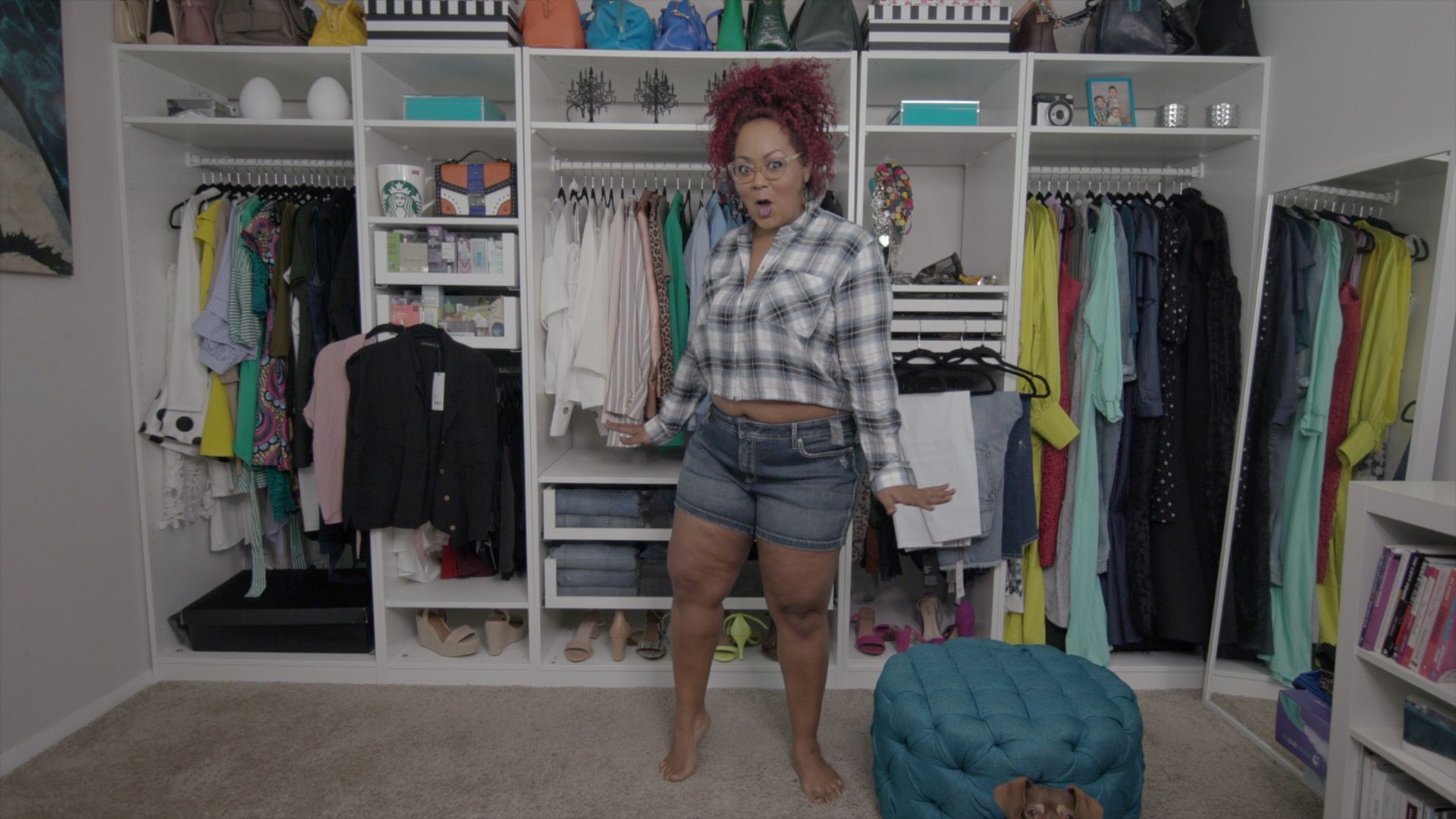 Fit Details: Mid Rise with a Curvy relaxed fit
Give me all the shorts for summer. And these? I can see myself in a loose tee and some flip flops, chilling by the beach! These are going to be my new go-to jeans for the summer season, hands down. I normally do not wear shorts that often, yes to a romper, but shorts? Finding the ideal fit can be a challenge. Especially when some styles tend to cut the thighs… you know what I mean. These Elyse shorts are a delight!
Worn with the Sawyer Plaid Crop Top
More about the Elyse Jeans
This Elyse cut is a more relaxed version of their signature curvy fit. It has been "engineered with an eased waistband for fuller waistlines that prevents gapping and muffin top."
Designed for curvy body types who are thicker and fuller through the midsection, backside, hip and thigh
The perfect in-between contoured waistband and pitch to prevent both gapping and muffin top
Crafted with extra room in the hip and thigh to accommodate curves
If you loved our Aiko fit, we recommend sizing down in Elyse for a similar look and feel
About the Originals Collection
The Originals collection features their core fits made famous by their most loyal fans. The Suki happens to be one of my favorites and go to silhouettes… so I get it! If you are looking for a great pair of everyday jeans, then the originals is where you should start!
Look 3: Highnote
Fit Details: High rise with a Slim contemporary fit
These boot crop jeans? Girl… I think these will be an immediate favorite and go to for the summer and well into the fall. The dark rinse gives me a dressier vibe, but the silhouette and the finishing give me all the attitude. I may have already worn these twice.
Worn with the Salem Utility Crop Top
More about the Highnote Jeans
Instantly look inches taller. How? This leg-elongating high-rise fit, engineered with "a lean, flattering and right-on-trend silhouette."
Leg-elongating super-high rise
Slimmer, more contemporary fit through the waist, hip and thigh
Minimally contoured waistband to enhance and flatter your natural shape
Universally engineered to fit a variety of body types
Size up one size from the Originals collection for the perfect fit
Look 4: Frisco
Fit Details: High rise with a Vintage fit
Girl. Do you see the back-seam on these jeans? They are quite a different silhouette that I have had the pleasure of dancing in. A crop and a fun back-seam? This high rise in this wash is giving me all the 90s feels. All I need is a choker and a crop top! Hehehehe… But for today? I see myself in these with a fun bodysuit and heel or tee and sneakers! Who knows… but they are fun!
Worn with the Salem Utility Crop Top
More about the Frisco Jeans
Inspired by vintage, made for right now. They've re engineered their '90s heritage fit to create "an authentic-looking pair that's bound to be mistaken for the original."
High rise and designed in a variety of leg openings
Perfectly hugs your waist, fits snug through the hip and thigh and makes your cheeks "smile" a.k.a. gives them a lift
Authentic vintage characteristics include clean indigo wash treatments, felled seams and low-stretch, rigid-looking denim
About the Contemporary Collection
This collection is all about today's trends turned essential fits. You know, the looks and styles we have loved but could never really find in plus? Yes, those. The Contemporary collection features slim fits and "of-the-moment silhouettes," and is targeted to the more fashion-forward customer.
So what do you think about my jeans? My looks?
Fun right? You can score your own at SilverJeans.com!
The collection goes up through a size 24 and none of the jeans are over $110! How about that?? AND they last forever (not really, but more than a few great years)!!!!
Which collection lover are you? Which silhouette is more your style? Let's discuss in the comments below!
Disclosure: This is a sponsored video with Silver Jeans. Our picks, thoughts, and opinions shared are own.