Say hello to long lasting nails!
 Men.Pinkberry.Rafffles.Cars.Spicy drinks and manicures. Hosted by the Kartel Company at Porsche Beverly Hills, this Holiday Wrap -Up party was one to remember. With a mixture of gifting, sampling, games, raffles and music, the Kartel Company aimed to celebrate us, the media (and people we love)! From Love & Hip-Hop cast member, Somaya Reece, to some of the hottest photographers in Los Angeles, the Holiday event connected outlets of all sources.
What I loved most about the event production in particular is that they plugged the cracks of 'Black Hollywood' for this special occasion. I was inspired and in 'awe' of the multitude of creativity and diversity in the crowd.
In between my in denial of what the Ultimat Vodka & Porsche Wrap Up Holiday event brought about on this past Friday night, I couldn't surpass the flow of CND Shellac wavering in the air.
Introduced this year, CND has answered all of our prayers. Nail polish that doesn't chip, smudge, dries easily and last at least 14 days is either a blessing or a magic trick. The formula? Shellac paints on like polish ( base coat, color, top coat) and is cured in a UV light so there is zero dry time. The colors are hypo-allergic and come on 30 varieties of shades.
"Our chemists invented a modern solution to the normal polish inconveniences that frustrate women. Shellac is fret-free and convenient. Women can finally get their time back," says CND co-founder and style director Jan Arnold.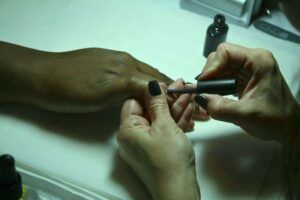 I got my time back and so much more. Done in just 20 minutes, I was off and ready to mingle with the room full of professional men.
Want more information on the heaven sent collection?
 Visit CND !
 The Kartel Company?
 www.thekartelco.com
Photo credit: Curtis Sabir ( PR Photos)