We are back for our second week of celebrations as we celebrate The Curvy Fashionista turning 6! Man, it has been a year, six years, and a journey! As a thank you for riding with me, this month, all month long we are hooking YOU up with quite a few giveaways and today, we are just warming up the week with RebDolls! You know RebDolls, right? The plus size indie retailer birthed from plus size model, Grisel?!
Well, if you are NOT familiar, I have featured them more than a few times on the blog! I love their tees, sassy attitude, bold silhouettes and classic cuts that will always have a place in the closet. At a great and accessible price point, RebDolls is definitely making a name for themselves and you have to take note! Oh, and I must add, RebDolls is not for everyone! NOT for the shy or conservative or demure. AND THIS IS OKAY. It is great having options and designers who speak specifically to your style and desires!
So what are they giving away?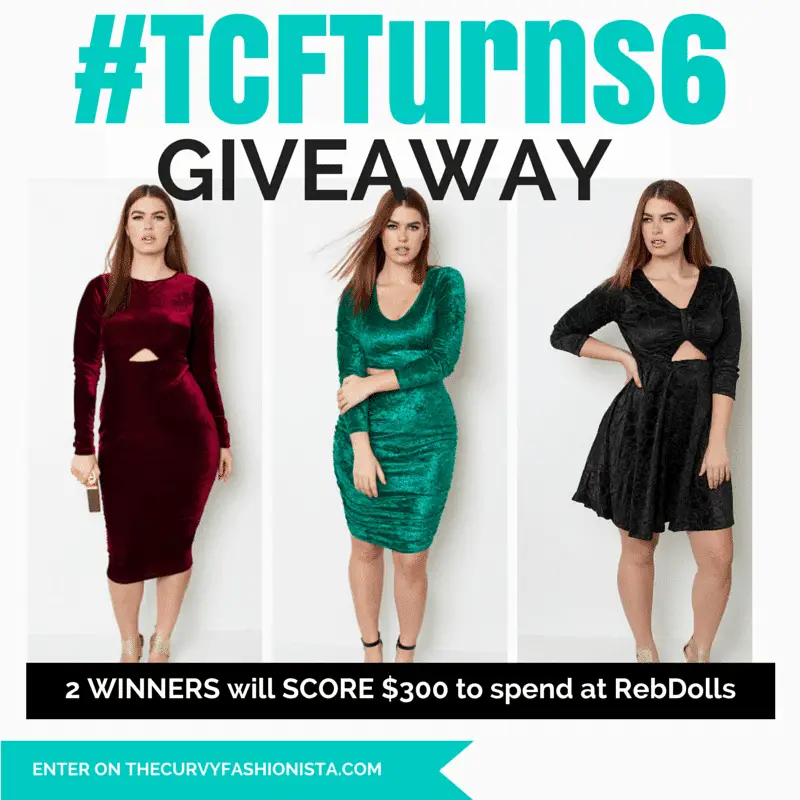 Well, TWO lucky readers will score $300 dollars to spend at RebDolls! You get it? 2 x 3= 6? Hehehe all in keeping up with the theme as much as possible! YES honey! And if you have been to their site, you can cop quite a few pieces with $300! The question is, what is at the top of your list and what are you pining for?
TCFTurns6 Giveaway: Turn Heads This Holiday Season with RebDolls
Giveaway Closed
To enter, all you have to do is fill out the form and complete the actions! The more actions you perform the more chances you have to win! It is that easy! Drop the links of your faves, sign up for my newsletter, follow the social media accounts, tweet a message a few times, boom!
Check out the latest from RebDolls here! They currently have quite a few pieces on sale!!!
Good Luck!
You have until Sunday, December 14, at 11:59 PM PST to enter! So move NOW!
Make sure you check out the rest of the TCFTurns6 Giveaways! We still have the Lane Bryant Gift card and the Hips and Curves giveaways! Enter those too!
Thank you sooo much for still hanging with me and if you are new, welcome to the blog!