SIX years. Can you believe it? I can't. Seriously, six years blogging, building, living out a dream. I am seriously hyped, in awe, elated, grateful, humbled, and full. And in true Virgo fashion, I am ready to do more! I already have quite a few things in motion for next year that I cannot wait to share, but for THIS month?
It is all about YOU, the reader, and my showing and sharing love with you! Make sure you follow the #TCFTurns6 Giveaway posts, because there are jewels in store!
If you have been following my blog for some time, then you know this month? Is the month we go ham with giveaways and the deals!
And to properly kick this off, I reached out to the homie, Monif for a playful giveaway!
Now as much as possible, I will be playing around with the theme of six years, so most giveaways will have this in common! So for today, we will have SIX winners! SIX!
Six winners will score $100 to spend at Monif C Plus sizes!
MMHMMM! With the sales, deals, and new looks arriving, that will surely satisfy your thirst for fashion!
#TCFTurns6 Giveaway: Kicking Off the Blogiversary with Monif C!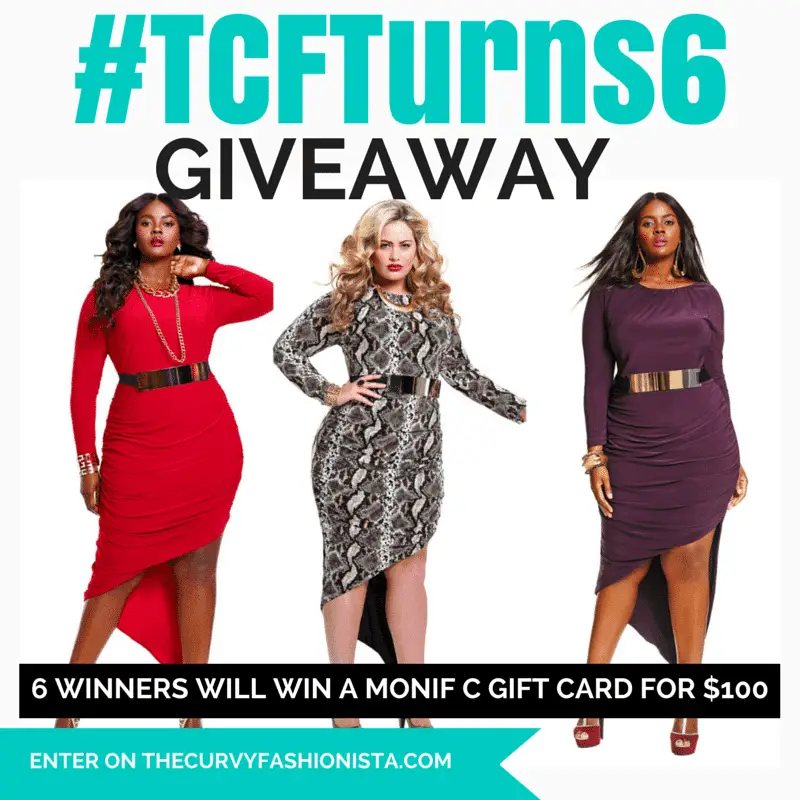 Are you ready? Here is what you have to do to enter:
Each action earns you entry points! The more actions, the more entries! Leave a comment with your fave pieces, points. Subscribe to my newsletter, points. Follow Monif C on Twitter, points. Get my drift!?!
a Rafflecopter giveaway

You have until Sunday, December 7th at 11:59 PM PST to enter!!
Good luck! Make sure you stay posted throughout the month, because we have some great giveaways planned!
Cyber Monday: Also, if you are looking to shop this Cyber Monday, Monif C has 40% off everything and free shipping over $100!
Thank you for rolling with me and supporting me! It really means a lot!