Hahahah… I don't know if you know how much fun this is bringing you amazing giveaways! Today we have giveaway number 2 coming from the fabulous CoSTUME NATIONAL with its holiday PoP Collection! Whether for you or for someone who is an UBER fan, this collection is one to smile about!
What is CoSTUME NATIONAL PoP COLLECTION EDP?
Well, PoP is Inspired by the minimal, yet bold, monochromes of the CoSTUME National ready-to-wear collection – capturing the classic and sophisticated essence of the brand. Just like the fashion collection, this Eau de Parfum is pop-chic dressed, with bottles painted in bold hues of turquoise, orange, red and blue!
What scents?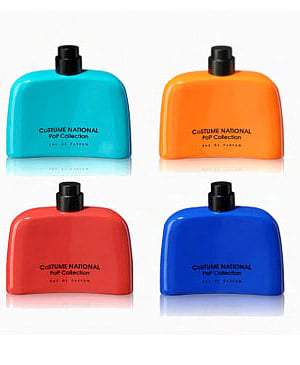 The refined scent blends invigorating notes of pink grapefruit and bittersweet raspberry with floral hints of rose and jasmine, topped off with a warm finish of ambergris, cashmere and patchouli heart – producing a scent that is fresh, feminine and sensual all at once.
Woot! And you get to win this collection valued at $100! To be eligible to win, make sure you are subscribed to the Curvy Fashionista Newsletter! Next, enter your details in the form below, Tweet the giveaway, Like us on Facebook- and all that jazz! You Ready? Enter NOW!
The CoSTUME NATIONAL PoP COLLECTION Giveaway
Contest ends on the 27th of December at 12:01 am EST!
Good Luck!
Don't forget if you are in the LA Area, you are invited to come out to my Blog Anniversary Party (<– RSVP at the link)!
In the meantime, make sure you check out the latest #TCFturns3 giveaways!