I love accessories.  I'm also an expert gift giver (and modest). Honestly, there are times when we're on a budget right?  I love gift cards but what happens when you've alotted $10 or $25 on gifts?  Are we limited to gift cards?  No!  Just a bit of creativity goes a long way.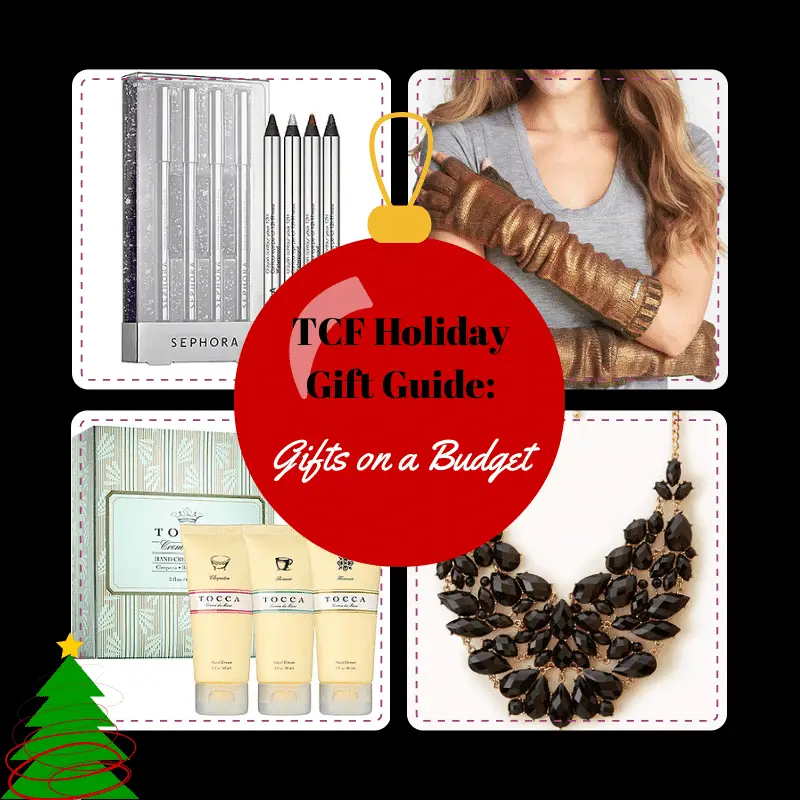 With the holidays approaching, it's important for us to think about gifts for others and gifts for ourselves too!  At these prices, there's a lot that can be done.  Small gifts, stocking stuffers, Secret Santa – they can all apply!
I also, need to give a disclaimer – an accessory can be anything.  Anything that accentuates how you feel or look in addition to the clothing you're wearing.  It could even mean technology at times. However have you seen something amazing and had to stop and ask someone about it?  The holders and cases for our technology to the tech itself.
TCF Holiday Gift Guide: Gifts on a Budget
A Few Tips: 
The key to good deals is starting early.  Especially if you can order online.
While this next piece of advice is pretty obvious, when you're on a budget, filtering all gifts to under $25 can net you some amazing finds.  Most sites including Nordstrom and Anthropologie allows you to do this!
Not to mention, this is one of my favorite seasons for gift sets of brushes, lipsticks, perfumes and makeup.  This is one of the best ways to stock up for the year (for yourself) as well. Across the stores, across the websites, just take a look.  If you get really creative, then you can still get great gifts for the curvy girls in your life!
Other honorable mentions: wine glasses (wine glasses are accessories in my home), small tech gadgets and pretty covers and cases.  It doesn't have to be limited to "wearable" items.  A monogrammed mug like this one makes as much of a statement at work as a beautiful bracelet.  Make sure to check some of my favorite places like Anthropologie, Home Goods, TJ Maxx and Marshall's (personal faves for pretty, budget-friendly gifts).   I was trolling on Anthropologie's site and about laid out when I saw the gifts they have to offer for under $25.00 – so pretty and feminine and perfect.
What are your go to places for budget friendly gifts?  What kinds of gifts can you recommend that are budget-friendly?  Do you have questions about how to shop or what to get? Sound off with comments and questions below!