Getting a bit more personal than I have in a while, some of you have asked that I share this experience and to be honest, I feel that as it pertains to my own level of personal confidence and value and worth, I need to share.
Where do I begin?
I LOOK Just. Like. Him.
This September, I turn 32. Thirty-Two years old and meeting my father for the first time. Growing up without my father and FINALLY meeting him raised feelings I never knew existed, showed me actions in my life that were both protective, questionable, and understandable…
Seven years ago, I decided to Google my father. Then I was 24, about to graduate from undergrad, dating a man I was in love with and was curious about where I came from. Unbeknownst to me, it was father's day when I found him. This week was both the highest, lowest, and most self-revealing time that both excited and scared me.
You see, I grew up with a single mother and a grandmother who pushed independence, education, and self-preservation. My mother wanted me to see the world, be able to stand on my own two feet with or without a man, teaching me to cook, clean, be a lady, eat at a $5 or $5000 table, and to have my education to lean on.
All I knew was how to be strong- or how to push aside my emotions and forge ahead. To keep moving forward regardless of circumstance. I longed for Love.
But growing up as a child, I longed for my father. Longed for the hugs from the man who I came from. Longed for those father daughter dances. Longed for the love and affection from the man I never known to be my father.
In that longing, I acted out. I buried my feelings. I over achieved. I sought out acceptance from others. I longed for love.
It was hard for me NOT to question myself with what's wrong with me. What did I do wrong? Was I not good enough? Why am I being punished? Why doesn't my father love me? I constantly questioned my existence. I never felt like I was good enough, so I had periods of my childhood where I rebelled and then others where I worked and hustled even harder to prove myself to whomever…
All of these thoughts that until a date was set, I never knew that were buried under the surface- all the while time formed a protective barrier always second guessing, questioning, and doubting a man's affection…
Seven years I waited, emotionally conflicted.
Seven years since finding him, I also found my father's family (or they found me rather). A few cities away this whole time. Seven years since finding him, he lived in Mississippi, now a PASTOR, with three children and a stepdaughter.
Where do I fit in? I asked myself.
These past seven years, I waited… exchanged phone calls and listened to promises of meeting in real life. I was conflicted, frustrated, excited, and spent. Was our meeting really going to happen? Would I have the chance to hug my father and stare into the eyes of the man who I was half of? Would I be accepted 100%? Was I ready for this emotionally? How would I feel? How would his family feel? How do I make room for this family and their love? Was I capable of making room?
As you can see, I had questions.
But my emotions are what surprised me the most.
Emotions that ran deep. Deeper than I ever knew. Emotions suppressed.
Then a date was set.
He was headed to California for my cousin's wedding and wanted to make time for us to finally meet. Again, I was conflicted. Emotions surfaced. My nerves were shaken. Every call I had with him leading up to our meeting left me in tears and an emotional wreck.
Thank GOD for friends, Uncles, Stepfathers, and Brothers in Law.
As I drove to my aunt's (his sister's home) accompanied with my close friend, my nerves took over. I was afraid. I had no expectations- trying to protect myself and keep myself ready for the worst. This day, I had the weight of the world on my shoulders. As I pulled up, my cousin (who if not for her, this would not have happened) was there with my father.
He was Tall.
He was a bit of a light bright.
He was handsome.
He had tears.
And…
I Looked. Just. Like. Him.
We stared. We hugged. There was silence. And the only thing I could find myself saying was that "I look just like you."
I cannot even begin to put to words how therapeutic it was to look into the eyes of the man you come from, knowing WHERE you come from. See, I vaguely resembled my mother, but my father? Even as I write this, I have tears. Overwhelming, disbelief, and relief all fill my heart and mind…
There was NO denying this.
We talked. We spoke. I was both frank and open. I shared my feelings, opened up emotionally; my family surrounded me with love and acceptance.
I prayed for this. Even as I write this, I have tears in my eyes as this makes me so grateful and happy about this chapter, this little girl's wish, and the new family who opened their arms to me.
Over the next few days, I met my great aunt (my grandmother's sister), celebrated in my cousin's wedding festivities, and spent quality time with my newly found sisters.
I AM BLESSED.
Interestingly enough, this could not have been better timed. You see, I am currently at a place where I am ready for a relationship. Ready for my own love and family… but I did not want the baggage of my emotions with and of my father to come to and with my relationships. Maybe this was why I busied myself in work… SMH.
I am BLESSED.
To have met my father, my sisters, my cousins, my aunt, and others and to celebrate in this momentous time in my family's life- my cousin's wedding, THIS was a blessing. My Aunt Shon was even rocking a Monif C Dress!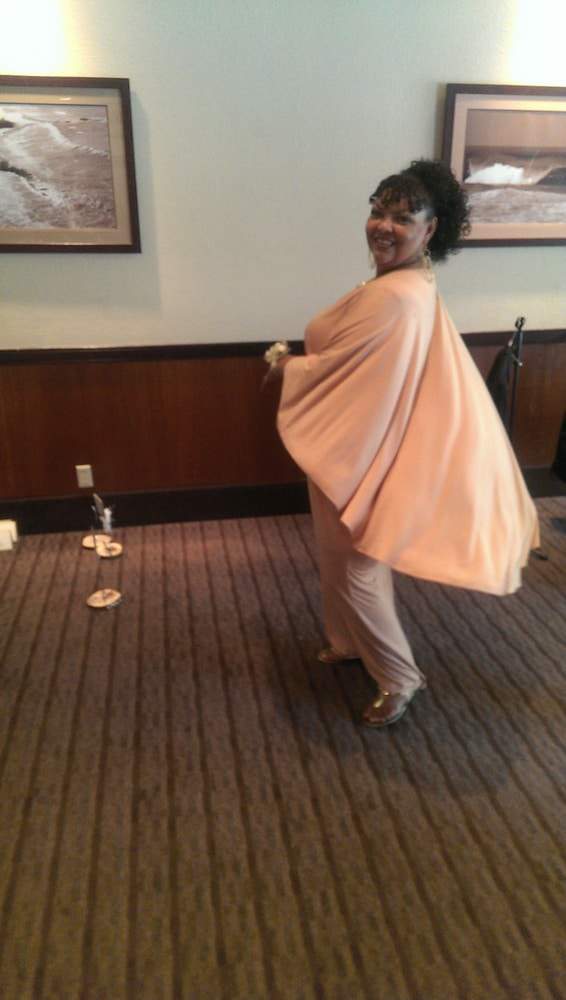 I think to myself how fortunate I am… to have the chance to find my father, come to terms with my emotions and inner turmoils, and to finally look him in the eyes- I am blessed. BEYOND.
This could have gone a gazillion different ways and I am grateful that I kept my heart open and teachable and reachable to allow my father and his family into my heart. I now feel, in the weirdest way complete…
One Chapter closed and a new one to be written… where will this new relationship and family fit in? I do not know. All I know is that I am so grateful for this chance to let love into a place where fear, doubt, and emotional scars once lived. Baby steps. Baby Steps. Baby Steps.
I am Open…
This transition will be work. Engaging my new half of my family, getting used to having two sides to interact with, remembering to call my aunt and cousins to say hi. This will take some time. This will be a welcomed change that I have to work on and with. THIS will be the new step into my future mending old wounds, creating new memories, and learning who I am and where I come from…
I AM OPEN
I wanted to share this as some have asked me to share this story, share my thoughts, share my concerns, and talk this out… for my own emotional growth and sanity… I hope my sharing helps those of you who are and have gone through this as well… in one way or the other…