Are you fan of a good suit? I am. I love the way you can take a suit and make it all you own. A great plus size suit that gives you bossy vibes, that you can wear for work and play? Give me all of them. Especially as I go through my own personal style evolution, I find that I am loving a great tailored piece with attitude. I thought what a better way to express this than with a few plus size suiting options for the plus size professional looking for a few new plus size wear to work styles or for the high fashion lover?!
But I am curious… What do you think of when you think of a plus size suit?? I only ask… because what I want to share with you takes a fun departure of the options, we had a few years back… only in black, nay, or grey! Ohhh no, boo. We have options now!
See, a great suit can also serve as part of your wardrobe essentials, giving you three looks or options in one! You know, versatility is the key. Even better if the suit can go from boss to bossy, with a switch of a top, heels, and accessories! Right?
To help you out, I have rounded up a few must rock plus size suits that you can own for the spring season!
14 Plus Size Suiting Options to Own the Day & Night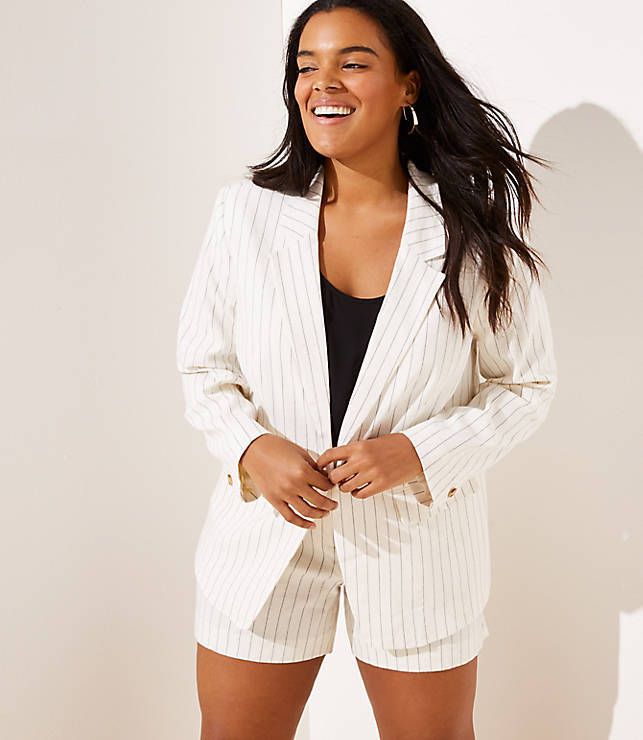 Pinstriped Modern Blazer and Tie Waist Shorts, up through a size 26 at Loft.com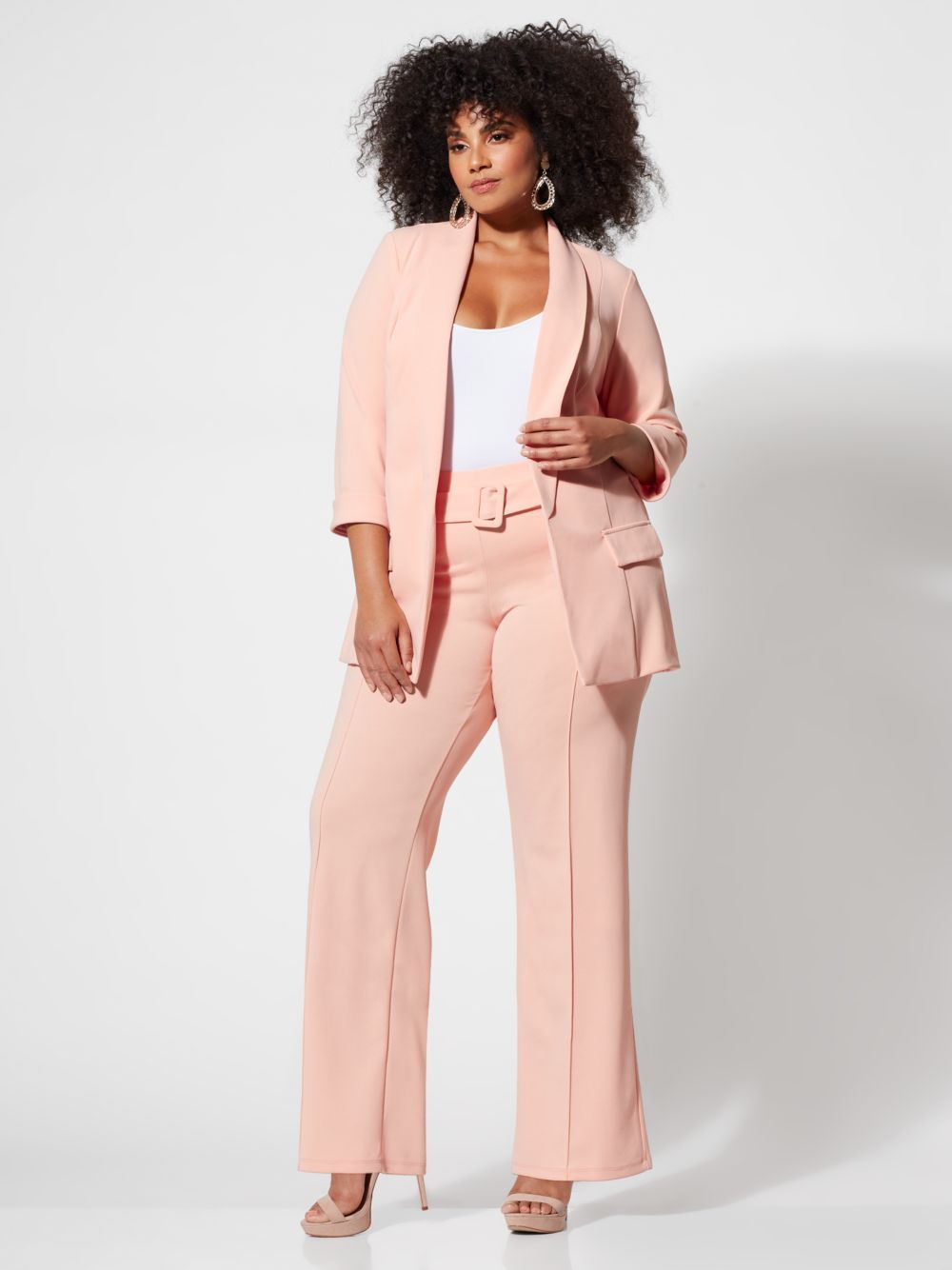 Olivia Coral Long Blazer and Flare Ponte Trousers up to a size 3x at FashiontoFigure.com
Long Jacket With Self Belt with Pintuck Pant, up through a size 26 at AshleyStewart.com
Who What Wear Plus Size Corduroy Blazer & Wide Leg pants up to a size 4x at Target.com
UNIQUE21 Hero Plus blazer with repeat bow print and contrast lapel detail, up to a size 24 at ASOS.com
Ruffle Detail Double Breasted Jacket and Pants, up to a size 28 at Eloquii.com
Fashion Union Plus blazer with tie waist two-piece, up to a size 24 at ASOS.com
Jason Wu x ELOQUII Pinstripe Suit, up to a size 28 at Eloquii.com
Double Breasted Modern Stretch Suit, up to a size 28 at LaneBryant.com
Bar III Plus Size One-Button Jacket & Bi-Stretch Pants, up to a size 24 at Macys.com
Curve embellished blazer and pant, up to a size 26 at ASOS.com
Short Sleeve Denim Blazer and Straight Leg Trouser, up through a size 32 at AshleyStewart.com
Manon Baptiste Embroidered Check Blazer & Trousers, up to a size 24 at Navabifashion.com
Tall Single Button Blazer and Straight Leg Pant, up to a size 26 from AshleyStewart.com
Do you see what I mean? We can turn it up a notch with our suiting! Right? Baby blue? Soft and demure pink? How about head to toe florals?
Whether your work is more creative and expressive or more of a professional setting, you can easily make any of these pieces all you.
Here are a few tips when shopping for your plus size suiting:
Buy all the coordinating separates if you can. Trying to match a random navy with another can be a challenge! If the suiting collection comes with a skirt and pant, if you are in the more professional environment, get both!
Have fun with new colors and patterns. Chances are, you have all the black and grey options in your closet, right? Have a little fun and step out of your box when suit shopping. Think pinstripe, a bold color, or a softer shade!
It is all in the details. Ruffle, buttons, and silhouettes will give your suit a little bit of personality and panache. If you normally opt for a single-breasted jacket, play around in a double breasted one. Think ruffles, belted options, and leg shapes! Yes, these all exist!
Opt for a nontraditional top. If you immediately are thinking a button up, why not shake it up a bit? Especially if you want to wear your suit for play. Think sheer layering tops. Bold Neons. A Bustier. Lace and texture play. Or, depending on fit, no top at all, just your fancy bra! Yes, I said it.
The point here is that we have more than a few options at varying price points and options to match a variety of tastes and moods. Finding plus size wear to work (and play) options just got a little bit easier, right?
It is all about what you want to express and share… right? But if you are looking for a little bit more, make sure you check out where to find and shop plus size workwear here! If you need a bit more help with navigating the office, make sure you check out our additional plus size suiting features!
What do you think about these suiting options that we found? A fan of the pinstripe? Pastels? Bold hues? Let us know!