So, if you have not learned by now, I do looooove a great sweater dress… and each fall, I roundup a few yummy options to play and lounge in. I mean, when you pair them back with a great pair of boots or booties, you are serving up so much sass and style, and it is an effortless win! (Or in my mind it is!) So what I have done, is round up a few options from a few of our favorite places to ready ourselves for the chill in the air!
I mean, aren't you just as obsessed? Can't you see a few of your sweater dresses already coming out to play? Paired with a bomber or a fun duster? Paired with button up shirts, layered underneath? Paired with fun infinity scarves to pull the fall look all together? I know that I am beyond hyped about them and let me show you a few that caught my attention!
You ready?
For the Love of a Great Plus Size Sweater Dress… Here are 18!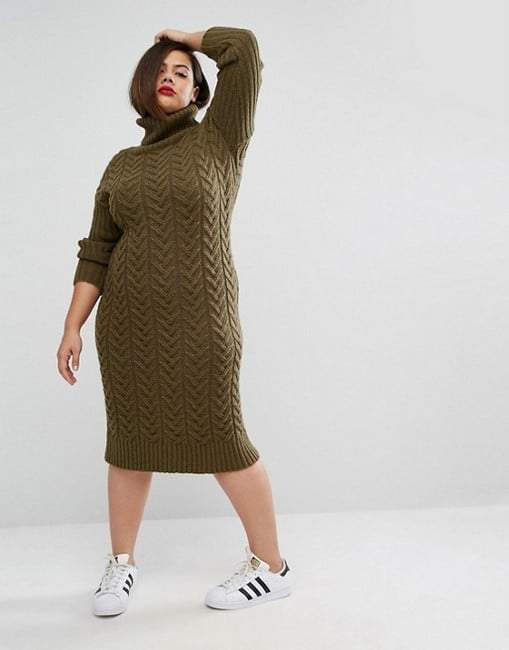 Alice & You Knitted Utility Roll Neck Midi Dress at Asos.com
Calvin Klein Plus Lace-Up Sweater Dress at Macys.com
Drape-Neck Midi Sweater Dress at LaneBryant.com
Geo Bodycon Sweater Dress at AshleyStewart.com
INC International Concepts Plus Size Floral Sweater Dress at Macys.com
Jennifer Lopez Ribbed V-Neck Sweater dress at Kohls.com
I am rocking it here!
Junarose Roll Neck Knitted Dress at Asos.com
Lace-Up Bodycon Sweater Dress at AshleyStewart.com
Marbled Marilyn Sweater Dress at FashiontoFigure.com
Mock Neck Sweater Dress at Eloquii.com
Nadia Aboulhosn Cold Shoulder Dress for L&L at AdditionElle.com
Off the Shoulder Sweater Dress from Eloquii.com
Plus Size Striped Rib Sweater Dress at Forever21.com
Rib Knit Midi Dress by Ava & Viv at Target.com
Rib Knit Sweater Dress from Eloquii.com
Striped Sleeveless Mock-Neck Sweater Dress at LaneBryant.com
Sweater Dress by Merona at Target.com
Ta-dah!
You have options! Different levels of pricing, quality, styling, fabrication, and hues!
Do you see what I mean? Most of these are paired with booties too! I am more of the Wide Calf Over the Knee boot family (did you catch our last boot post?), but I do love the options here! If I do pair these back with an ankle bootie, I need for the bootie to hit a *bit* higher to balance the legs… Hehehehe personal preferences! BUT, did one catch your eye?
Now, not all sweater dresses have to be a bodycon option… I have a few that are slouchy and I cannot wait for the air to chill to dip into those! BUT, if I am wearing one of those, I like to add in a light shaper- like one of those slip options from Assets by Sara Blakely! I have a bit of a lower full tummy and like to keep her together!
But, are you a fan of sweater dresses? Can you see yourself in more than a few of these options? Let's chat about this! I want to hear from you!
What are you and how are you rocking your sweater dresses?