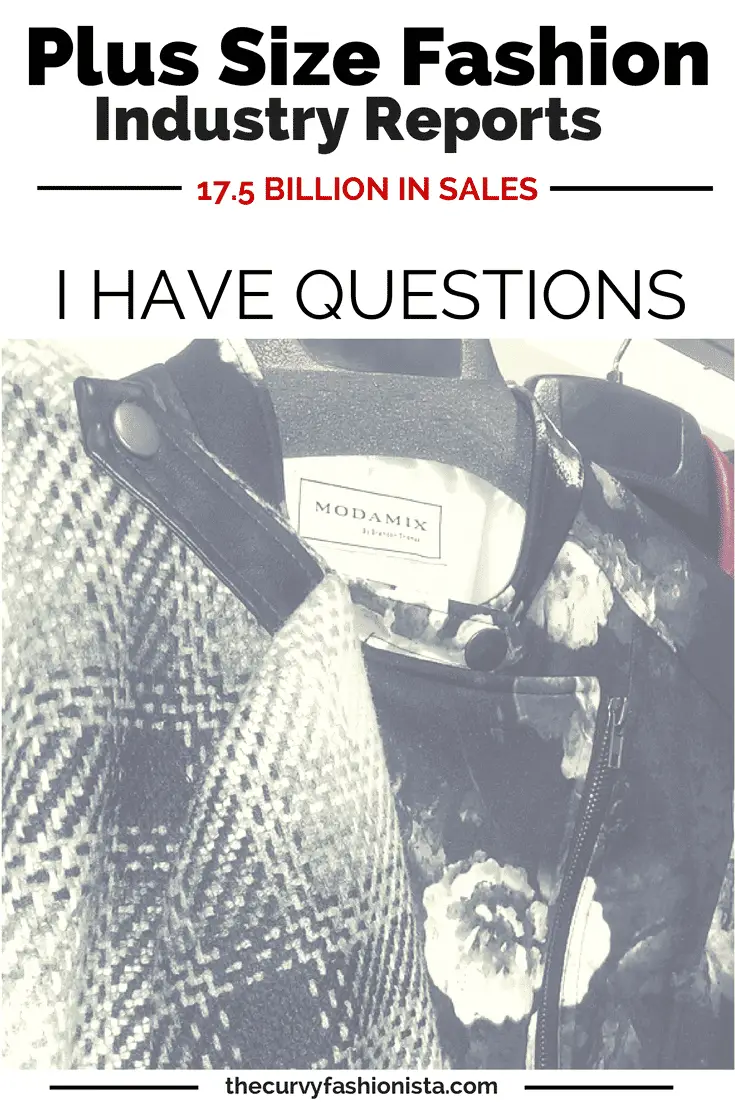 It has been a while since I have written about this. A while since I have addressed the industry, the market, and the community. A lot has changed since I shared my 12 reasons why the plus size industry has room to grow, my talk about the shift in the plus size industry, whether or not we were taking two steps forward or back with plus size models, the design elements in plus size clothing that KILL ME, or when I asked or shared my 15 questions for the plus size fashion industry.
So when The NPD Group released its newest numbers for the plus size industry, I was not surprised but a bit irritated- honestly. I mean, the numbers do not lie. The plus size industry generated $17.5 billion in the 12 months ending April 2014.
Let me say that once more.
The Plus Size Fashion Industry Generated $17.5 billion in the 12 Months Ending April 2014
Yet, we are over here scratching our head as to why retailers are NOT giving square footage. Why brands are NOT including plus size models alongside their straight size counterparts, why brands are secretly dating us- not giving ANY mention or use of plus size on their sites, but that are all over the department store sites.
"Retailers and designers are now viewing this area as a growth opportunity, and today there are indeed more plus-sized choices in stores," said Marshal Cohen, chief industry analyst, The NPD Group.
So today, I have more questions or thoughts about the plus size industry and I invite you to share your thoughts and possible answers! Are you ready?

Why won't retailers who sell solely online give us variety and diversity of models? We cannot shop your in-store options, so give us size 14s, 16s, and if you are so bold, an 18 with visually ample curves?
17.5 billion. That is a huge opp and piece of the pie to dip into. Why are you leaving money on the table? We have already proved the industry to be viable and profitable!
To the designers who only sell to department stores, why do you NOT have your PLUS SIZE range on your own site? Don't you realize that this only strengthens your brand and dedication to the shopper? Allows her the chance to get to know you, your message, and your aesthetic? Brand experience?
Certain "plus size models" are denouncing the fact that they are plus size models, all while taking the checks of these plus size brands. Brands- WHY ARE YOU STILL USING THEM? If they do not identify with the consumer, why are you still using them?
With the end of Full Figured Fashion Week, the chance for new designers and retailers to do more is upon us. Will you continue to step up and make bold statements? Invest into the community that supports and represents you?
To the department store buyers- WHY ARE YOU BEING SAFE with your plus size fashion buys? Stop watering down designers who dare give us bold colors, silhouettes, and price points. Stop thinking we are an industry in transition (read: losing weight). This frame of thinking only perpetuates a negative and false cycle and image of who the plus size woman is. Which leads me to…
Give me thy floor space. Merchandised and pretty. Why do you think that we do not want the experience? When you stuff me in the back, completely ignore me, or present me as an afterthought, why do you think I would shop from you? All you do is set up the department up for failure- then pointing to low sales and numbers as part of the problem. NO. YOU are part of the problem, with lackluster marketing, merchandising, and staff education. Get it together.
These international brands are giving the US plus size brands a run for their money. Are you going to let yourself be upstaged? They are giving us what we want- fashion and fast. Ranging in styles, price points, and offerings, these plus size retailers and designers are giving it. Why aren't you seeing this and making the needed changes?
To the plus size shopper: Why do you think that every brand is for every one? There is now diversity and variety. Not every designer is going to cater to your tastes and personal needs. And this is okay. THIS is how it is in mainstream fashion. When you start to berate or complain brands notice and do the opposite of what we ask. The best way to affect change? With your pocketbook. Buy and support those who speak to your tastes!
In this growth, we are seeing an influx of online retailers and designers, but where are those in store opps? Ashley Stewart AND Lane Bryant have closed doors- City Chic just entered into the US market via LA. But for those department stores who could really lead the charge- you have no problem taking our dollars online- why not extend this in stores? At least your bigger doors?
As you can see, I have a lot of thoughts about this and I could probably go on and on. But in this particular space and place, I feel that there is still so much $$ left on the table here. Brands that lead the pack are losing steam but aren't adapting fast enough…
I am curious about your thoughts of what I shared, your answers, and the stats that show were are a viable industry…
There is so much more to add, but right now, let's hear from you! Sound off!