Happy Friday! You know what that means – time for another blogger spotlight!  Today, we head to our nation's capitol to bring you plus size blogger Tiffany of Policy and Fashion.  If you missed our last spotlight, don't forget to catch up with Ashley of From Head to Curve.
But back to today's spotlight… Tiffany shows plus size women that we don't have to sacrifice style for the workplace.  Offering up chic looks for the office, after-work options, and tips on maintaining a professional image, Tiffany is a fab resource for posh and polished style.  And Tiffany doesn't just make sure you've got the right look.  She offers career inspiration and resources, advice on how to assess your worth, and self-empowerment tools.  She is a plus size blogger YOU NEED TO KNOW!!
Meet Plus Size Blogger, Tiffany of Policy and Fashion
Blog:   PolicyandFashion.com
Age:  28
Height:  5'3″
Location:  Washington D.C., born and raised in Detroit, MI
How long have you been blogging?
Since March 2015

What or who inspired you to become a fashion blogger? What led you to it?
I have ALWAYS loved fashion. I have owned a purse since the age of four!  As a child, I loved playing dressing up and begging my aunt for "makeovers" where she would put her red lipstick on me. My godmother loves fashion and was a model in her younger years.  Growing up, I remember all the unique clothes and shoes she had. She and my Granny introduced me and my sister to the world of SHOPPING! Let's just say I fell in love at an early age!
I have a passion for providing curvy women outfit inspiration for work. Image is everything in the workplace and I want women to know that they can be PRETTY and POWERFUL!
EVOLUTION
Do you blog full-time, for fun, as a hobby? Share your evolution!
Currently, I am blogging as a hobby. I would love to run my own image consulting business in the future.
What is your favorite asset? Your legs, arms, waist? How do you play that up?
I am in love with my legs and butt! I enjoy finding items that play up those areas, in a classy way of course!

CHALLENGES
What are the challenges, if any, you face regarding being plus size?
Sometimes my bottom half of my body can be a gift and a curse. When in a professional/conservative setting, that part of my body can't always be out front and center! Sometimes I have to size up in items to have a professional fit.
FAVES
What's your favorite thing about being plus size?
Being a part of the vibrant community! There are so many shapes and body types when you talk about plus size women! I love how we are coming together and getting the attention from retailers! We are finally being recognized on and off the runway.  I look forward to the day where there are curvy girls ripping the runway in every New York and Paris fashion show! Being at Curvy Con for the first time this year and just being in the environment with other curvy girls was so inspiring!
What's your favorite thing about being a blogger?
I love being in the position to empower and Inspire women to feel amazing in the skin they're in! Encouraging them to embrace colors and prints, not being afraid to be in the spotlight and own their greatness!
Who/what are your favorite designers/brands?
I love Eloquii for work and weekend (I'm ALL about finding transitional pieces that can work in all settings)  Target is BAE! I am a total stan (since I was like 5 years old)! The Designer collabs (especially Victoria Beckham) and Who What Wear collection are everything to me! I like Forever 21, H&M, and GS LOVE for trendy pieces and my best-kept secret is Amazon.com when I need a last minute outfit but don't have time to go to the mall!

WHO ARE YOU
Describe your personal style.
Classy, Glamorous, Chic, and Colorful! I love mixing prints, stripes, and polka dots! For this season, I am in LOVE with leather, lace, and fur. I also enjoy a great statement necklace. If you ask my friends, they would say I'm ALWAYS dressed up, I wear dresses almost everyday!
Which bloggers inspire you? Plus or straight size! Any bloggers currently on your radar?
I love @ClaireSulmers from @fashionbombdaily! She is rocking the fashion blogging world as a curvy woman of color! I get constant outfit inspiration from @iambeauticurve, @kellyaugstineb, @naturallyfashionable, @stylishcurves, @girlwithcurves and @hayet.rida! There are so many AMAZING curvy women in fashion who are inspirations to me!
In the D.C. area, there is a great curvy community who have been super supportive of my blog since the start: @mademepretty, @blondeinthedistrict, @heartprintandstyle, and @dreamyrealist_.
PLUS SIZE FASHION
What do you think about where plus size fashion is today versus a few years back?
I would say the industry has come a long way! I come from a curvy family, and I remember going to plus size stores years ago and EVERYTHING looked like it was for my grandmother! Nothing looked youthful, and most of the clothes were black! I am so happy to see plus sized clothes in all price ranges and styles so curvy women can easily find affordable fashion!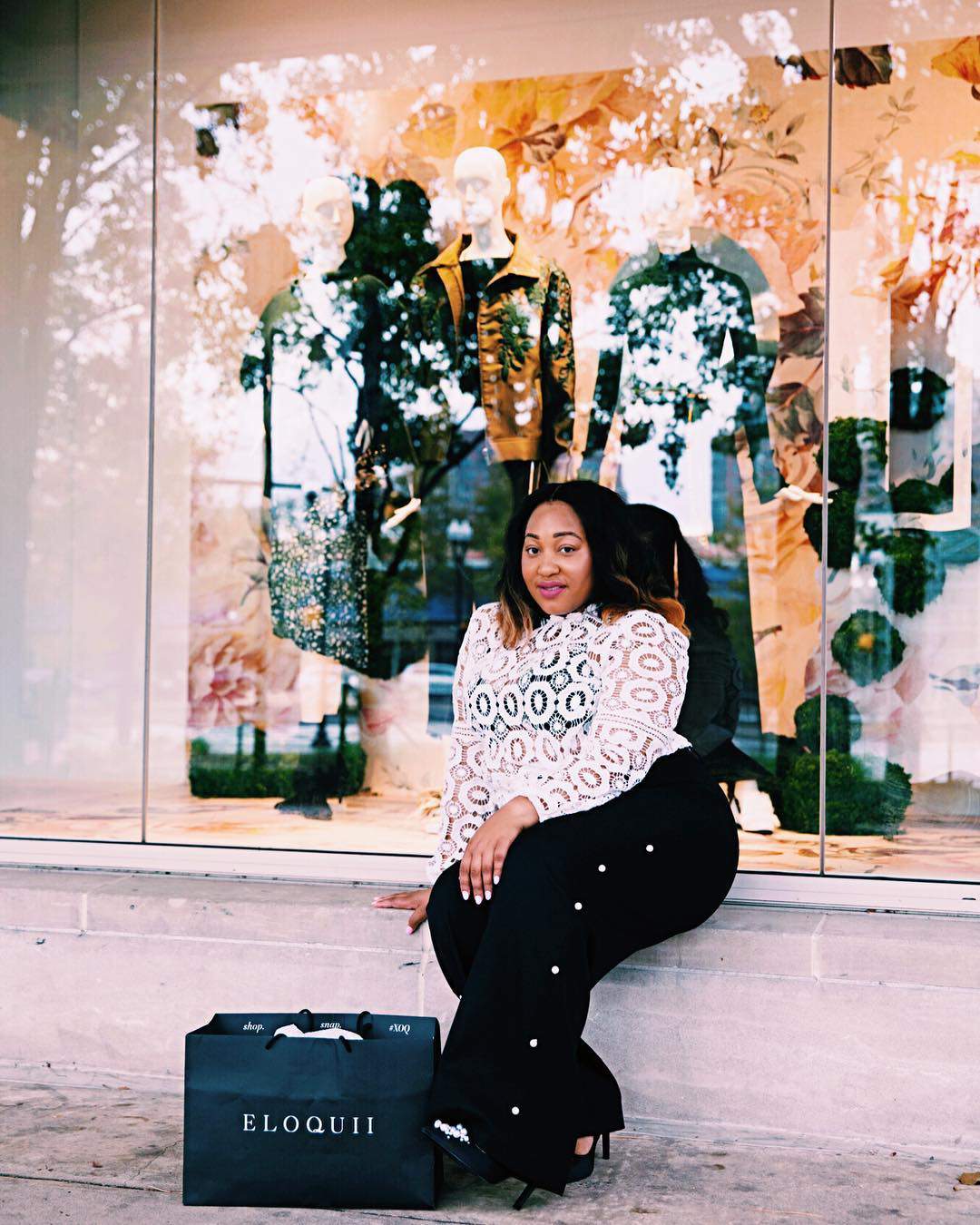 What do you think or hear from readers, is one of the biggest myths about plus size fashion?
The biggest myth is that you have to wear oversized clothes to hide your body! It's okay to sport a great pair of jeans that hug your curves or a bodycon dress. Fashion is all about fit! You have to know what works for your body type.
EXTRAS
Are you working on anything or have anything to share?
I am excited to be partnering with three other AMAZING curvy girl bloggers in D.C. (@enjoycurves, @darkerberrie and @yosoyyayar) We created a blogger collaborative called @districtqueens. We have two goals. The first is inspire curvy women to be fashionable and chic and second, empowering women to collaborate instead of competing with one another. We have power in numbers when we come together; everyone can have a seat at the table.
Anything else you want The Curvy Fashionista's readers to know?
When you dress well, you feel great! Invest in your image.  First impressions are everything!
Lastly, what does Curvy.Confident.Chic mean to you?
Knowing that you are Pretty and POWERFUL!  Owning your greatness and SLAYING each day!​​​​

Want to be featured?  
Make sure you fill out your deets here, so that we can feature you!
Looking for more plus size blogger style inspiration?
 Make sure you check out all of the other plus size blogger spotlights!