One of my favorite things about art is its amazing ability to inspire feelings. Sometimes art can make you sad. Sometimes art can make you feel angry. Sometimes art can make you laugh. Art even has the power to make you feel wistful or nostalgic. And then, there is the art that makes you feel… sexy. Yes, sexy! Today, we're going to be highlight plus size art that does just that.
If you have ever been fortunate enough to see a plus size burlesque show in person, then you can back me up when I say that the experience is incredibly empowering and inspirational. Seeing women who have curves and bellies just like you commanding the stage with grace, elegance and sensuality? It will high key make you want to invest in some pasties, I'm not gonna lie!
This is why the artist we are shining the spotlight on today is special to me. Through her art, she not only invokes the burlesque shows I've witnessed in the past, but the feelings I felt then come wafting to the surface, like a very pleasant aroma attached to a soft breeze.
It inspired me, just like good art does!
United Kingdom-based illustrator Charlotte Thomson-Morley created these collection of 4 Art Prints is taken from original illustrations hand drawn in watercolors and pencil. She sources her materials (paints, paper products, prints and packaging) from ethical UK suppliers using sustainable materials whenever possible. Her work is full of beautiful, diverse women and full of body positivity. Her Burlesque Beauties collection is no exception.
My curvaceous Burlesque beauties were created to remind us that we can all be sexy and empowered! No matter what shape and size we are and what we look like! Having worked with burlesque performers for over 10 years I was inspired by the amazing women I know to create these illustrations. Each features a popular aspect of burlesque performance :- Fan Dance, Balloon Pop, Tassel Twirl and Shimmy Shake! These are perfect as a gift for your loved ones, or to display in your home as a positive message to yourself.
I co-sign completely! I could very easily see these prints surround a vanity mirror. Imagine getting ready for your day, glancing at yourself in the mirror and then seeing these four beauties smiling beside you. Can we say, instant mood elevation? But I've kept you in suspense for far too long, haven't I? Are you ready to be blown away? Keep scrolling.. Keep scrolling!!
Plus Size Art: Burlesque Beauties by Illustrator Charlotte Thomson – Morley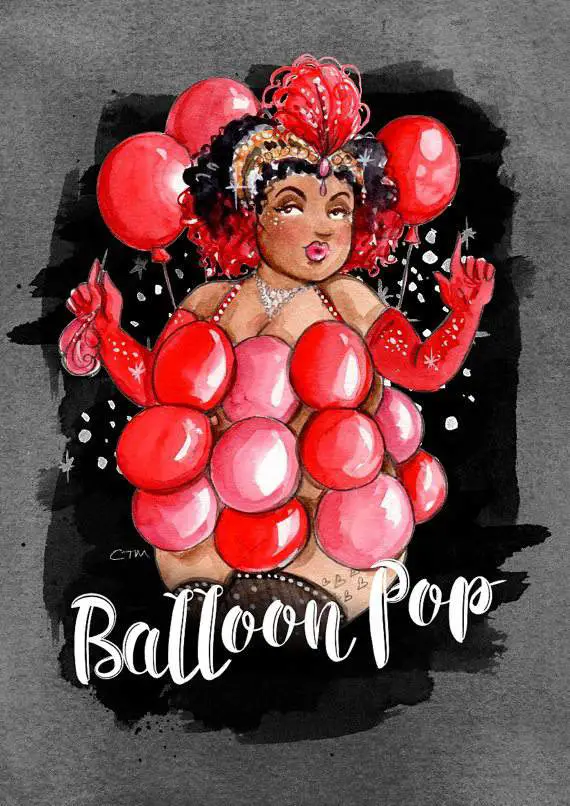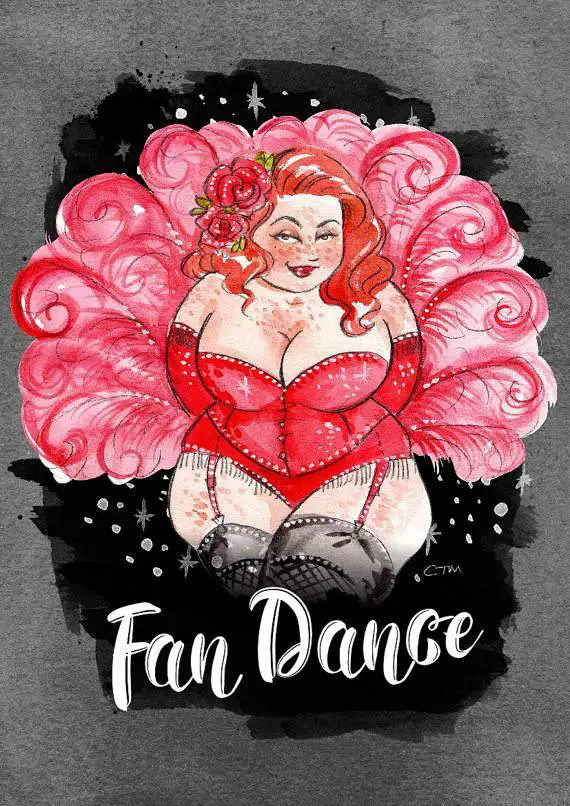 What a quartet of curvy cuties, amirite? I love how each woman has her own persona that is so beautiful and (pardon the pun) larger than life! Feathers, sequins, pasties and curves as far as the eye could see. This is one burlesque show I want to be at, front row, center!!!
You can learn more about her art and shop it at etsy.com!
How amazing is this series?! They are fun, whimsical and of course… super duper sexy! I'm also pretty obsessed with her Yoga Chakra collection, so I may have to invest in both! I don't think I can choose!
Which ones do you love? Let's discuss and talk more about this!
Want more? Make sure to check out the other plus size art spotlights!
Are you an artist or know someone whose art should be featured? Shoot us a note!