Valentine's Day is right around the corner!! What are you going to wear? Whether you're planning a fancy evening, a romantic dinner, drinks with the girls, or something else, as your resident petite plus size blogger, I am here to hook you up with some options that will work for all us short gals! And guess what? We have options? Slowly but surely, plus size designers and retailers are listening to us, delivering to us, and fashioning for us, more than a few options to play around in! There is even a petite plus size designer who caters specifically to us shorter girls!
I know right?
So take a peek at a few options that I rounded up for us to play in, for that Petite Plus Sized Valentine's Day outing! You ready? Take a peek…
Here are 9 Petite Plus Valentine's Day Options!
Romantic Dinner

Got a sexy date night planned for you and your bae? Try a bodycon dress with great details like a faux leather bustier, chest cutout, or mesh side panels.
ELOQUII faux leather empire dress $110.90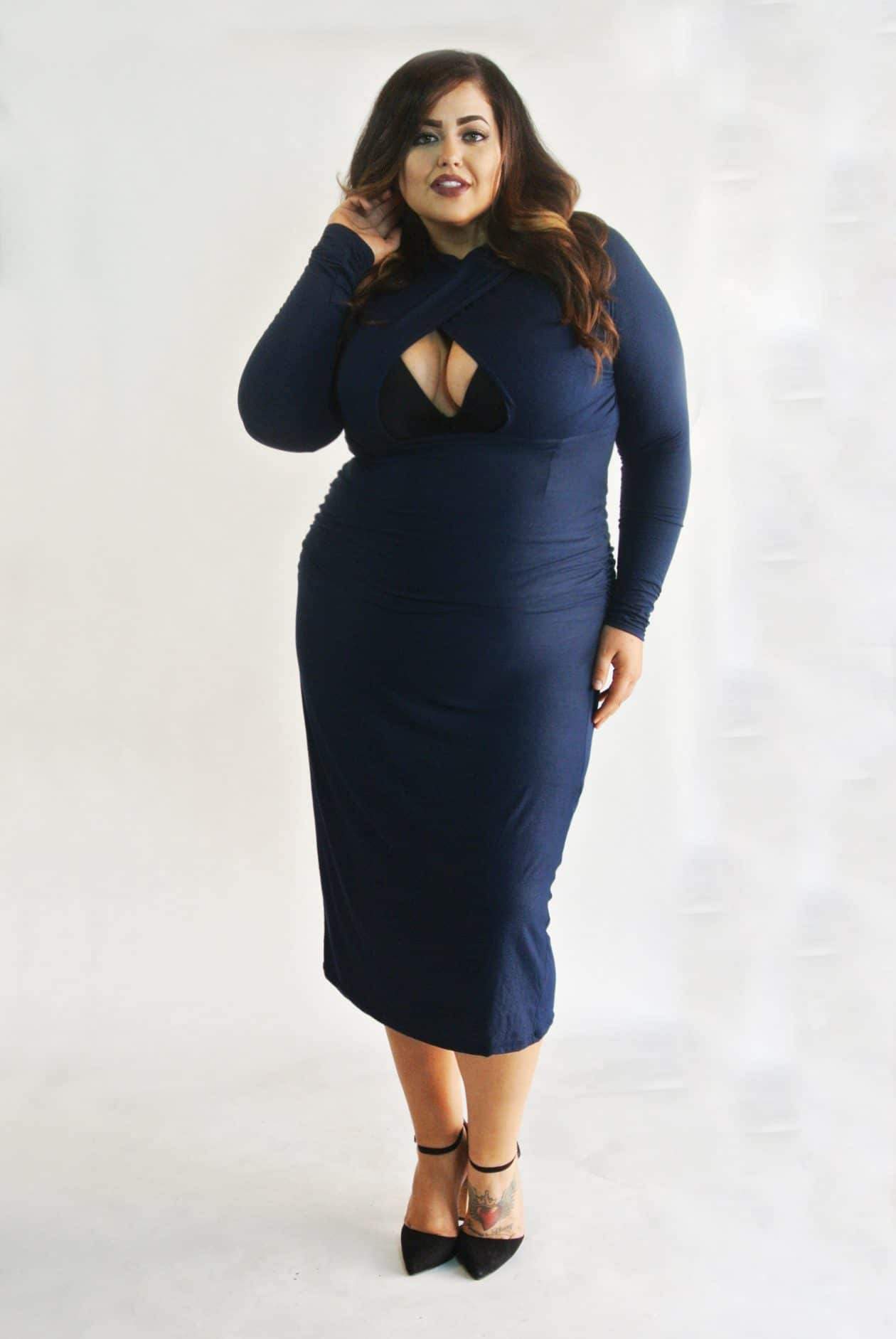 Myrda J Petite Plus Chest Cutout BodyCon Dress $79
Myrda J Petite Plus Draped Side Mesh Dress with 3/4 Sleeve $74
Fancy Night Out
Got a V-Day date at the theatre, a formal restaurant, or some other fancy plans? This ELOQUII Petites dress in a crimson red velvet is totally swoon-worthy. Hello Jessica Rabbit, am I right?
ELOQUII Petites Velvet Off The Shoulder Gown $169.90
Or, try a two-piece maxi dress for a modern take on formal wear. This eShakti look is available in custom fit and is always adjustable for height.

eShakti Rose Print Dupioni Two-Piece Maxi Dress $79.95
Galentine's Day
Planning a Galentine's get-together? Try a short, sassy, flirty number like one of these lace dresses from Forever 21+. While F21+ doesn't offer petite plus options, I personally find that their junior's plus size fit works well on petite proportions. These two dresses would likely require no alterations, but could both be taken up at the waist if you prefer a shorter fit.

Forever 21+ plus size sheer lace dress $27.90
Forever 21+ floral lace dress $24.90
Daytime Valentine
Need some options for a Valentine's lunch, your kid's school function, or work? Try a custom fit-and-flare dress with a cute heart print or a soft blush sheath.
eShakti Heart Embellished Cotton Knit Dress $67.95
What do you think about these options? Even though retailers that offer petite plus options are still few and far between, especially for items like dresses, I rely on altering non-petite options, but petites and custom pieces are always going to work better if you have a smaller frame. Thankfully, petite plus size options are expanding, and if you're patient, it's definitely possible to find stylish and fun options!
A Few Petite Plus Size Shopping (and altering) Tips:
When shopping non-petites, look for shorter hemlines, even tunics. These can be worn as dresses in many cases.
A mini dress might be a midi on you!
Sleeveless options are easy to alter as taking up the straps on a sleeveless dress is a simple and inexpensive fix.
If you think an item will need to be hemmed, look for plain or simple hemlines or simple linings on sheer dresses for the simplest (and cheapest) fix.
What do you think of my round-up? Anything catching your eye? What are YOU planning for Valentine's Day?