Marie's Note: A few weeks ago, or a month or two ago, I shared a bit about plus size boudoir photography and allowed a photog to share what she had witnessed from her clients, when it came to seeing themselves beautiful. Well, a fabulous reader emailed me and wanted to share her very recent first time experience with all of us, and of course, I obliged her! SO please read on to learn about Sharon's first foray into this and her own process!
Boudoir Photography. Just the sound of it makes me think of a velvet chaise lounge, wisps of expensive lingerie and sultry glances into a camera lens. I've always wanted to do it but something always got in the way. Fear. Self doubt. Body image issues. All the tired excuses such as "I am too fat" "Not pretty enough" "Too old". I always ended up telling myself, I'll do it when I lose weight, when my hair is longer etc, etc.
When my birthday rolled around this year I shelved all those doubts and excuses. I had been stalking, for lack of a better word, Olivia Womack photography ever since I discovered one of her boudoir photos in the bridal salon where I got my wedding dress. The girl in the image was not thin, not overly young and she was GORGEOUS.
So, when my husband asked me what I wanted for my birthday, I didn't hesitate. He booked my boudoir birthday suit shoot and within a week I had a thirty minute pre-session phone consultation with Olivia.
I did It, I Booked My Plus Size Boudoir Shoot
After discussing the logistics of the session, date, time and location, we got down to the nitty gritty. Wardrobe. This is where I discovered that a lot of the fun was in the planning and the "personas" I would take on for the day. As a writer, I am always thinking about characters and for me this was the almost the best part! While looking sexy and beautiful were important, I told Olivia that I needed to still look like me. My personality had to come through. Olivia stressed that talking about my wardrobe and making selections now was invaluable. She also wanted it to be personal and to speak of who I am.
This photographer was patient, filled with great ideas and very receptive to what I came up with: the reader, the writer and the hockey fan. But of course I had to give titles to my wardrobe options.
The "reader" consisted of some lacy bits, a sweater and not much else. Maybe not exactly how I truly spend my reading time but there is nothing wrong with a little fantasy.
The "writer" would channel the newspaper journalists of old with a fedora, a pair of high heeled lace up oxfords and some choice under things.
And being a huge hockey fan and mother, how could I even think of being photographed without a little hockey gear? A custom made blinged out little cardigan buttoned just right, a pair of equally blingy boy shorts, thank you Stringent Designs, a hockey stick and a smile.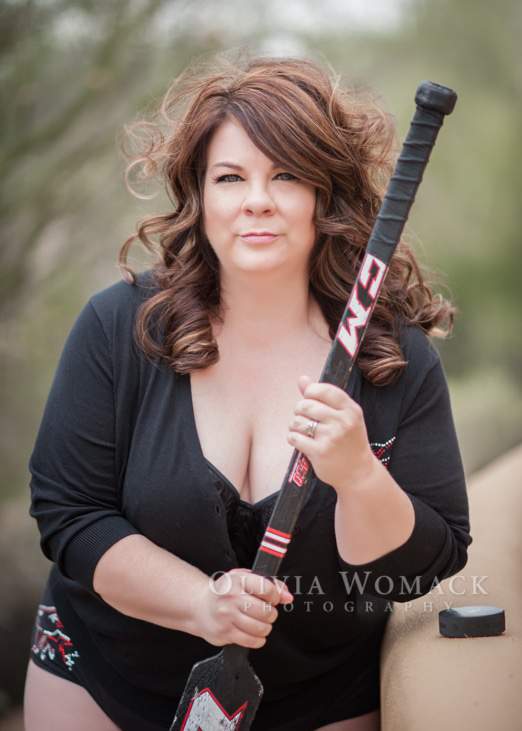 Armed with my shopping list and an increased sense of confidence, I set out to create my alter egos. Not that the nerves wouldn't come and go over the next two weeks but overall I was very excited to make this happen.
What did surprise me was the fact that the session would not be held in a studio but in a very private and luxurious residence. I was greeted with fresh fruit and mimosas! The whole scene made me feel a lot more comfortable about wandering around half dressed!
I spent the first hour in hair and makeup where Jamie proceeded to transform me into a big haired, pouty lipped, huge eyed vixen. It was my first foray in to false eyelashes and I have to say I am now a big fan. Once my transformation was complete, I was whisked off to the beautifully decorated bedroom for my first shots. Mellow tunes, most of which I like to call "baby making" music, were piped in, and off we went.
It took approximately two photos for whatever self-doubt I still had, to go away. She was professional, creative and as promised, she directed me the entire way. Arch your back, turn left, chin up, chin down… I didn't have to think about what how I looked, the way I moved, or the angle I was in; Olivia led me through the entire session. Inside shots, outside shots and surprisingly it didn't seem at all weird to be outside in an unbuttoned cardigan and boy shorts wielding a hockey stick.
What did shock me was how BEAUTIFUL and EMPOWERED I felt.
Olivia peppered her instructions with positive affirmations: "that is fantastic" "so beautiful" "amazing" and not once did I not believe her.
I was so in the moment in fact, that I decided to take some shots topless. During our planning session it had never occurred to me that I would be comfortable enough to request that. She assured me that it was up to me and my comfort level if I wanted to take that leap. So I jumped.
I celebrated myself that day. Didn't wonder if the shots looked good or if my husband would like them. I liked the way I felt so I just knew they were going to be gorgeous.
After it was all over I put back on my everyday look (although I kept the hair and those amazing eyelashes). Let me tell you, there really are no words to convey how impossibly good I felt the rest of the day. Strong. Powerful. Sexy.
Although the proof viewing session was only a week away, it felt like an eternity. And while these photos were truly for me, I did bring along my husband for a more objective point of view. Just in case I got too critical.
Did I?
Yes. But only for a second.
I overlooked some of the bumps, wrinkles and all those things we are taught to hate about ourselves. And guess what? I truly saw myself.
And I was gorgeous.
The lighting, the angles, these photos are art. I am pretty sure that a couple of the black and whites would have fit right in at an art museum. The best part? I still looked like me.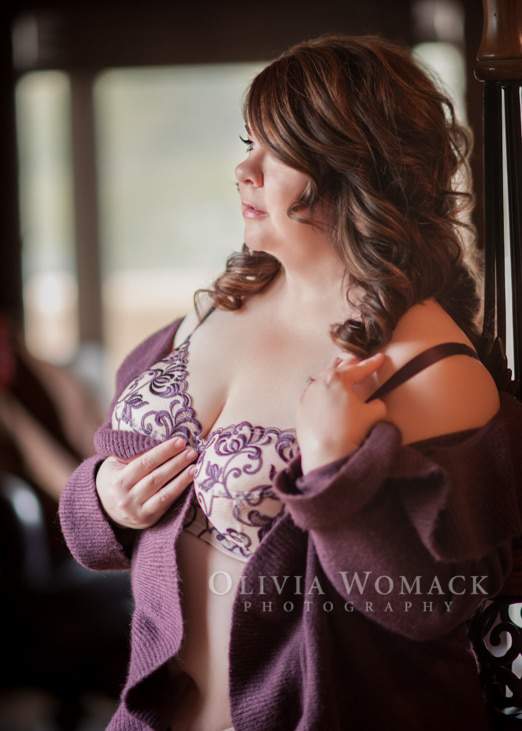 While purchasing the photo album and three canvases to hang as art in my bedroom, I realized that while I had photographic proof of this experience, it was that incredible feeling that I would carry around forever.
My writer's curiosity got the best of me. I had to ask Olivia what made her decide to go from shooting weddings to doing boudoir.
She told me that she started doing offering a boudoir session seven years ago with her brides. She knew it would make the best groom gift ever and it grew from there. Now she offers it simply to any woman (bride or not) who would love to give the perfect gift to themselves or a loved one. It was the love of "the female form" that got her started and Olivia laments " that most women don't know their true beauty and I want to capture that for them."
She says that most important part of the session is her direction, which is vital for getting the result both she and the client desire. According to Olivia, this direction inevitably alleviates the nervousness and fear that most women have when doing this type of session. The walls come down and that's when the true beauty shines through.
While Olivia mostly does boudoir photography for women, she has shot a few men and even couples looking to share a special moment.
You can discover Olivia Womack Photography for weddings, engagements and boudoir by visiting her site here… Olivia Womack Photography.
How amazing was Sharon's story! I mean, I am almost motivated to do something like this! ALMOST! LOL.
Have you faced your fear and braved it in boudoir? Let me know below! If you want to share your story and how you found your beauty, drop me a note!