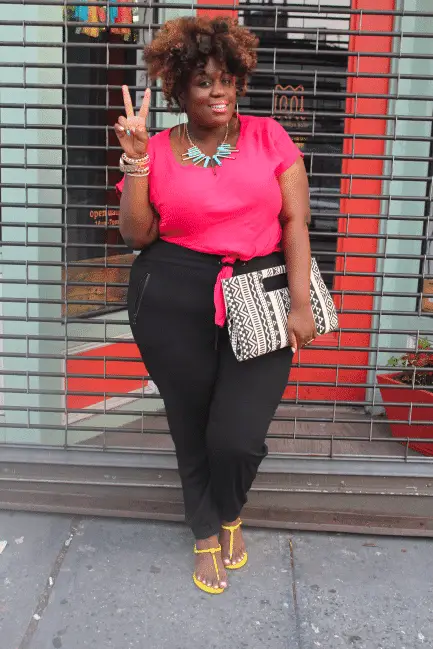 Blogger Ontheqtrain is one of the most stylish plus-size bloggers in the game. Her looks are always edgy, daring and on point! I had a hard time picking which of her fabulous looks to feature. But, since hot pink is one my favorite colors, I had to go with this look. The tie-front blouse paired with the on-trend jogger pant is doing it! The tribal purse and array of jewelry really polishes off the look. And those sandals have been my go-to look for summer. They make any summer outfit chic. Who would have thought hot pink and yellow would go together?
Get Ontheqtrain 's look: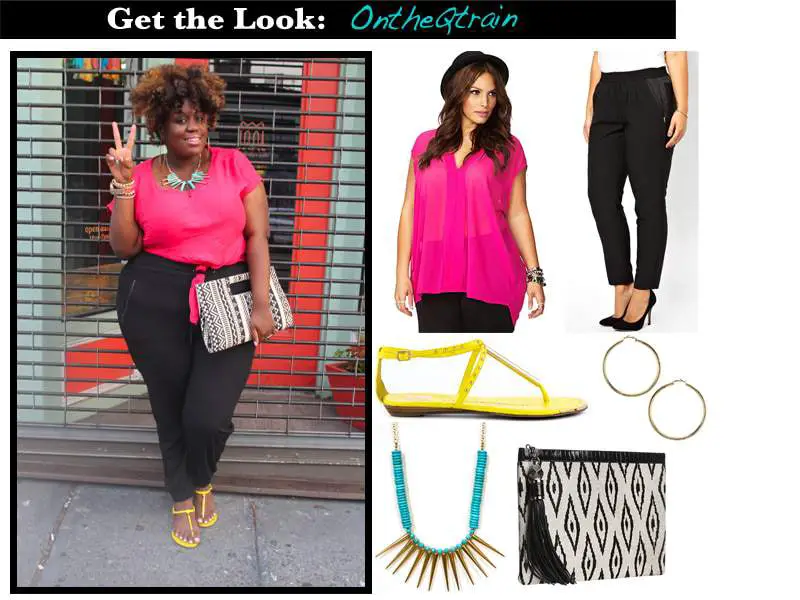 High-Low Y-Neck Top from Forever 21
Carmakoma Tailored Jogger from ASOS
Dolce Vita Apollo Sandal from Heels.com
Turquoise Statement Necklace from Etsy
Tribal Clutch from Zappos
Gold Hoop Earrings from Dorothy Perkins
I don't know about you, but I am going to play around with this in my own little way.  I think I am needing her necklace baaaddd… OH and the clutch too. Basically, I want her stylish life right now. I think I could live in her closet!
Are you familiar with her? On the Q Train? Have you checked out her photos and style? You MUST! Let us know what you think!