Hope you all have been enjoying the lovely international bloggers we've been featuring, like Katha of Kathastrophal.
Today, we're excited to bring you yet another overseas blogger. This week, the spotlight is on Kate of How Kate Does Fashion.  With posts names "Burger Queen," "Purple Rain," and my personal favorite, "Fedora the Explorer," this blogger delights with her clever writing and varied style.  This UK fashion blogger isn't afraid to try new out popular trends like a burger print swimsuit, but she also works ladylike classics like a pro.
Kate is a plus size blogger you NEED TO KNOW!!
Meet Kate of How Kate Does Fashion!
Blog: How Kate Does Fashion
Height: 5'8
Age: 25
Location: Barry Island, Wales, United Kingdom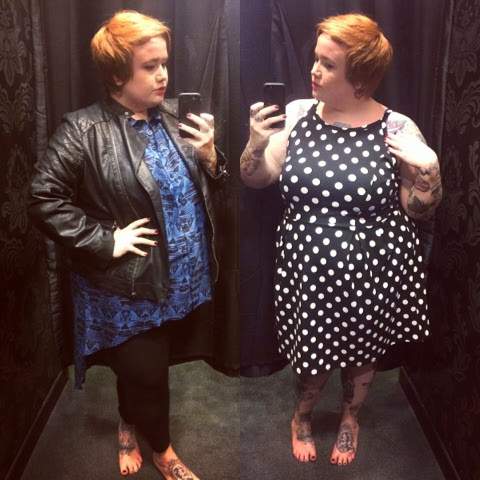 What made you want to become a fashion blogger?
From as far back as I can remember I was absolutely obsessed with fashion, but like a lot of plus size ladies I have spoken to, I struggled to find myself when it came to my fashion choices. As a teenager I toyed with the angsty goth look! Although looking back on this makes me cringe a little, haha, I am so happy that I took that route because if I hadn't started taking fashion risks at an early age, I don't think I ever would have started blogging. As I got a little older and began noticing and reading fashion magazines regularly, it upset me desperately that there were never any plus size women shown in these magazines! As I continued to struggle to find myself as a fashion loving plus size woman, I started getting involved in websites like Tumblr, which are fantastic for bringing people together, and there I began to see more and more incredibly stylish plus size women, who were all bloggers! After years and years or procrastinating, I finally sat down and started my blog. I think it was borne initially out of curiosity and my desire to showcase my slowly increasing confidence because I wanted to share how good I felt about my plus size self with other plus size women in the hope I could encourage them to feel that way too!
What are the challenges, if any, you face in being plus-size?
Although we all experience the odd troll now and again, I don't see this as my challenge (although of course, it's never pleasant, but those people really are not worth worrying about!). For me, the challenge I constantly strive to overcome is the fact I would love for plus size bloggers, and plus size models for that matter, just to be noticed for their style and their beauty, not because they are plus size. For example, when straight size bloggers or models are noticed, they are not continuously identified as straight size. They are simply noticed for being totally fabulous! I wish the same could be said for plus size bloggers and models – we are also fabulous which should be the main point of interest in my eyes.  The fact we are plus size shouldn't be the only reason we are interesting. By no means am I discouraging the plus size community because I have never felt so welcomed and at home since being included in the UK plus size blogging community – I just think that were people's sizes irrelevant, the fashion world would be a much happier, more positive place!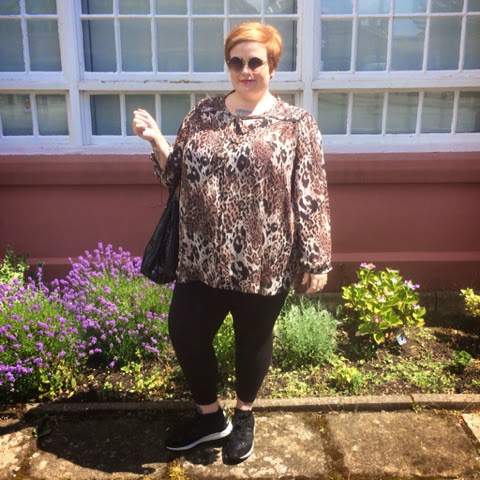 What's your favorite thing about being plus-size? A plus size fashion blogger?
I think my favorite thing about being plus size and being a plus size fashion blogger is the incredible community into which I have been welcomed. The women I speak with on a daily basis are inspiring, to say the least. I have made super strong friendships that I know will last a life time and this is most definitely my favorite thing about being plus size. The fact the plus size community brings people together in such a way is fantastic.
Who/what are your favorite designers/brands?
Being a blogger does open some incredible doors when it comes to working with brands and designers, and it also gives you the opportunity to experience up and coming brands which is always super exciting! I think my favorite plus size brand at the moment would have to be Zizzi – they really are breaking the boundaries when it comes to plus size fashion. Their collections are full of crop tops, structured materials and leather – things that are often seen as a no-go for plus size women! In my eyes, there are never any no-goes in fashion – it all depends on how you work it and how you carry it. A few other brands I love that offer incredible plus size fashion are ASOS Curve, Simply Be, Evans, Yours Clothing, Elvi and Boohoo Plus.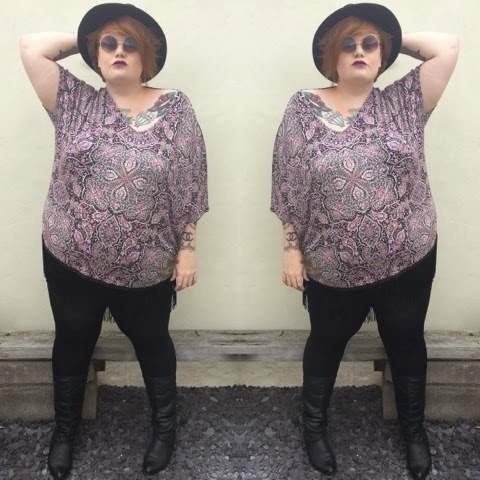 Describe your personal style.
This is such a difficult question, haha! I really don't follow any rules or any particular style type when it comes to my fashion choices. If I like something, I will wear it, haha! My wardrobe is super eclectic! If I could encourage all plus size women not to allow themselves to be pigeon-holed when it comes to style, it would make me so happy as I think that can be a difficulty in the plus size fashion world. At the moment I am loving the revival of tartan and faux fur! I know they aren't for everyone but I adore them – I can never go into winter without a faux fur coat in my wardrobe.
Any bloggers currently on your radar?
This is another super difficult question, haha! There are so many fabulous plus size bloggers! Becky Barnes of Mrs BeBe and Elena Davies of Frivolous Mrs D are definitely bloggers I would recommend everyone check out – they have such different styles but equally as beautiful. I am also loving Margot of Margot Meanie, Betty Pamper of Pamper & Curves, Carrie Harwood of Wish Wish Wish, Isabell Decker of Dressing Outside The Box, Nancy Whittington of Sugar, Darling? and my partner also writes a men's fashion feature called Head To Toe In Charity Shop Gold on a blog that focuses solely on thrifted fashion called Charity Shop Realness!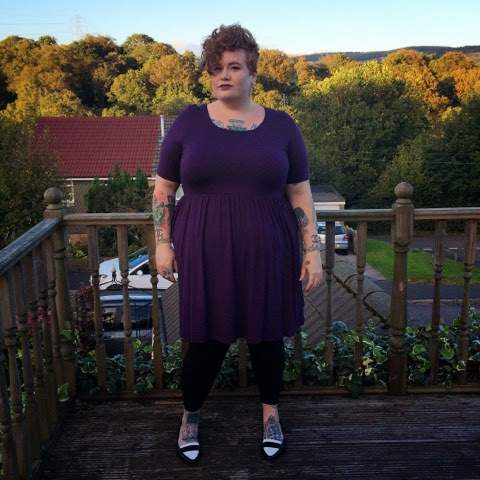 Anything else you want The Curvy Fashionista's readers to know?
I would love your readers to know that just because you are plus size, it does not mean you should be afraid of fashion! Have fun with it and play with your style! Don't let anyone tell you what you should and shouldn't wear!