As we ready for fall, I thought to myself that we should revisit an oldie… searching for the perfect fall plus size coats can be quite overwhelming. Especially with statement coats trending HARD for fall, I thought that before we head out to go shopping, we talk a bit about the styles, fits, and fabrications of these fall coats, to help you with your shopping.
Besides, that is what we are here for, right?
Or maybe, you realize as you are readying your wardrobe for fall and winter, you realize that your wardrobe is in dire need of a new, fun, updated, AND functional toasty coat.
I have whipped up handy guide for you to use and reference when looking for that perfect Winter Coat! Now, I must admit, I am a coat hound!
For each type of coat I am going to share with you, I have at LEAST one of! Who cares if I live in Southern California, a girl travels and has to be ready- Right?!
Depending on your lifestyle, budget, and tastes, finding a coat can be had- thanks to the forward movement we have had in plus size fashion and the new segments! There are a few categories of coats and must-know-tips that we must tackle and understand before we shop!
You have to know what you want and what to expect yes? YES.
Your Fall Plus Size Coats Guide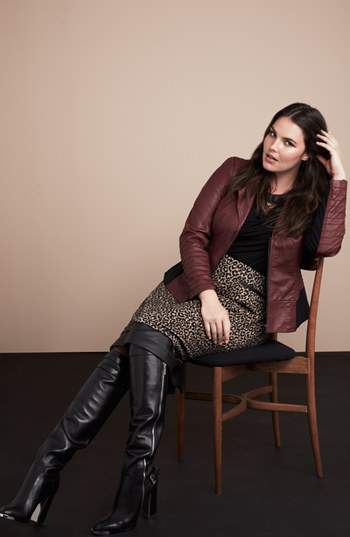 Execution, quality, craftsmanship, and longevity of wear all affect the cost of your coat. So, when you are choosing the fabrication and style of coat, be mindful for the differences!
Fit and Fabric
Fit
The proper fit is crucial when buying your winter coat. When you are shopping for your winter coat pay attention to these tips:
Wear layers, a sweater, or knits to ensure that your jacket will be able to keep you warm AND fit comfortably.
Cross your arms in front of you and give yourself a hug, your coat should feel comfortable across your back.
Button or Zip up the jacket. Move around a bit. Your coat should have room around your chest, hips, and the armholes (if the slightest uncomfort or pull, take a size up). The whole purpose is to protect you from the elements! In love with the coat and it does not fit right? Ask for a size up or have them order it for you in your size- or worst case, find another one.
Your sleeve length is another factor. Sleeves should ideally fall an inch past your wrist. This allows your coat to cover your arms while you are moving!

Fabric
Dependent on the level of warmth, comfort, and allergies, your winter coats' fabric can be fashioned in cotton blends, tweeds, wools, furs, leathers, and suede.
Dependent upon your lifestyle, budget, and style, the fabric of your coat you should LOVE as you will find yourself in this fabulous choice throughout the season!
To note:
When shopping, know that there is a difference from the $600 coat and a $100 one.
Alpaca Wool and a wool blend will have significant differences in wear!
Wool jackets are lined, as most people's skin (like myself) itch like crazy with wool!
Leather and suede should be pre-treated to withstand the many elements (check and double check to make sure!)
Furs are usually stored in a temperature controlled vault and require more maintenance, while furs provide the most warmth and style.
Faux fur is always a great style alternative, while technology offers blends and varying levels of warmth and style even though furs provide the most warmth and style.
What's Your Style?
So, now that we have covered the basics of fit and fabric, let's jump into the fun part: THE STYLE. With so many options, inspirations, and fashion perspectives to wear, but where do you begin?
Here are the general categories and some of my favorite picks for you!
I WILL SAY: Throw out your notions that you cannot wear this style or that style because, that no longer holds true!
While there may be certain styles that work BEST for you, that does NOT mean that you cannot wear a specific style over another… find what works for you!
Leather, Suede, and Fur (Faux too)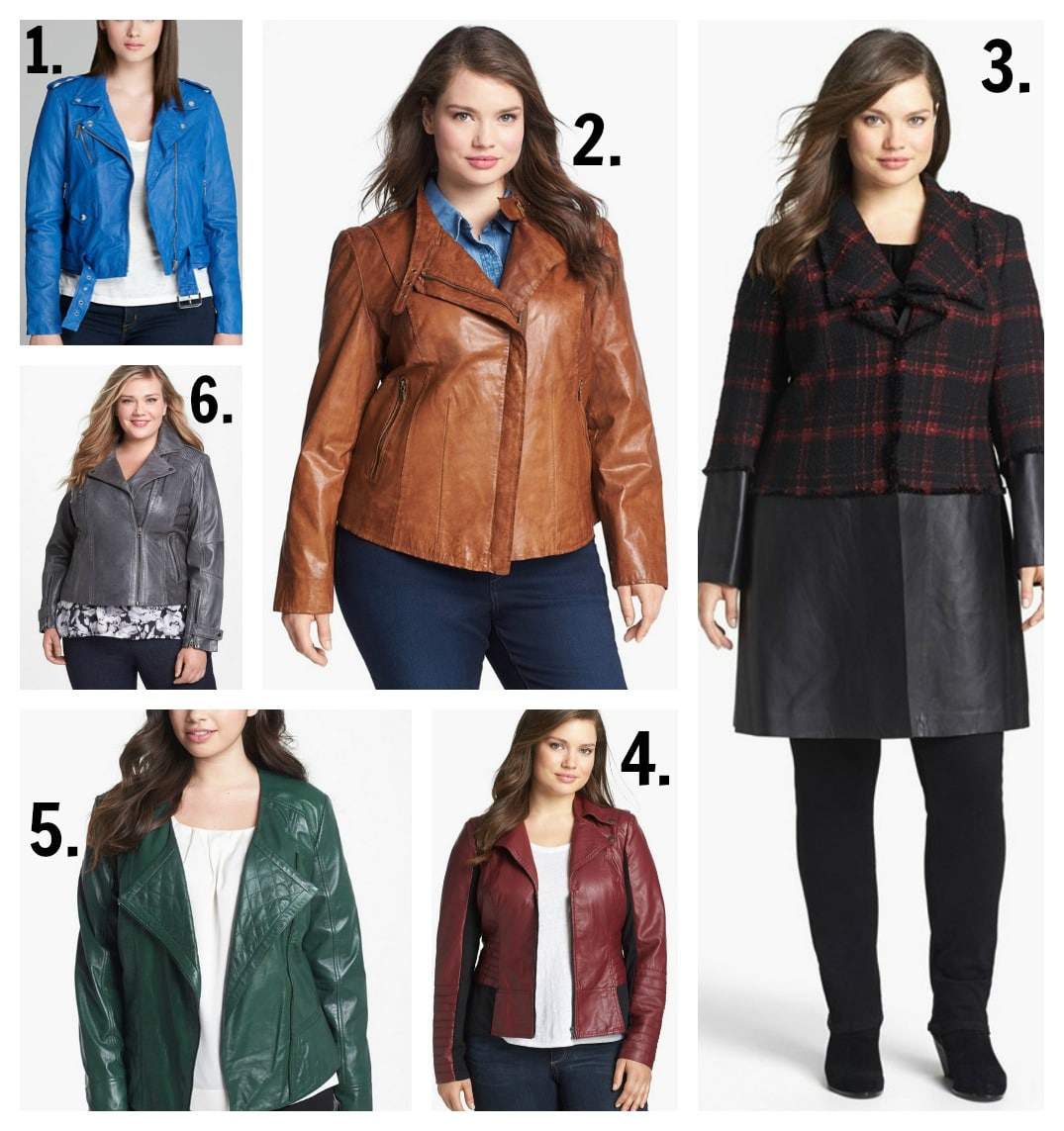 Evidenced from my plentiful posts about plus size leather, fashionable and functional plus size leather does exist! Prices will range greatly based on the quality of leather, the retailer, and the execution of the coat.
Always have your coat pre-treated- especially for suede and leather (if not already done for you). This protects your coats lifespan in your closet and on your curves.
Fur has transformed itself into a variety of cuts which plus size women can wear without looking bulky.
Real fur requires special upkeep- think a temperature controlled vault in off seasons, making faux fur a great alternative!
Shop Now: 1. Michael Michael Kors Soft Leather Crinkle Jacket 2. Marc New York by Andrew Marc Leather Moto 3. Lafayette 148 Tweed and Leather Jacket 4. City Chic Leather Pintucked Evie Leather Jacket 5. Halogen Quilted Lapel Moto Jacket 6. Bernardo Leather Moto
Puffers and Parkas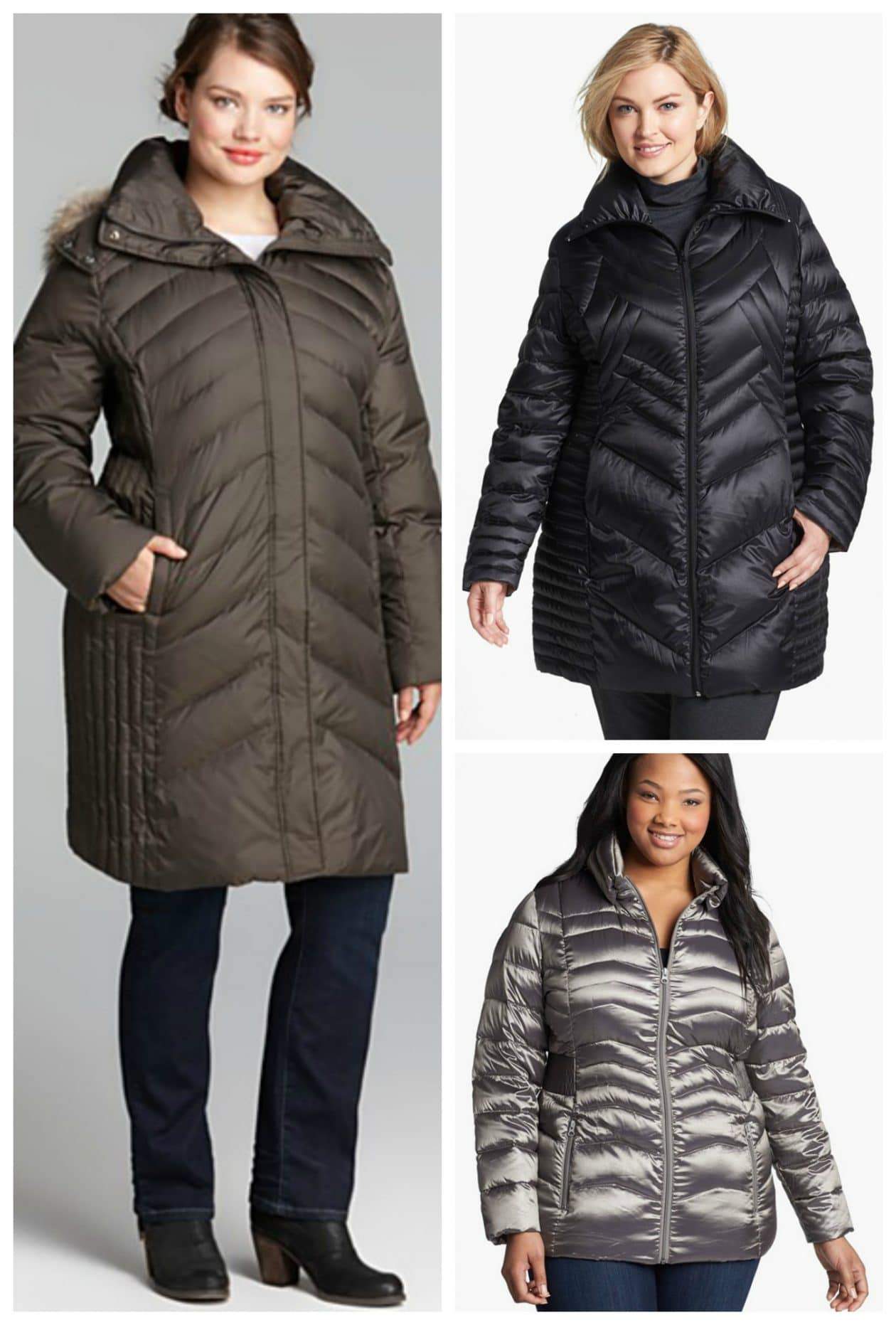 Many plus sized women shy away thinking this style will only add to their curves, but with talented and curve conscious designers fashioning great coats, you can don a puffer coat!
Look for the stitching making sure it creates a waistline and the spacing between the stitching lands at favorable places along your curves.
Whether a vest or coat, your coat should be lined, so that the down feathers do not poke you nor shed on your clothes, and fall at the top of your hip for day to day casualness or knee length for chic appeal.
Shop Now: Clockwise: 1.Marc New York by Andrew Marc Fur lined Down Coat 2. Packable Goose Down Walking Coat 3. Bernardo Iridescent Packable Goose Down Walking Coat
Pea Coats and Double Breasted Coats
Fit here is critical. The jacket MUST be able to close over you bosom. It has to! Opt for hip length coats for an everyday casually chic wear, or knee length for a more sophisticated look!
Wools are often used in this shape as it provides you both fit and function. When shopping, look for reinforced buttons.
If they are falling off now, then they will not last you through the season. This is usually indicative of wear and the level of quality.
Put it down and walk away- OR ask for a discount.
Shop Now:
1. Manon Baptiste Double Breasted Wool Coat 2. Michael Michael Kors Peacoat 3. Manon Baptiste toggle wool coat
Raincoats & Trench Coats
Look for reinforced buttons. If they are falling off now, then they will not last you through the season. This is usually indicative of wear and the level of quality. Put it down and walk away- OR ask for a discount.
The finishing detail is THE BELT. Trench coats are fabulous for creating a waist on just about everyone and the defining detail is the belt!
Lining is another element with your trench and rain coat. Lining protects you from the elements and allows an added layer of warmth to your coat. Removable linings are an extreme plus!
Shop Now:

1. Michael Kors Belted Trench with Removable Liner 2. London Fog Heritage Belted Trench 3. Manon Baptiste A-Cut Coat
Did I miss anything? A good place to start- yes?
Have you found your Winter Coat?? Where did you get yours and what was it? Still looking? What are you looking for?