Are you into the hot colors for Fall 2012? My favorites are Tangerine Tango, Ultramarine Green, Rose Smoke, Bright Chartreuse, and Titanium. Of course, not all of these colors are going to work in every piece for everyone – if you've got fair skin and freckles (like me!) that didn't come included with red hair and green eyes, then some of these colors will definitely be a challenge to wear in, let's say, a maxi dress style.
So, be sure you're working pieces in where they make the most sense for you! Here are some pieces that I am in LOVE with that come in these colors.
How To Rock 5 of the Hottest Colors for Fall 2012
Tangerine Tango
This is a reddish orange that you might rock in a scarf or a lip color. But why not rock it in this sleeveless a-line dress from Calvin Klein? This is a dress shape that will look great on a wide variety of shapes, and it's available on sale right now! You could easily pair this with some opaque tights and boots or a blazer and heels for the office, as well. This is the perfect little dress to punch up your fall wardrobe.
Ultramarine Green
I am loving this color! It will go with lots of other basic colors – particularly the other ones that are hot for fall. Simply Be has it paired with a floral trouser, which another trend that you're sure to be seeing this fall. This Slouchy T-Shirt is a great top to pair with all kinds of looks. How would you wear it?
Rose Smoke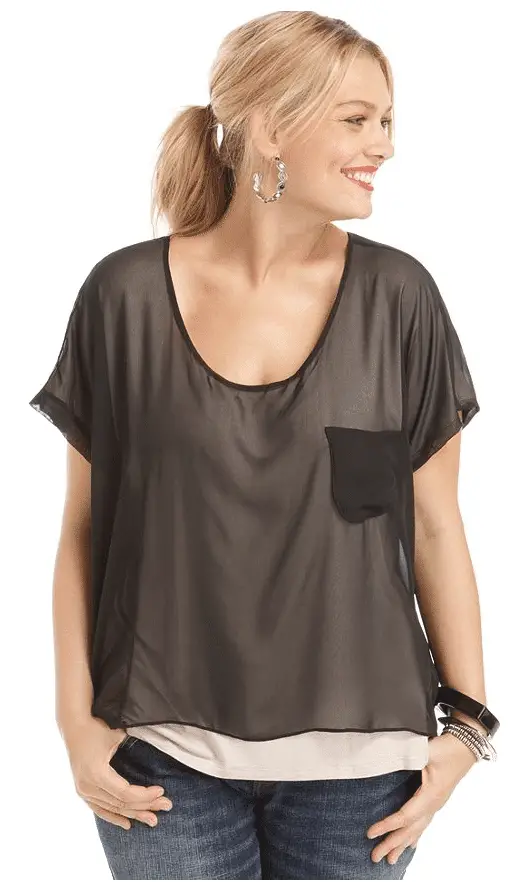 Okay so this one is cheating a little bit – the rose smoke color appears on the undershirt in this sheer number by ING, but I think this is a color that's meant to be worn as a detail in some cases. You can certainly find tops in this color, dresses in this color, and accessories in this color, but I like how the rose smoke is mixed with the titanium sheer for an all over smoky look.
There's also this dress featuring the same rose smoke and almost titanium smoky shade. I love the style of this dress in particular, and I think you could punch it up with a bright pair of tights, perhaps, or even a daring pair of leather leggings!
Bright Chartreuse
Colored pants are not going away for fall at all, so if you already have bright colored pants from your summer wardrobe, keep them around for the next season. These jeans are in that bright chartreuse color that we're going to most likely be seeing in a lot of accent pieces, as well, next season. These lean a little more yellow than the Pantone color, but you could totally still call these chartreuse!
Titanium
Titanium is a color that you'll find all over the place. Whether the piece itself is in the shade of titanium or you're finding it in metal details, it's a nice smoky detail that can skew goth or girly depending on how it's used. It's definitely a little bit tougher in this longer sweatshirt-like tunic. This one is inspired by Isabel Marant, and you'll be completely comfortable in this one on the weekends or for a casual day at work.
So, which colors are your favorite? Have you found anything that you wish came in one of these colors?
You could always try whipping out the dye! (Something I've totally done in the past.) Now that I'm totally obsessed with these colors … I'm off to shop!
xoxo nettaP