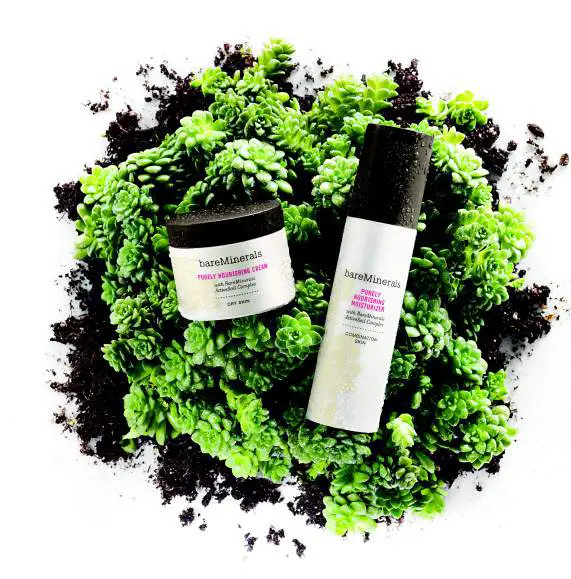 Searching for a great cleaner for your skin, can at times be like finding a needle in a haystack! HOWEVER, sometimes you find those gems that work for you or that give you a happy pause. Such was the case with my challenge and review of the newest product to come out of the Bare Escentuals collection: The bare Minerals Skincare Line!
An eight-piece bare Minerals Skincare line, powered by a patent-pending Rare Minerals Active Soil Complex (which has three times the antioxidant capacity of blueberries, by the way) intrigued me, so I gave it a go. For cleansers, I was surprised how clean and soft may face felt (with and without the use of my Clarisonic)! Like literally, I noticed an immediate difference!
I had the pleasure of playing with the Deep Cleaning Foam and the Purely Nourishing Moisturizer! After two weeks of testing, my skin feels calmer (especially as I am still prone to random breakouts- thank you mother nature!). I have noticed the texture of my skin has been softer, smoother, and a bit brighter! WOOT!
Seriously… I did not know what to expect from this new skin care line from a makeup brand I have tried in the past, but I am definitely happy I tried it! I will most def be adding this to my beauty regimen!
BUT WAIT! I am not finished!
YOU get the chance to rock out the new Bare Escentuals Skin Care line by scoring your OWN Facial Wash and Moisturizer!
TODAY ONLY- YES! A one day giveaway!
One lucky winner will be chosen at 10pm tonight!
Here is what you have to do to enter!
– Leave a comment with which Bare Escentuals cleanser and moisturizer you'd like to try
– Follow Bare Escentuals on Facebook and Twitter
– Follow The Curvy Fashionista on Facebook and Marie Denee on Twitter
Want an extra entry?
Tweet: I've just entered the @bareEscentuals #giveaway on The Curvy Fashionista by @mariedenee! Have you? http://bit.ly/eLpjLO
Entries close at 10pm PST and the winner will be contacted tonight! Woot!