I have a black hole in my closet… a few of them. Sometimes, I have to catch myself for all of the new black items I add to my closet, as I try to play around with trying new things… BUT! Black is always sexy and that won't change just because spring is right around the corner. Head to toe black is so incredibly versatile. It can be sexy and daring as well as feminine and conservative. And to indulge a little in my obsession with rocking all black, we are sharing just a few of our favorite all black fashion looks from the #tcfstyle hashtag on Instagram!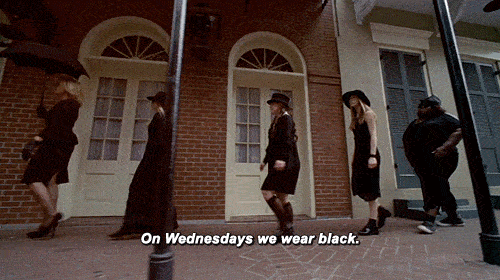 We couldn't be more excited to bring you these all black outfit ideas from some of the hottest plus size women on Instagram! Whether you like to show a little skin or cover it all up, anyone can rock a chic all black look. If you're looking for a new way to wear black, this week's #tcfstyle roundup is sure to blow your mind with all of the new outfits you just have to try!
Let's go!
10 All Black Plus Size Looks To Copy, Now!
How much fun are these looks? The glorious thing about black is that you can show off this hue in the winter, spring, fall or summer! Show up to the beach this spring or summer in a sleek black summer dress and everyone will surely stop and stare. For me, there is something sleek, polished, sultry, and sassy about rocking head to toe black. And seriously, the options for dressing up the color black are endless!
What do you think of the color black?
Do you use and follow the #TCFStyle Hashtag? Please do, you never know you may get picked next time!! Show us those hot looks that make you feel like you are killing it! Or just check out the tagged pics for great inspiration for your outfits to come!!
Are you following our @thecurvyfashionista Instagram page and tagging your Instagram posts with #TCFStyle?
If so, you just might find your looks in our #TCFStyle roundups! What better way to share plus size fashion inspiration than to highlight all of YOU who push the envelope, give us something to think about, and who stay inspiring folks? In our #TCFStyle roundups, we showcase YOU as you give face and strut your stuff out in the world.
Make sure to tag us at #TCFStyle on Instagram with your hottest pics and you may appear in next week's post!