I am a fan of the black and white trend. Actually, I love it. LOVE. And when I peeped the Black and White graphic squared tunic from ASOS, I got excited. For a few reasons…
One, I do not buy ANYTHING that I cannot wear more than once in a completely different way. I need my clothes to give me longevity and life. For reals. So, with black and white, inherently, you have a few different options in a blouse! And this is one of the reasons why I love it.
Here, today while hanging with family, I rocked this tunic with my new favorite jeans sent for me to test out. I mean, FAVORITE. When a pair of jeans has the comfort of leggings, the ease of stretch, and the memory of traditional denim, I am in love. PAIR this with chasing around a newly walking 1 year old niece on the floor and not cutting off tummy circulation or fear of mooning my family?
Mind you, I have a thing for jeans. I know my denim and I am VERY particular when it comes to jeans. Especially since I do not wear them much or am racing home to disrobe, these were impressive. On top of that, I have NEVER owned a pair that I have worn outside of the house that was black. I have always been leery of black denim, I don't know why, maybe because of my MOM always wanting black jeans, but that has obviously changed. YESSSSSSSSSSS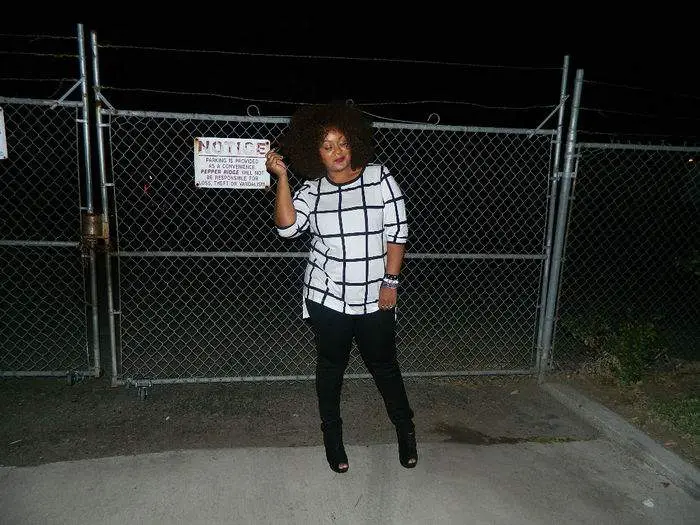 Here is what I wore:
Jeans: City Chic Hourglass Jeans
Ankle Booties: Scored from Beyond the Rack (I think)
Arm Soiree:  Black Rhinestone Bracelet from Ideeli (old), Silver spike rhinestone bracelet from Forever 21, Pyramid bracelet from Jewelmint
Nails: Yes, I went graphic on the nails too! Jamberry Nail Wraps
Could you rock the black and white trend? More on this trend coming soon, but OMG, how in love with this are you? I am so happy that designers are giving us on trend pieces rather than season behind or not at all!
What do you think of my look? Does it work?  How would you rock it?