Note from Marie: This Fashion Week, We have Bonnie Lee in New York covering fashion week! The latest collections, designers, and trends and what to expect for the fall! Thank you Bonnie and let's talk fashion!
"I don't give a damn about my reputation." Blared loudly as I walked into the Juicy Couture Store on Bleeker street. On the back wall the short film by Juicy Couture was flashing.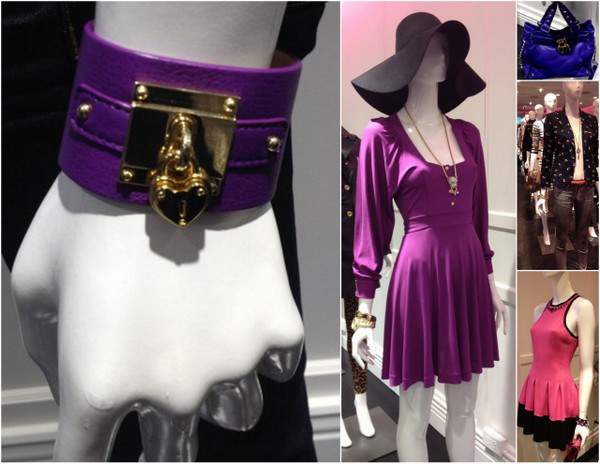 My inner bad girl was roaring and dying to get out. As I walked through the rows of mannequins dressed with the Juicy Couture Fall 2013 Collection I sensed the inspiration for the good girl gone bad. It was good girl by day and bad girl by night. The whole collection was fun and spirited. You could wear the pieces for work during the day then add another layer from the collection to make a killer outfit for your night life.
The collection was bright and full of rich reds, pinks and blues. You had mixtures of animal prints and gold shimmery skinny jeans. In stark contrast you had dresses that hugged your body gently and flowing A-lines. The accessories were gold and bold. It was girlie girl becomes rocker chic. The collection was literally mouth watering it was sexy, fun and juicy (pun intended).
Some of you asked yesterday about the collection being carried in plus and we will find out and report back! They have in the past, but not 100% if they are still doing it!
Bonnielee Cuevas is former NYC Fashion Stylist, and Journalist with a very successful portfolio. She left the fashion industry and is a Lifestyle, Holistic & Sustainable Expert, Humanitarian, and Mental Health Advocate. She has been a successful Entrepreneur for over 13 years. BonnieleeCuevas.Com is where you will find sprinkles of her personal adventures, encouragement through a sustainable, holistic, and positive approach to fill your body, mind, and spirit with pure JOY. She has been seen and featured in (not limited to): CBS Radio Minnesota, Curvy Magazine, Adweek, Business Insider, Fashion School Dail, Oxygen Magazine and named one of Vogue's Top Influential Social Media Darlings. You may have read many of her articles on sites like: The Curvy Fashionista, Dame Life Blog, Skorch Magazine and Zumba Life Magazine. Her passion and knowledge for style has never left her spirit, and she continues to freelance on the subject.