Summertime is a great time to change up your look and have fun with new shapes, new colors, and new beauty routines. With the warm weather, there is a cause for shorter hemlines, bare arms, and bare legs! But what if you want to step it up a bit? What do you do? How do you do it? Well, there are many ways to make over your look, and for summer we have a few steps and tips to incorporate into your day to day life that will kick it up a notch!
10 Simple Steps to Make Over Your Look for Summer
10. Ditch the LBD for a white dress
A white dress is just as versatile as a black dress, but it stands out so much more! No need to be afraid of white. That's what bleach is for!!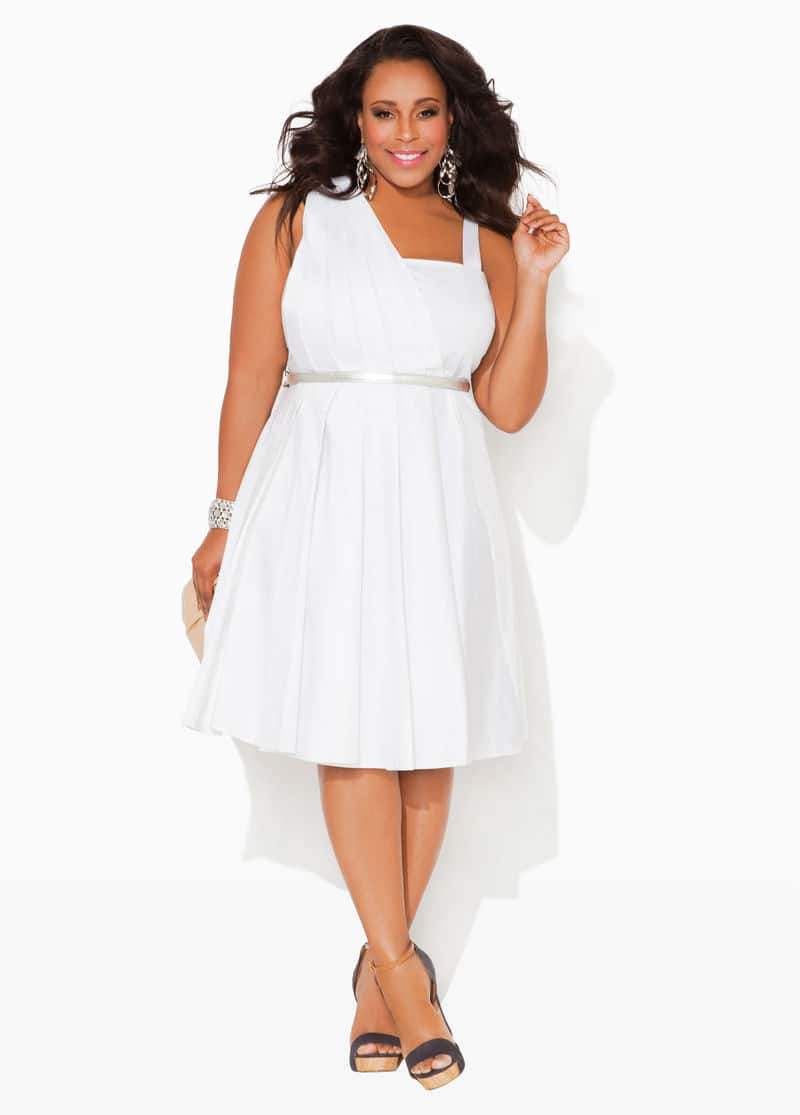 Dress: Ashley Stewart, $29.99 ashleystewart.com
9. Get Glowing
Few things make you look better than glowing skin. Drinking lots of water helps your skin look amazing from the inside out. Make sure you moisturize, exfoliate, and nourish your skin! Exfoliate with a loofah and always apply lotion within the first five minutes after your shower to keep it soft and supple! Get creative and playful with those lotions that have a touch of shimmer to really get your glow!
8. Try a bold lip or new nail color
Make-up is a fun and relatively inexpensive way to change up your look. Lately, there have been so many fun bright and bold shades of lipstick. Why not experiment with a fierce fuchsia or a bold blue lip? Or, keep the party to your fingers and toes with a fun new mani and pedi!

Currently in love with Magnolia Makeup and her Matte Lipsticks right now! The VELOUR GALORE PRO PACK is IT!
7. Lose the Cover-up
Caftans, sarongs, and other cover-ups can be fabulous and ultra-stylish, but if you're wearing them only to hide your body, it's time to say sayonara to cover-ups and say hello to your AMAZING body in a bikini or sexy one-piece.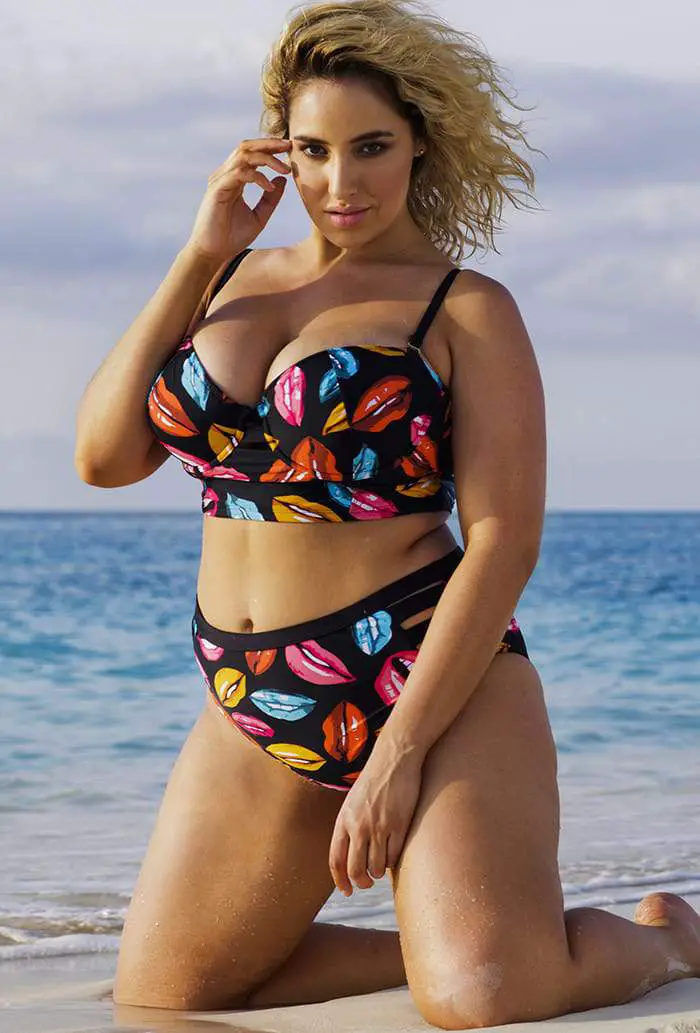 Midkini: Swim Sexy Lips Underwire Midkini, $58.50, swimsuitsforall.com
6. Try a skirt in a new length or shape
Midi and tea-length skirts are a big trend this year. Why not give them a try? Or, try a mini and show off those gorgeous legs!!
Skirt: Scuba A-line Midi Skirt, $66.69, Asos.com
5. Develop a signature look
Have fun experimenting with your look this summer. Do you love rocking neutrals in interesting shapes? Are you a huge fan of textures, wild prints, or bold colors? Figure out what type of style or look makes you feel your best and ROCK. THE. HELL. OUT. OF. IT.
4. Get a Proper Bra-Fitting
A great-fitting bra makes a huge difference in how you look and feel in your clothes. Go to a decent lingerie shop, preferably one that specializes in bras, and get fitted for a bra. Most women wear the wrong size bra. If you have not been properly fitted for a bra in a year or more or have experienced a weight loss or gain (including a pregnancy), then it is time to get re-fitted.
Bras: Addition Elle Ashley Graham Plus Size Lingerie Collection at Addition Elle
3. Add a Statement Shoe
A statement shoe can take any basic look and make it something truly amazing. Try a colorful heel or knee-high gladiator sandals for a fresh new take on your summer look.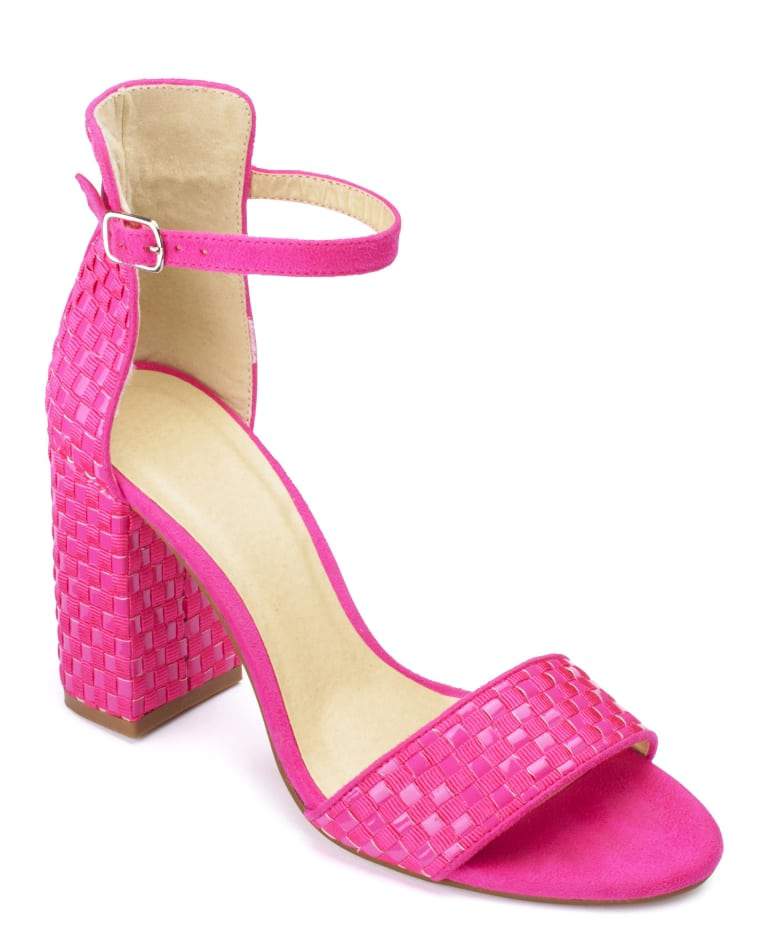 Shoes: SOLE DIVA HEEL SANDAL E FIT, $46.95, simplybe.com
2. Go For Low-Maintenance Hair
Low ponytails, braids, tousled waves, bobs, and short sassy dos are popular this spring and summer. These looks all have one thing in common – they are easy to create and maintain. Work with your hair's natural texture and choose a look that suits your personality and preferences.
1. Embrace Your "Flaws"
Hate your nose? Think your thighs are too flabby or your boobs too saggy?
This is the summer to release the negativity! Life is too short to be so critical of yourself. Nobody is perfect (what does that mean anyway?) and ALL bodies are beautiful, so embrace your so-called flaws this summer. Look in the mirror and repeat after me: I AM BEAUTIFUL! I LOVE ME!!! When you love yourself, that love emanates through your pores, and you will look that much more amazing for it!!
Love this post? Have a friend who could use it? Share this on Pinterest, Twitter and Facebook!
Which one of these tips are you already practicing in your day to day life? Which ones are you going to add? Let me know in the comments below!