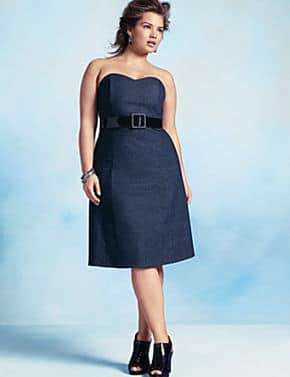 Denim exploded onto the runway in various forms of fashion and function! But this time around, it is not all about the jean pant. Denim has become a focal factor for shorts, skirts, suits, and jackets!
While I love my jeans, I know that this Spring, I will opt for a dress or two for a more relaxed look! Years back, I was in love with my DENIM suit! YEARS though! Time to revamp my look!!!
(Strapless Denim Dress by Lane Bryant)
Key Looks:
Dresses and Suiting are two focal looks the took over the runway. Expect to see denim dresses in various fabrications of denim from Chambray to lightweight cottons! For suiting- a clean and tailored look with soft feminine touches create a polished and sharp look.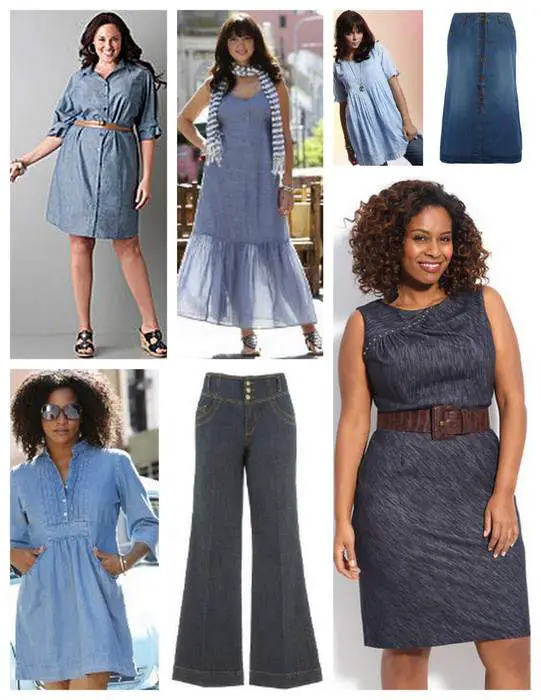 (clockwise from top left: Lane Bryant Shirtdress, Simply Be Maxi Dress, Simply Be Chambray Tunic, Style 369 Denim Maxi Skirt, Style 369 Wide leg jeans, Donna Ricco Dress at Nordstrom)
Because of the fabric, FIT can be tricky! Make sure your blouses and dresses give or are tailored to the ladies! With skirts and shorts, I suggest that you do a sit test to see how they will give and move with you! I am all for a tailored short, but make sure it does not ride up the center, because your thighs will not be thanking you later!
Who is ready to for the Denim Diva look!?!
P.S. for help with searching for jeans, make sure you check out Plus Size DENIM 101!
Marie Denee
I am the Editor in Chic of The Curvy Fashionista. Often goofy. Forever emo. Always a Virgo. You can find me somewhere grooving to 90s R&B.