Like having a beat face and hair that's worthy of a double-take, making sure that your nails look top-notch at all times is one of the essential elements of a true glam diva. Some women don't want the commitment of acrylic or gel nails. Some balk at the expensive price. Or some are simply just hesitant to try out something new. Whatever the reason is for opting out of artificial nails, look no further! An oldie but goodie nail alternative is back in modern form.
Press-Ons Are Back?!
Yes, that's right ladies—press-on nails are back (some would say they never really left) and better than ever. The modern versions are available in the ever-popular stiletto shape that has dominated the nail industry for the last few years. The best thing about these press-on stiletto styles is that you can pick them up at a variety of retailers and many are $5 and under, with the rest costing no more than $10, with the exception of a few.
With so many holiday parties and functions coming up, experimenting with no-fuss press-ons is fun, festive and requires little commitment. We already told you about the Christian Siriano X imPress collection and you ladies loved it! Check out our round-up of some of the best press-on stiletto nails we think you should give a try.
Yaaaassss or Nah: Press-On Stiletto Nails
Forever 21
Fast fashion retailer Forever 21 has one of the larger selections of press-on stiletto nails and they are in a wide variety of colors, finishes and designs. This rose gold set is perfect for the holiday season, a nigh out with your girls or if you want to match your nails to the plethora of rose gold accessories floating around these days.
Rose Gold Press-On Manicure, $4.90 at Forever21.com
Icing
Nothing says "happy holidays" like a fire engine red set of nails and these red beauties with a chrome finish are absolutely stunning! Known for its wide variety of accessories of all sorts, it's no surprise that Icing has a large inventory of fake nails, ensuring that you can stock up for the holiday season and keep them for yourself or give them as gifts.
Red Chrome Faux Nails, $9 at Icing.com
ASOS
Yes, everyone's favorite retailer has also gotten in on the press-on stiletto nail wave—and we're not mad at ASOS one bit. These diamond diva nails are a stylish silver matte that are embellished with a cluster of rhinestones on half of the nails. These are perfect for when you want to make a statement without saying a word.
House of Holland Luxe by Elegant Touch Diamond Diva Nails, $21 at ASOS.com
H&M
The press-on stiletto nails that H&M featured in stores and on the company website were so popular among customers that they sold out pretty quickly. If you do a little online digging you may be lucky enough to find a few pair, like these soft pink ones in a matte finish that are ideal for everyday wear.
Press-On Nails, $8 at HM.com
Target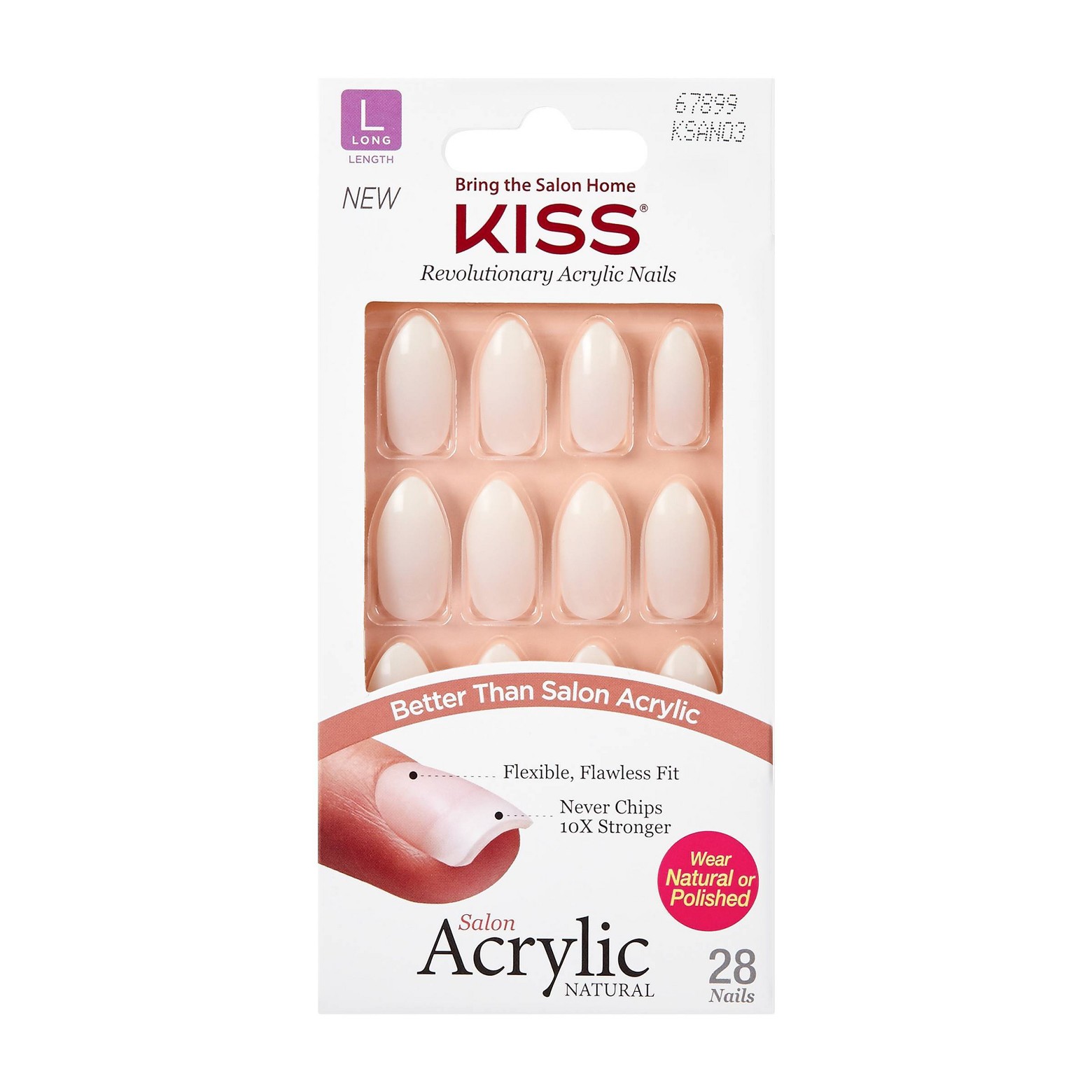 Is there anything chicer than a classic white manicure? These short, stiletto nails are classy, conservative and guaranteed to fool even the most gifted of nail connoisseurs into believing that they're either acrylic or gel.
Kiss Salon Acrylic Natural Nails Forbidden Stiletto Shape, $8 at Target.com
Walmart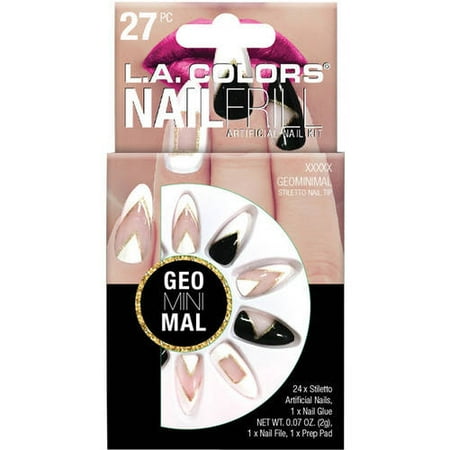 It should come as no surprise that Walmart has a large selection of press-on nails…they certainly have everything else. For the super fashionable, artistic ladies out there who love to express themselves through their nails—these are for you! The art deco-inspired design and geometric shapes are to die for.
L.A. Colors Nail Frill Artificial Nail Kit Geominimal, $4.44 at WalMart.com
So ladies what do you think? Are you feeling these press-on nails? Could you see yourself rocking these or do you think the trend should die out? Let's chat in the comments!