What's up curvy fashionistas!
Yes, it is officially "Slayday" (formally known as Saturday) and I couldn't be happier. As promised, I am back to share some of the chic I found while searching the #TCFStyle hashtag (are you following us on Instagram? @thecurvyfashionista is the handle!). This week, I noticed that a lot of curvy girls are embracing a fashion trend that is as classic as a strand of pearls; that trend is fur.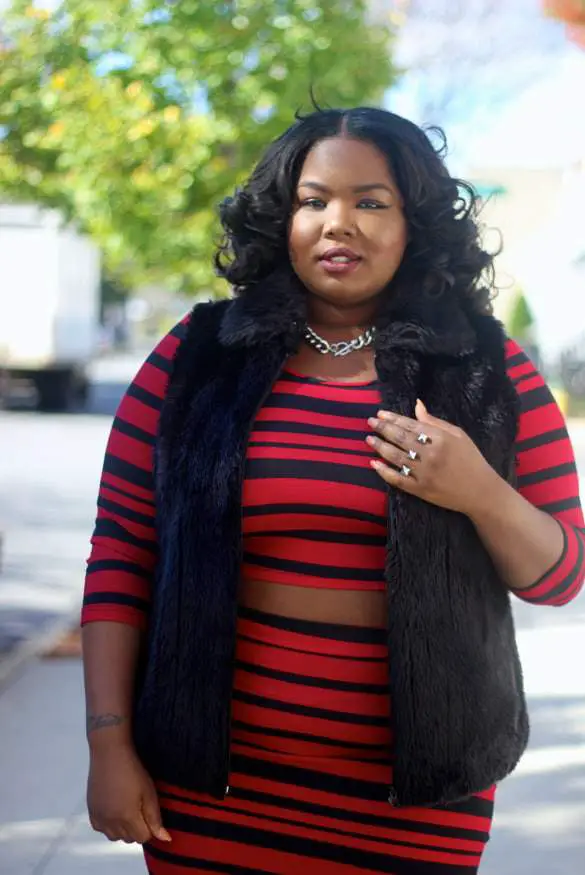 Women of style have been wearing furs for many years but for most of those years, this trend was exclusive to a particular group of women. Not just any woman was able to rock furs due to the price. Fashionistas like Jackie O, Diana Ross and Marilyn Monroe were all style icons who rocked furs. Now hold on before you notify PETA, I am not talking about real animal fur, although that was the original fashion trend. I am talking about stoles, coats, vest and even handbags made of faux fur.
Yes, this Fall and Winter seasons are all about creating a fun and fabulous looks and incorporating a little (or a lot) faux fur. In the event that you have been under a rock, allow me to share with you some of the looks that I found and love. Like Chante, from Everything Curvy and Chic, pictured to your left!
Plus Size Fashion Inspirations For Rocking Faux Fur
Can we agree that this clutch is, oh so clutch!
2. Nothing like a little fur to bring out the diva in a curvy cutie.
3. Sometimes you have to opt for a something that makes a bold statement and this pink fur coat does just that.
4. Classic with a bit of an edge… So rocker chic!
??? A photo posted by ?Claudia? (@curvy_claudia) on
5. The right fur jacket will take your little black dress to an entirely different level.
Be back next Saturday fashionistas, until then make sure you check out the TCFStyle page and #TCFStyle hashtag for more inspiration!
Do you want to be a part of our "Saturday Slay" hashtag roundup?
Post your flyest pics and use the hashtag #TCFStyle and show the world how you make chic look easy!
Which looks do you love?