Last week I introduced the start of our new series "My Curves, My Journey" as a way for us women to share our journey into finding ourselves. As I am on this journey of personal growth and learning to better love myself, I felt the need to create a space for our community to share those stories. Depending on where we are in our individual journeys we may just need to hear someone else's story to help us move our along and so with this series I hope to encourage us to share with each other. What has been one of your most pivotal moments on your journey to loving yourself and owning who you are? Can you remember what that felt like? Join us every week as we learn about each other's journeys to self-love.
Every curvy girl has their own story, their own voice. And each story is unique and one that should be shared. When we open ourselves up to really listen to the stories of others, we receive a very powerful gift. In listening to another's story, you get the distinct opportunity to see yourself in their tale, as well as see them more clearly and honestly. Talk about unfiltered.
This is why I am so honored to be among the first collection of women sharing their stories in The Curvy Fashionista's newest series, My Curves, My Journey. I eagerly await the privilege of reading the words of women, each in various stages of their body positivity and self-acceptance journeys, talking about where they came from and how they got to their present state. For my story today, I am talking about my not-so-secret love affair with color.
My Curves, My Journey: Falling in Love with Color
Looking at the above photograph of me, I bet you would never think there was a point in my life that I never wore bright and colorful clothing. It's true, though.
Growing up as a chubby girl, a curvy teenager, I loved and wore color gleefully. You know all of the 90's fashion trends that are recently making a comeback? Yeah, I rocked them! One day I rocked purple Cross Colour jeans, the other day, I wore a babydoll dress with combat boots. I was super 90's y'all! And I dressed to suit my mood unapologetically.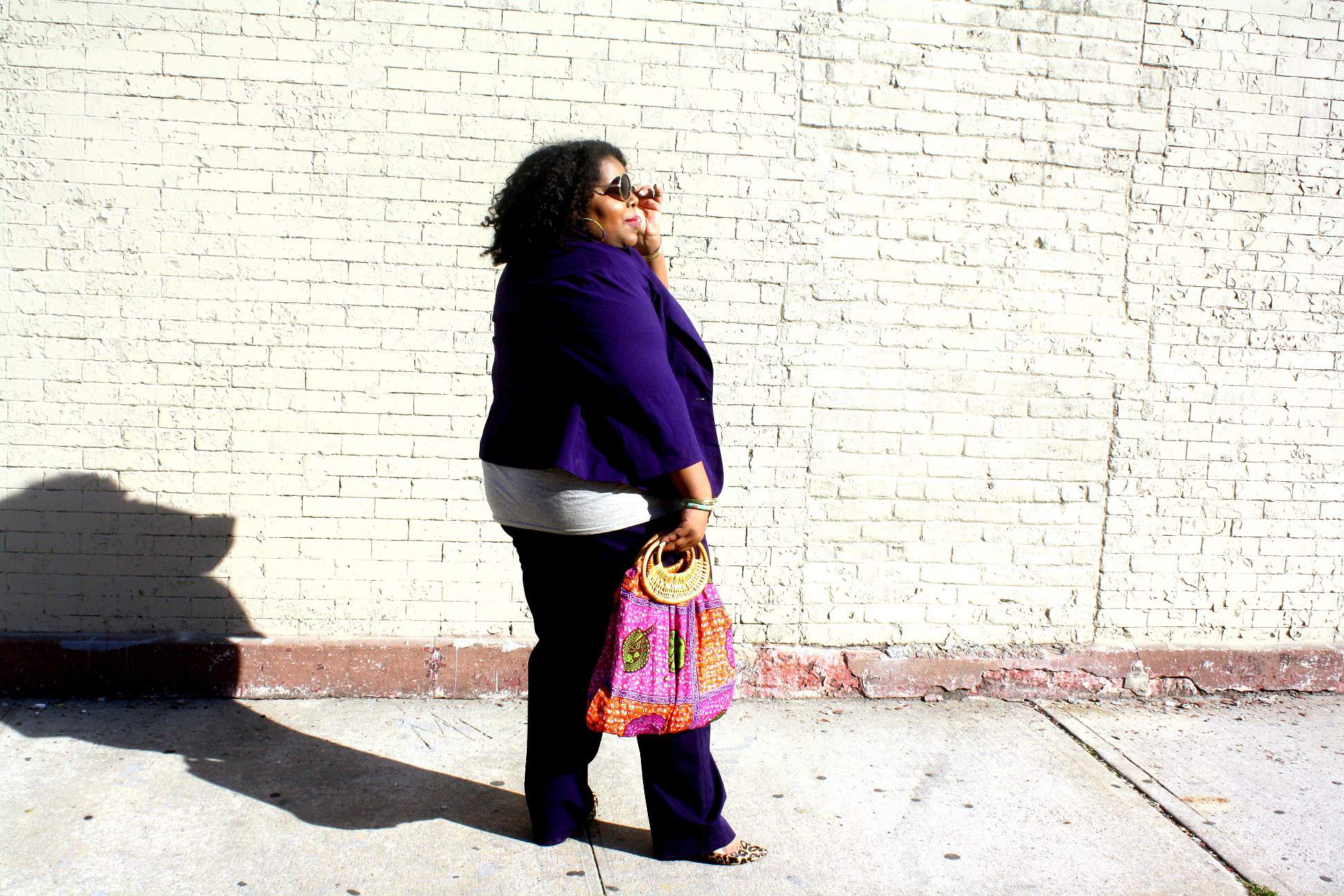 When I grew up, however, all of this changed. The bright and colorful items in my closet quickly gave way to items Wednesday Addams would love and adore. It was like a switch went off in my mind, and I started diligently obeying an unspoken rule that I should dress in a manner that would detract attention from myself. Camouflage the imperfections, and blend into the scenery as much as possible. This went on for several years. And I felt miserable most of the time. Sure, the excess of black made it easy for me to be the clumsy person I normally am… But I'm a girl that craves color. So how did I get out of the doldrums?
Plus size fashion bloggers. I started reading blogs (like The Curvy Fashionista, of course!) and seeing curvy women who were bold and badass with their fashion. These women were unafraid to wear short skirts, to wear bright colors, and wear items that drew attention to their curves. And why not? Their curves were gorgeous!! I found myself staring longingly at the colorful items I'd spot online and in stores. But I was still hesitant to make the purchase. So as a compromise, I started small. I figured to myself, if I was going to dress in all black, I am going to rock the most colorful, funkiest jewelry I could get my hands on!
I hit up every street vendor in Brooklyn for ethnic, beaded, jewelry. I discovered my affinity for African and Indian designs in particular. Jewelry turned into other accessories, like handbags, shoes and scarves. Then I started wearing colorful tops. I made the leap from tops to dresses. And after there, I didn't look back. I had resumed my love affair with color after years and years of darkness. I am the type of curvy girl who lives to stand out. People make gawk, stare, or even say a shady word or two. I don't really care! Color gets me and it makes me feel great. I've made a vow to myself to never ever give it up again.
Now that you've heard my story, I want to hear from you. What has been your relationship with color?
I love that Audrey has found herself again and is no longer afraid to stand out in color!
Are you ready to share your story?
Send us your story in a minimum of 250 words
to [email protected] and include 3-5 pictures of yourself! I can't wait to hear from you!